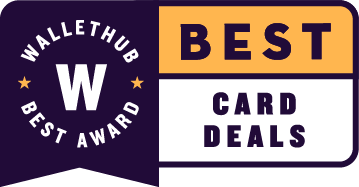 The best credit card deal right now is offered by the
Chase Sapphire Preferred® Card
:
60,000
bonus points for spending
$4,000
within
3 months
of opening an account – worth up to
$750
in travel booked through Chase.
But there are lots of great credit card deals available these days. In fact, credit card companies are currently offering record-high rewards bonuses and unusually long 0% APR periods, according to WalletHub's latest
Credit Card Landscape Report
. So it's a very good time to take advantage of plastic – responsibly, of course.
For your convenience, here's a quick recap of the
most notable credit card deals
available right now. Hopefully, this will help you find the right card for your needs.
Best Credit Card Deals Comparison
As you can see, all of the very best credit card deals require at least good credit for approval. If you don't know how good your credit is, you can
check your latest credit score for free on WalletHub
.
But there are plenty of credit card deals available to people of all credit levels, too. For example, none of
Discover's credit cards
charge annual fees or foreign transaction fees, and all of them double the rewards you've earned after one year.
Finally, if you'd like to see how today's top credit card deals compare to our editors' favorite cards in major usage categories, check out their picks for the best
Rewards
,
0% Financing
,
Balance Transfers
and more.
Methodology for Selecting the Best Credit Card Deals
To identify the best credit card deals, WalletHub's editors regularly compare the latest terms available on 1,500+ credit card offers, including cards from WalletHub's partners and any
new credit cards
.
Given that people's needs vary, WalletHub's editors look for credit card deals in a handful of key categories, including travel rewards, cash back, no annual fee, 0% APR and balance transfer. Each category has its own unique requirements for deal status. WalletHub's editors also use data from the latest Bureau of Labor Statistics Consumer Expenditure Survey to estimate how much cardholders would earn or save with each card.
Only standout terms can get a card on the best deals list. So understanding the overall credit card landscape is critical to understanding what qualifies as a credit card deal as well as how WalletHub's editors make their selections. WalletHub's latest
Credit Card Landscape Report
has more information