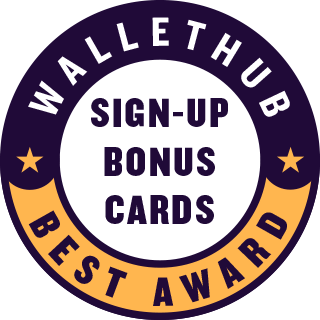 The best credit card sign-up bonuses can pay credit card users $150 to $1,000 or more for purchases they would make anyway. As a result, these bonus rewards deals represent an amazing opportunity to save when used responsibly. What you don't want to do is use credit card sign-up bonuses as an excuse to spend more than you can afford to repay. The best bonus rewards credit cards usually have pretty high interest rates, which can easily eat into your rewards earnings. Picking a card that suits your spending and payment habits, then making a plan for how to take advantage of its bonus rewards at the lowest cost to you, is essential to ensure the best outcome.
To help you find the best credit card sign-up bonus for your situation, WalletHub's editors compared more than 1,500 credit card offers based on their initial bonus offers, approval requirements, annual fees and other features. We then selected the best credit card initial bonus deals for different groups of applicants. You can see how the best bonuses stack up against each other below.
Best Credit Card Sign-Up Bonus Comparison
You can see which of these cards are the most well-rounded by checking out WalletHub's selections for the
best overall rewards credit cards
. And you can learn more about the do's and don'ts of credit card sign-up bonuses below.
Top 6 Tips to Maximize Credit Card Sign-up Bonus
Check Your Latest Credit Score

You can't qualify for the very best credit card sign-up bonuses without good or excellent. And credit scores can change a great deal over short time periods. So you should definitely double-check where you stand before submitting an application. You can do so for free on WalletHub, the only site with free credit scores and reports that are updated on a daily basis. If you learn that you have a lower score, you might still be able to get a card with a good initial bonus. It just won't be worth nearly as much.

Make Sure You're Eligible

You generally won't be eligible for a credit card's sign-up bonus if you've previously owned the card in question, at least within the last few years.

Don't Overspend Just to Save

Ideally, a sign-up bonus should compensate you for money that you'd spend no matter what. For example, if you're going to spend $3,000 over the next three months anyway, why not use a new credit card and save $400+ in the process?
But if you wouldn't ordinarily spend that much, don't go looking for excuses to do so. Sure, you might get a $400 bonus, but if you waste $1,000 on things you really don't need, it's a losing proposition.

Pay In Full Every Month

Rewards credit cards tend to have high APRs. So if you carry a balance from month to month, interest will quickly eat away at your rewards earnings.

Avoid Churning or Risk Getting Blacklisted

Credit card companies offer sign-up bonuses to encourage applications, with the hope that new cardholders become long-time customers. They don't like it when people sign up, score a bonus and then close their account, especially if it's a regular thing. This is sometimes called "churning." The same goes for folks who try to exploit loopholes in a credit card's rewards programs. It might work once, perhaps even twice, but credit card companies have been known to blacklist repeat offenders.

Consider Store Credit Cards

Store credit cards typically don't have a sign-up "bonus," but many will give you a significant first-purchase discount. For example, some of the best give you 10% to 15% off whatever you buy the day of account approval. And nearly all store credit cards require only fair credit for approval.
Best Credit Card Sign-Up Bonus Methodology
To identify the best credit card sign-up bonuses, WalletHub's editors regularly compare the latest deals in our database of 1,500+ credit card offers. In doing so, we focus on a handful of key factors, including the dollar value of the initial bonus, the amount a cardholder must spend to earn it, the card's annual fee, and the credit standing needed for applicants to be approved for an account. Ongoing rewards are used more as a tiebreaker for this best credit cards list than our editors' picks for the best overall rewards cards, where they are among the primary points of comparison.
Crunching the numbers allowed us to find the most lucrative credit card sign-up bonuses overall. We then pared down our picks to the short list of the very best bonuses, by factoring in the types of bonus rewards provided and the categories of cards that tend to be most popular with consumers. From credit cards with hotel points and airline miles to cards with cash back or a big discount, there are plenty of different sign-up bonuses available. Credit card sign-up bonuses are also just about as attractive as they've ever been, according to data from
WalletHub's Credit Card Landscape Report
.