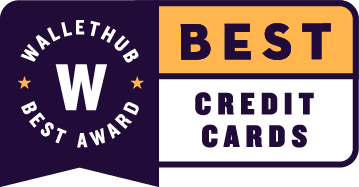 The best credit cards are
Chase Freedom Unlimited®
and the
Wells Fargo Active Cash® Card
.
Chase Freedom Unlimited
and
Wells Fargo Active Cash
are the top credit card offers available right now because they have $0 annual fees and give above-average rewards on all purchases. Each has a 0% introductory APR offer, too.
The title of 2023's best credit card could go a lot of different ways, though. There are many worthy candidates, each of which excels in different areas. Keep that in mind as you consider WalletHub's picks for the best of the year's best credit card offers, which can be found below.
Best Credit Cards Right Now
It's important to remember that lots of credit cards have great terms in one or more categories, but even the best credit card offers aren't perfect. So it's easiest to identify the best credit card for your needs if you know exactly what you'll be using it for.
Plus, you can get great terms for every transaction that you make by following the
Island Approach
. That means using a few different cards for specific purposes. For example, you could have separate cards for earning rewards on everyday purchases, doing a balance transfer and saving money at your favorite store.
Finally, knowing your credit score is crucial to finding the right credit card. If you don't know where you currently stand, you can
check your latest credit score for free on WalletHub
. The top credit cards overall require good or excellent credit for approval.
Best Credit Card by Credit Score
Best Credit Card by Credit Card Company
The best credit card from American Express is the
Blue Cash Preferred
. Amex Blue Cash Preferred comes with a valuable initial bonus offer plus ongoing bonus rewards in popular purchase categories. There are plenty of attractive alternatives, too. For big-spenders whose top expenses include travel, the
American Express® Gold Card
is a popular option. Most Amex credit cards require at least good credit for approval.
The best credit card from Bank of America is the
Bank of America Premium Rewards credit card
. It offers the highest two-year savings from rewards, after subtracting annual fees, of any Bank of America card for personal use.
The best all-around credit card from Capital One is the
Capital One Quicksilver Cash Rewards Credit Card
. If you'd like to earn straightforward rewards while enjoying a
$0
annual fee and a
0%
introductory APR, Quicksilver is a great choice.
The best all-around credit card from Chase is the
Chase Freedom Unlimited®
. It offers great rewards, a
$0
annual fee and a
0%
introductory APR. For people who prefer travel rewards, the
Chase Sapphire Preferred® Card
is a popular option.
The best Citibank credit card is the
Citi® Double Cash Card – 18 month BT offer
. The card offers great everyday rewards and can help you get out of debt.
The best Discover credit card is the
Discover it® Cash Back
. It offers a high bonus rewards rate, and Discover will double all the rewards you earn the first year as a first-anniversary present.
The best Wells Fargo credit card is the
Wells Fargo Active Cash® Card
. It offers rewards at a flat rate on all purchases as well as a solid initial bonus, and there is no annual fee.
The best U.S. Bank credit card is the
U.S. Bank Cash+® Visa Signature® Card
because it has a
$0
annual fee and good rewards. New cardholders get an initial bonus of
$200 cash back for spending $1,000 in the first 120 days
, and all cardholders earn
1 - 5% cash back
on purchases normally.
The best overall Visa credit card is the
Chase Freedom Unlimited®
. It has a
$0
annual fee, rewards cardholders with
1.5 - 5% cash back
, and offers an introductory APR of
0% for 15 months
.
The best Mastercard credit card is the
Citi Premier® Card
due to its strong rewards. There's an initial bonus of
60,000 points for spending $4,000 in the first 3 months
, plus ongoing rewards of
1 - 3 points per $1
. The card also has a
$95
annual fee.
Top Rated Credit Cards by Users
You can learn a lot from other people's
credit card reviews
and ratings. For instance, the credit cards with the best user ratings typically provide top-notch terms and high customer satisfaction. With that in mind, we've selected the cards from our database of 1,500+ credit card offers that have the highest average ratings among WalletHub users (minimum of 200 ratings). You can check them out below.
Methodology for Selecting the Best Credit Cards
To identify the best credit cards, WalletHub's editors routinely compare the latest rewards, interest rates and fees offered by 1,500+ credit cards, including cards from WalletHub's partners and
notable new offers
. We try to select the best credit cards for each credit rating, plus newcomers, as well as for each major credit card category.
Our editors' picks for the best credit cards are based on thorough analysis of key features of the cards, such as credit standing required, user type, type of rewards, 0% APR introductory periods and initial rewards bonuses. Picks are selected based on the lowest two year cost.
How Two-Year Cost Is Calculated
Two-year cost is used to calculate the monetary value of cards for better comparison and is calculated by combining annual and monthly membership fees over two years, adding any one-time fees or other fees (like balance transfer fees), adding any interest costs, and subtracting rewards. Negative amounts indicate savings. When fees or other terms are presented as a range, we use the midpoint for scoring purposes.
Rewards bonuses and credits have been taken into account for two-year cost calculations. However, bonuses applicable to only a very small portion of cardholders are not considered. For example, credits and bonuses awarded for spending or redeeming rewards through a company portal with non-co-branded cards have not been taken into account. Similarly, bonuses and credits related to spending with specific merchants using a non-co-branded card have not been taken into account (for example, if Card A offers credits with DoorDash, this feature would not be factored into calculations because it is hard to assess how many cardholders would use the benefit or exactly how much value they'd get from it).
Cardholder Spending Profiles
Given that different users have different goals and are likely to use their credit cards differently, we identified spending profiles that are representative of different users' financial priorities and behaviors. For each cardholder type, we have assumed a specific amount of monthly spending by purchase type (e.g., groceries, gas, etc.), as well as an average balance, balance transfer amount, amount spent on large purchases and average monthly payment. Spending assumptions are based on Bureau of Labor Statistics data for consumers and PEX data for businesses.
Credit Card Landscape Analysis
To make it onto WalletHub's best credit cards list, a card must have truly stand-out terms compared to the competing options. Staying on the list is even more difficult, considering how competitive the credit card landscape has become. For points of reference, WalletHub's latest
Credit Card Landscape Report
has updated averages for the most important credit card features, from fees and interest rates to rewards.