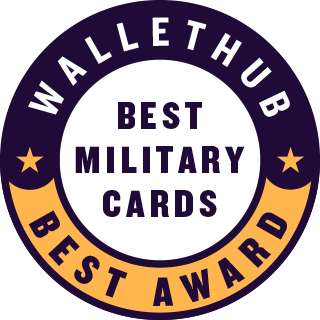 The best military credit cards are great credit cards that just so happen to offer unique rewards and benefits geared toward the military community. These offers are definitely worth considering for military families, but applying for a military credit card should not come at the expense of overall savings. In other words, if you find a non-military credit card that will save you more money via rewards and low interest rates, you shouldn't pass it up just to get a card with a military connection.
With that in mind, WalletHub's editors compared more than 1,500 credit card offers to find the best military credit cards on the market as well as the best non-military alternatives to consider. You can find the best options listed by category below.
Best Military Credit Cards Comparison
Methodology for Selecting the Best Military Credit Cards
To identify the best credit cards for military members and their families, WalletHub's editors regularly compare 1,500+ credit card offers based on their rewards, rates, fees, approval requirements and special military benefits. In doing so, we focus on cards from banks and credit unions that cater specifically to the military community, including USAA, Pentagon Federal Credit Union and Navy Federal Credit Union. Such issuers only represent a fraction of the credit card market, however, and service members sacrifice enough without having to miss out on great credit card deals.
As a result, WalletHub's editors compare the best military credit cards to the best credit cards overall in categories ranging from travel rewards to 0% APRs. When a general-purpose credit card offer is significantly better than the best military-specific option, we recommend the superior general-purpose card. These selections are updated on a regular basis.