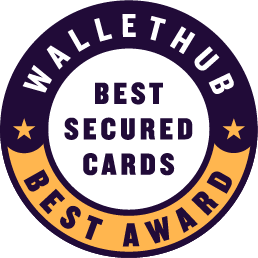 The best secured credit card to build credit with usually is the cheapest one that you can get approved for. A secured card's deposit is fully refundable, and your top priority should be to build credit inexpensively. Fortunately, there are more no-fee (or low-fee) secured credit cards to build credit with now than ever. For your convenience, please find the top options compared below.
It's also worth noting that you should be able to qualify for a decent unsecured card in about a year's time if you use your secured credit card responsibly. Responsible use generally means on-time monthly payments and not maxing out your spending limit. You can keep close tabs on your progress and see where improvements are needed by checking out your WalletHub
Credit Analysis page
.
Best Secured Credit Cards Compared
Methodology for Selecting the Best Secured Cards
WalletHub's editors regularly compare dozens of secured credit cards based on their overall two-year cost, incorporating features such as fees, security deposit requirements, rewards and interest rates. The lower a secured card's two-year cost, the better. It's important to keep expenses low when you're rebuilding credit, and paying extra usually won't get you better rewards at this point in your credit career.
How Two-Year Cost Is Calculated
Two-year cost is used to approximate the monetary value of cards for better comparison and is calculated by combining annual and monthly membership fees over two years, adding any one-time fees or other fees (like balance transfer fees), adding any interest costs, and subtracting rewards. Negative amounts indicate savings. When fees or other terms are presented as a range, we use the midpoint for scoring purposes.
Only certain bonuses and credits have been taken into account. For example, credits and bonuses awarded for spending or redeeming rewards through a company portal with non-co-branded cards have not been taken into account. These portals often have relatively high prices and limit customers' options. Similarly, bonuses and credits related to spending with specific merchants using a non-co-branded card have not been taken into account (for example if Card A offered credits with DoorDash, this would not be included because it is hard to assess how many cardholders would be using this benefit or if they would take full advantage of it).
Cardholder Spending Profiles
Given that different users have different goals and are likely to use their secured credit cards differently, we identified two spending profiles that are representative of different users' financial priorities and behaviors: average consumer with less-than-good credit and average business with less-than-good credit. For each, we have defined monthly spending by category, as well as the average balance, balance transfer amount, amount spent on large purchases and average monthly payment. Monthly spending is based on Bureau of Labor Statistics data for consumers and PEX data for businesses.