British Airways Credit Card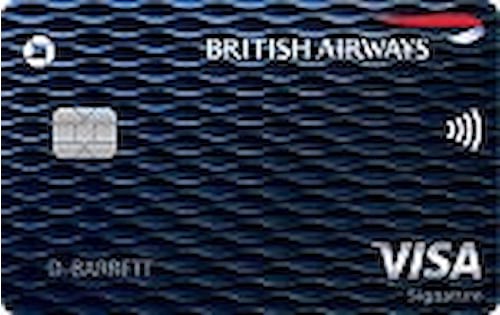 British Airways Credit Card
Info about British Airways Credit Card has been collected by WalletHub to help consumers better compare cards. The financial institution did not provide the details.
Rewards
328
Reviews
12
Q&A
Contact
Rewards
APR
WalletHub Review
Q&A
Customer Reviews
Excellent Credit, Good Credit
Rewards
Earn 75,000 bonus Avios after you spend $5,000 on purchases within the first 3 months of account opening. Plus, earn an additional 25,000 bonus Avios after you spend $20,000 total on purchases within your first year of account opening.
Earn 3 Avios for every $1 spent on purchases made directly with British Airways, Aer Lingus, Iberia, and LEVEL, 2 Avios for every $1 spent on hotel accommodations booked directly through the hotel and 1 Avios for every $1 spent on all other purchases.
Every calendar year you make $30,000 in purchases on your Card, you will earn a Travel Together Ticket good for two years.
Redeem Avios points on British Airways, American Airlines, Aer Lingus, Cathay Pacific, Iberia, Qantas, Qatar Airways and all of the other oneworld carriers. Terms apply.
Receive statement credits of $100 (Economy and Premium Economy) or $200 (Business and First Class) when you book a reward flight to London with British Airways (3 times/year, up to $600).
Take 10% off British Airways flights starting in the US when you book through the website provided in your welcome materials.
Refer friends and earn up to 50,000 Bonus Avios for friends who get the British Airways Credit Card. Terms and conditions apply.
Get one-year complimentary DashPass, a membership for both DoorDash and Caviar that provides unlimited deliveries with $0 delivery fees and lower service fees on eligible orders.
APR on Purchases
19.74% - 26.74% (V)
Balance Transfer
APR: 19.74% - 26.74% (V)
Balance Transfer Fee: 5% (min $5)
WalletHub Review
British Airways Credit Card Pros & Cons
75,000 points initial rewards bonus
No intro APR on purchases
No intro APR on balance transfers
Requires good/excellent credit
British Airways Credit Card's Additional Info
| | |
| --- | --- |
| cash advance fee | 5% (min $10) |
| cash advance APR | 28.74% (V) |
| foreign transaction fee | 0% |
| smart chip | Yes, chip-and-PIN |
| max late fee | $40 |
| max overlimit fee | $0 |
| max penalty APR | 29.99% (V) |
| grace period | 21 days |
If approved for an account, your credit access line will be at least $5000.
Benefits: Purchase Protection, Extended Warranty Protection, Lost Luggage Reimbursement and Baggage Delay Insurance.
Questions & Answers
Can't find what you are looking for? Submit your question about British Airways Credit Card to our community. Editorial and user-generated content is not provided, reviewed or endorsed by the issuer of this card.
Most Popular
Questions sort
If you are approved for a British Airways Credit Card, your credit limit will be at least $5,000. Anything above that is dependent on your creditworthiness.
Compare The British Airways Credit Card
Purchase Intro APR
Not Offered
Purchase Intro APR
Not Offered
Purchase Intro APR
Not Offered
Transfer Intro APR
Not Offered
Transfer Intro APR
Not Offered
Transfer Intro APR
Not Offered
Regular APR
19.74% - 26.74% (V)
Regular APR
18.99% - 25.99% (V)
Regular APR
18.99% - 25.99% (V)
Rewards Rate
1 - 3 points / $1
Rewards Rate
1 - 2 points / $1
Rewards Rate
1 - 3 points / $1
British Airways Credit Card Reviews
Share your insights and review the British Airways Credit Card
Review sort
4 Star Rating
Great card if only for the incredible introductory bonus of 50'000 Avios, though bear in mind you do need to spend $1000 using it within the first 3 months. That said, the points alone have gotten me a couple of short-haul flights out of New York thus far with some left, though there are a few destinations where the points are unusable due to relevant airlines included in the promo not operating in the area. Can't comment on the Inter-continental issues others have mentioned below as I've not looked into using it outwith the USA. Only downside is that the $95 annual fee is a bit higher than most but you'll probably get your money back if you use the card with the Avios in mind.
Comment
4 Star Rating
I have this card and it works out great for me. Sure, as some have mentioned below, if you want to go all out and buy a ticket with Avios points for flights from the US to UK/Europe you will have to pay a lot in taxes, to which I also say, NO THANK YOU! However, what I do use my Avios points for is to upgrade my seat. I can buy an economy seat, use 50K in Avios and be upgraded to business class and then get the bonus miles from the flight as I am now in business class, win win! So, if you are looking to use Avios points that you will get from this card to get free tickets, then steer cleer. But if you want to use them to upgrade then go right ahead!
Comment
3 Star Rating
This card is a grand rip-off. Agree with the previous - Won Buddy Lee's - comment. I have 60,000 avios points at my Chase British Airways credit card, which won't give me any advantage to use. If you book a flight from U.S. to a destination in Europe be ready to pay with your Avios plus HUGE TAX. For example, to go to Barcelona from Washington, D.C. costs 55,000 Avios plus 700$ tax. You can find the regular ticket for about $800. I don't forget you have to pay $95 annual fee for the card. So you don't save anything. I wonder if a law suit could be filed against the card for false advertising (for not disclosing how high the tax is). I tried to find tickets inside U.S. (Las Vegas), but was given a message that BA or partners do not fly to this destination.
Comment
1 Star Rating
This is a card that really separates those who fly a lot, and those who don't. Why do I say that? Well, a lot of reviewer here note that this card gives away up to 100,000 points. Awesome right? 100,000! wow? when others are giving away only 25k - max 50k? 100k? are these guys insane?

Hold right there. BEFORE you proceed to spam the "apply" button, It's important to note what you can get out of Avios (British Airline Mileage term). The fact is... Not much.

It's because flying to and from europe on British Airline on award ticket (using your avios) is going to cost you ransom, both in Avios points but ALSO IN TAX! A flight from New York City to London cost around $900 TAX when you use your points. wait? $900 dollars for tax? When I could pay for an economy seat for about $1000? 900? really?

So when is Avios good for? It's if you are a flight connoisseur and you want to fly first class no matter what. Then, you could drop 180,000 avios and pay $2000 in tax, and fly first class to london. Worth it for most people? no.
(there is another trick where u can use avios to hop around south america locations, but that's not for everyone).

So, my word of advice? stay away from this card. I wish Avios was worth more, then I'd jump all over this card. but it really isn't.
Comment
4 Star Rating
The British Airways Credit Card is a great card. I applied for this card a few months ago and earned 50,000 Avios points after I first used it. The avios points can be used to book flight tickets and it only costs 9000 points to buy a roundtrip ticket from San Francisco to Los Angeles, which means I can take five roundtrip flights between these two locations with these points. This is very great sign-in bonus for me to use this card. Another great thing about this card is that it does not charge foreign transaction fee when I use it outside of the USA. The only thing I don't like this card is that it does not waive the first-year annual fee, which is $95. Currently many other credit cards waive the first-year annual fee. But overall, this is a great card.
Comment
5 Star Rating
The British Airways credit card is a great credit card. This summer, my entire family flew to Europe from America on our miles from using this credit card. The miles you earn can be used for British or American airlines. You get 50,000 miles after your first purchase, and more if you spend over 10,000$ in one year. My family used the credit card to pay for my college tuition and housing, which is how we got so many miles. We have used this card for two years, and will continue to use it. Also, British Airways is an amazing airlines focused on customer service.
Comment
4 Star Rating
It's baaack. It sure seems like big initial bonus season or something because Alec Baldwin has been firing up potential Capital One customers recently with the Venture Card's Double Miles Challenge and Chase and British Airways just brought back the British Airways Credit Card's 100,000 bonus mile deal. In other words, you get 50,000 bonus miles for getting the British Airways rewards Card and making a single purchase, 25,000 additional bonus miles for spending $10,000 within the first year, and another 25,000 for spending another $10,000. Sorry to get your hopes up because 100,000 bonus miles sounds a lot better than 50,000 plus the possibility of 25,000 more and the unlikely chance to get another 25,000. Anyway, I think going over some of the pros and cons of the British Airways Credit Card.

Pros

- You're assured of at least 50,000 Avios points with the British Airways Credit Card and since you only need 12,500 to get a free economy cross country flight and 20,000 for a transatlantic one, that's a pretty good deal in and of itself.
- If you spend enough to get the additional 50,000 bonus miles from the BA Credit Card, you'll probably also be able get a free companion ticket each year…not too shabby.
- The British Airways Credit Card is obviously geared toward international travel, so while having no foreign transaction fees is expected, it's nice to see nonetheless.

Cons

- The ongoing rewards (2.5 Avios miles per $1 spent on BA and 1.25 on everything else) aren't really anything of note, although if you do fly BA a lot, they will come in handy.
- The fact that the Chase British Airways Card is a "smartcard" doesn't really mean much. The caqrd doesn't have a PIN, which means you wont be able to use it at train kiosks and stuff like that out of the country.
- My friend once got the BA Card and said that redeeming rewards miles is made very difficult by things like blackout dates and restrictions.
- A $95 annual fee isn't what you like to see, but this card's rewards have the potential to be worth it.

All in all whether or not you get the British Airways Credit Card really depends on how much you travel and how often you do so with British Airways. If you do both a lot, the BA Card should be in your wallet and you can be very happy about all the bonus miles. If you want to use this card for a single European adventure or something like that, it could work, but you need to be flexible about when you travel. I would not get this card if you never travel internationally and just want to maybe do so down the road because cash would be worth a lot more to u and the miles you get might go unredeemed.
Comment
5 Star Rating
The British Airways Credit Card is an interesting product to watch, even if you don't regularly fly with BA. While this would seem to violate the cardinal rules of rewards credit card selection (that you should only get a travel rewards card if you travel often and a card tied to a specific airline if you fly exclusively with it), the British Airways Card has proven to have some of the most attractive initial rewards bonuses available. As of now, you can score a free transatlantic flight by opening this card, which has a $95 annual fee, and spending $2,500 in the first three months. This alone is a good deal, but consider the fact that British Airways and Chase (the British Airways Credit Card's issuer) have offered 2 free transatlantic flights for a limited time before and your interest in the card will certainly increase. Sure, there is no guarantee 2 free flights will be offered again anytime soon, but its something to watch out for, and one free flight is a pretty decent consolation prize.

This is not to say that the British Airways Credit Card is only beneficial to consumers interested in nabbing an initial bonus and then closing their accounts. It also offers 2.5 British Airways Miles for every $1 you spend with the air carrier, 1.25 miles on everything else and a free companion ticket for every year that you spend $30,000 on the card. Plus, it doesn't have foreign transaction fees, making it well suited to overseas travel. It is important to note that the BA Credit Card is a Visa Signature Card, which means it has the No Preset Spending Limit feature. You must be careful with this type of card because Chase probably won't tell you what your spending limit is and might report misleading credit utilization to the major credit bureaus. You don't want 1-2 free flights to cost you credit standing or make it difficult to plan large purchases, so inquiring with Chase about its NPSL policies before applying for the British Airways Credit Card is a good idea.
Comment
+ 270 users submitted a rating without writing a full review
Review
British Airways Credit Card
WalletHub is an independent comparison service.
We work hard to show you up-to-date product terms, however, this information does not originate from us and thus, we do not guarantee its accuracy. When you click "Apply Now" you will be directed to the offering institution's website. In addition, keep in mind that actual rates and other information may vary for a number of reasons including the applicant's' creditworthiness and differences between an individual's situation and the criteria/assumptions used to generate the information displayed. Before submitting an application, always verify all terms and conditions with the offering institution. Please let us know if you notice any differences.
Ad Disclosure: Offers originating from paying advertisers are noted as "Sponsored" at the top of this page. Advertising may impact how and where offers appear on this site (including, for example, the order in which they appear). At WalletHub we try to present a wide array of offers, but our offers do not represent all financial services companies or products.
Irrespective of whether an offering institution is a paid advertiser, the presence of offer information on WalletHub does not constitute a referral or endorsement of the institution by us or vice versa. Furthermore, offers have not been reviewed or approved by the offering institution. Information is displayed first and foremost to help consumers make better decisions.
Editorial Disclaimer: Editorial and user-generated content on this page is not provided, commissioned, reviewed, approved or otherwise endorsed by the issuer. In addition, it is not the issuer's responsibility to ensure all posts and/or questions are answered.
PURCHASE INTRO APR
Not Offered
TRANSFER INTRO APR
Not Offered
REGULAR APR
18.99% - 25.99% (V)