Capital One Platinum Credit Card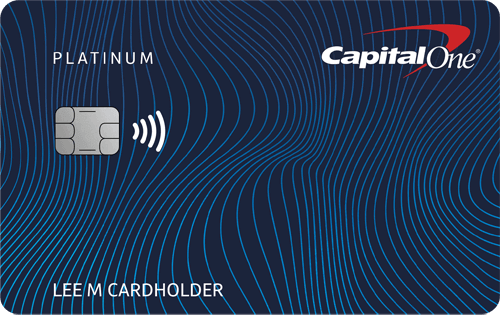 Capital One Platinum Credit Card
No Annual Fee
So you can build credit at no cost.
5,280
Reviews
142
Q&A
Contact
APR
Editor Review
Q&A
Customer Reviews
No Annual Fee
So you can build credit at no cost.
Fair Credit, Limited History
APR on Purchases
26.99% (V)
Balance Transfer
APR: 26.99% (V)
Balance Transfer Fee: $0 at this Transfer APR
Editor's Take
Capital One Platinum Pros & Cons
Available to people with limited credit
No foreign transaction fee
No reduced introductory rates
Capital One Platinum's Additional Info
| | |
| --- | --- |
| cash advance fee | 3% (min $10) |
| cash advance APR | 26.99% (V) |
| foreign transaction fee | $0 |
| smart chip | Yes, chip-and-signature |
| max late fee | $40 |
| max overlimit fee | $0 |
| max penalty APR | None |
| grace period | 25 days |
No annual or hidden fees. See if you're approved in seconds
Be automatically considered for a higher credit line in as little as 6 months
Help build your credit through responsible use of a card like this
Enjoy peace of mind with $0 Fraud Liability so that you won't be responsible for unauthorized charges
Monitor your credit score with CreditWise from Capital One. It's free for everyone
Get access to your account 24 hours a day, 7 days a week with online banking from your desktop or smartphone, with Capital One's mobile app
Check out quickly and securely with a contactless card, without touching a terminal or handing your card to a cashier. Just hover your card over a contactless reader, wait for the confirmation, and you're all set
Pay by check, online or at a local branch, all with no fee - and pick the monthly due date that works best for you
Capital One Platinum Reviews FAQ
Can't find what you are looking for? Submit your question about Capital One Platinum Credit Card to our community. Editorial and user-generated content is not provided, reviewed or endorsed by the issuer of this card.
Most Popular
Questions sort
Compare The Capital One Platinum
Purchase Intro APR
Not Offered
Purchase Intro APR
0% for 15 months
Purchase Intro APR
Not Offered
Transfer Intro APR
Not Offered
Transfer Intro APR
0%

for 15 months

|

Transfer Fee:

3%
Transfer Intro APR
Not Offered
Regular APR
16.49% - 26.49% (V)
Rewards Rate
1.5 - 5% Cash Back
Rewards Rate
1.5 - 5% Cash Back
Capital One Platinum Video Review
Capital One Platinum Reviews
Share your insights and review the Capital One Platinum Credit Card
Review sort
5 Star Rating
Verified Customer
Capital One is the best because they give people a chance that is just starting to build or trying to rebuild their credit when many other good credit card companies or banks want
Comment
5 Star Rating
Verified Customer
Great card to start a credit file. Awesome people to work with. I got two cards, one for me and one for wife. Plan on using it on our next vacation.
Comment
5 Star Rating
Verified Customer
Great first card. Started with a 300 limit and poor credit. Capital One has really helped me build my credit. I now have 2 of these (even though I read over and over that you can't - I assure you, I do. Mine, not a user.) Both have more than double the original approved credit amount. I've added my teen son to one of them to help his up and coming credit. I have a much better Capital One card now (Quicksilver), but still keep these open and use for subscriptions to keep accounts open. If you need to build credit, this card will help - just pay the bill, really that simple. Great cash back merchants to boot through account log in. Recommend for sure.
Comment
1 Star Rating
Verified Customer
Horrible!!!! Made my very first payment in full before the payment due date and they sent my payment back to my bank cause they didn't recognize my bank. So after 3 way calling my bank and Capital one all they needed was my bank to verify i owned my accounts. Capital one said everything was fine and sorted out to go ahead and make the payment again so i did 3 days later they permanently closed my Capital one account and sent it to fraud, tried telling them what happened and Capital one said it would be good.......but nope closed that sucker down. If there was negative stars i would be giving them alot. Horrible stay away from them
Comment
5 Star Rating
Verified Customer
Navy Federal secured N REWARDS card is an excellent starter card for rebuilding credit. No annual fees. I use it to get gas and pay it down to a $5 balance before the statement date to keep utilization low and then I pay it completely off by the due date. They have now upgraded my $200 secured care to unsecured CashRewards card with a $2,000 limit.
Comment
4 Star Rating
Verified Customer
They have always taken care me and been understanding with my need for help. Their auto finance dept has been amazing and patient.
Comment
5 Star Rating
Verified Customer
Capital one is the worst I've ever encountered. All about squeezing money out of the card holder! Don't expect a CLI they will ask you to spend more credit just to report a card max out then go silent on you. I tell my friends all the time DISCOVER is the way to go NOT Capital
Comment
4 Star Rating
Verified Customer
Great rates. I had an issue with fraud and Capital one was very good and quick with resolving the issue. I was not liable for any fraudulent charges
Comment
4 Star Rating
Verified Customer
These guys are a fair card to have if your credit is not the best and you want to rebuild it. The interest rate isn't the best but not the highest. Credit limits are low which keeps you out of trouble and the customer service is pretty good.
Comment
5 Star Rating
Verified Customer
Awesome way to boost your credit fast and learn more on how to use spendable debt, this has been a fun experience but 1 thing that could be improved is the customer service, half the time they are too hard to understand or don't have a good answer and transfer you to other departments.
Comment
Review
Capital One Platinum Credit Card
Expert Thoughts on Capital One Platinum
To help people who are interested in the Capital One Platinum Card make an educated decision, WalletHub posed the following questions to a panel of experts. You can find the experts listed below. Simply click "READ MORE" to check out an expert's answers and advice.
Which type of credit card is better for beginners: one with no annual fee and no rewards, or one with rewards and an annual fee?
Why don't more credit card companies offer cards for people with limited or no credit history?
When is the best time to apply for a credit card like Capital One Platinum?
WalletHub is an independent comparison service.
We work hard to show you up-to-date product terms, however, this information does not originate from us and thus, we do not guarantee its accuracy. When you click "Apply Now" you will be directed to the offering institution's website. In addition, keep in mind that actual rates and other information may vary for a number of reasons including the applicant's' creditworthiness and differences between an individual's situation and the criteria/assumptions used to generate the information displayed. Before submitting an application, always verify all terms and conditions with the offering institution. Please let us know if you notice any differences.
Ad Disclosure: Offers originating from paying advertisers are noted as "Sponsored" at the top of this page. Advertising may impact how and where offers appear on this site (including, for example, the order in which they appear). At WalletHub we try to present a wide array of offers, but our offers do not represent all financial services companies or products.
Irrespective of whether an offering institution is a paid advertiser, the presence of offer information on WalletHub does not constitute a referral or endorsement of the institution by us or vice versa. Furthermore, offers have not been reviewed or approved by the offering institution. Information is displayed first and foremost to help consumers make better decisions.
Editorial Disclaimer: Editorial and user-generated content on this page is not provided, commissioned, reviewed, approved or otherwise endorsed by the issuer. In addition, it is not the issuer's responsibility to ensure all posts and/or questions are answered.