Carnival Credit Card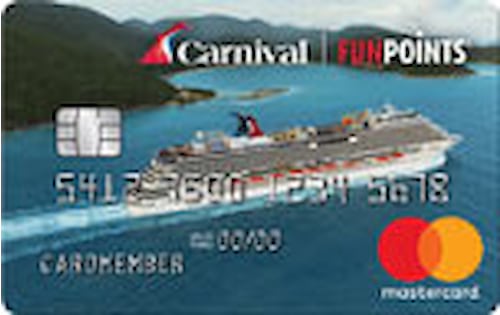 Carnival Credit Card
Info about Carnival Credit Card has been collected by WalletHub to help consumers better compare cards. The financial institution did not provide the details.
Rewards
230
Reviews
23
Q&A
Contact
Rewards
APR
Editor Review
Q&A
Customer Reviews
Excellent Credit, Good Credit
Rewards
Earn 20,000 points (valued at $200 in statement credits) after your first purchase or balance transfer.
Earn 2 points per $1 spent on Carnival Cruise Lines and World's Leading Cruise Lines purchases including onboard purchases charged to Sail & Sign® and 1 point per $1 spent everywhere else.
Plus, earn 1 point for every $1 on balance transfers made within the first 30 days, up to a maximum of 5,000 points.
Redeem for statement credits toward any Carnival purchase, onboard experiences, and more. Redeem for gifts and amenities charged to Sail & Sign.
Get 10% back as a statement credit when you book a Carnival shore excursion on carnival.com prior to your cruise.
APR on Purchases
0% intro APR for 6 months, 15.74% - 25.74% (V) APR after that
Balance Transfer
0% intro APR for 15 months, 15.74% - 25.74% (V) APR after that
Balance Transfer Fee: 5% (min $5)
Editor's Take
Carnival Credit Card Pros & Cons
0% intro APR on purchases
0% intro APR on balance transfers
Requires good/excellent credit
Carnival Credit Card's Additional Info
| | |
| --- | --- |
| cash advance fee | 5% (min $10) |
| cash advance APR | 25.99% (V) |
| foreign transaction fee | 0% |
| smart chip | Yes, chip-and-PIN |
| max late fee | $40 |
| max overlimit fee | $0 |
| max penalty APR | None |
| grace period | 23 days |
0% APR for 6 months applies on all Qualifying Carnival Cruise Booking Purchases.
0% Introductory APR on balance transfers that post to your account within 45 days of account opening.
Questions & Answers
Can't find what you are looking for? Submit your question about Carnival Credit Card to our community. Editorial and user-generated content is not provided, reviewed or endorsed by the issuer of this card.
Most Popular
Questions sort
Compare The Carnival Credit Card
Purchase Intro APR
0% for 6 months
Purchase Intro APR
0% for 15 months
Transfer Intro APR
0%

for 15 months

|

Transfer Fee:

5% (min $5)
Transfer Intro APR
0%

for 15 months

|

Transfer Fee:

3% intro fee ($5 min) for each transfer in first 4 months, after that 5% ($5 min) for each transfer
Regular APR
15.74% - 25.74% (V)
Regular APR
14.99% - 24.99% (V)
Rewards Rate
1 - 2 points / $1
Rewards Rate
1 - 5 points / $1
Carnival Credit Card Reviews
Share your insights and review the Carnival Credit Card
Review sort
4 Star Rating
The Carnival Credit Card looks pretty awesome. I travel and love cruises, so I think this card is worth checking out. The balance transfer option is pretty great too. Getting 5000 points for a transfer is pretty good, and getting the same 5000 points for your first purchase is a sweet deal. I have a basic no frills Visa that I use for most purchases, but I think this Carnival card will be my new default card.
Comment
4 Star Rating
Earning 5000 points after the first purchase is nice! It's also great that you are able to earn bonus points when you make a balance transfer. Like most other cards, this card has a 0% intro rate though only for the first 12 months compared to the first 15-18 months. After though, the regular interest rate is a few percent lower than discover usually runs. All in all, I would say that i am satisfied with the carnival credit card enough to use it for the 12 month 0% interest and maybe i'll get a free cruise out of it.
Comment
4 Star Rating
As someone who has been on 7 Carnival Cruises, and is well on my way to a free cruise, i think that this Carnival Credit Card will be the way that I get there. I am willing to cancel my other credit cards in order to get this one! If you use your card regularly, you can definitely rack up points to use towards that free cruise. And the foreign transaction fees are right in line with other cards, which won't make you feel guilty when you have to use the cash machine on the ship to tip your waiters. So if you are a frequent cruiser like myself, I think that this card would be perfect for you, despite the high interest rate after the first year. But i think it all will balance out once you are on that free cruise.
Comment
3 Star Rating
This seems like a decent rewards card if you're the type of person that likes going on Carnival cruises regularly. The 0% interest for the first 12 months is also really nice. I'm not sure that I personally would use the bonus points frequently enough to make it worthwhile, but for someone who does like cruises, this could be a great card.
Comment
3 Star Rating
This Carnival Credit Card seems like a rather high interest rate after the first 12 months for a rather specific card. I suppose if you're gonna go on a spree of cruises then this is the perfect card for you, otherwise I would suggest finding something that would be more applicable to your tastes.
Comment
4 Star Rating
I think the Carnival Credit Card is a great deal. When I signed up with my Chase Freedom VISA Card I found that the rewards were not all they were cracked up to be. The idea to have 1 point be $1 is a great one, despite all that I have spent with Chase I rarely got any rewards because their conversion is horrible. Also 12 month APR is a great deal. The Carnival Credit Card looks like a great deal for anyone looking to sign up for another card.
Comment
3 Star Rating
If you have a card that the introductory apr offer is ending on, with a current balance of over 5000, this card may be a good choice. The Carnival Credit Card offers a zero percent apr on a balance tranfer for the intro period, and if the balance exceeds 5000 you will receive an additional 5000 Carnival points. If you are planning on taking a Carnival cruise, you can earn double points on Carnival cruise purchases on the cruise, and for the cost of the cruise itself. I think there are better choices out there, but this card seems to be a good choice if you A) have a large balance that you don't want to pay a balance on B) You are already planning on taking a cruise anyway AND C) you would like a card that offers 0 percent apr for an introductory period without an annual fee. My question is though...Why would you carry a large balance, and still think it's a good idea to book a cruise? Look around, there are probably better choices for your lifestyle.
Comment
2 Star Rating
I don't find the reward points in the Carnival card to be fun as I always opt for cash backs when I search for credit cards. I do not like being at the mercy of credit card giants to shop in their accredited stores at their convenience. The carnival card has nothing much to offer unless you travel a lot on cruises. But with the recession making a dent in people's pockets, I don't see much of people taking cruises to enjoy vacation. Also the $5000 balance transfer is too steep for anyone to consider it lucrative! I have a Citi card that gives me $1.15 cash back instead of the $1 promised by the Carnival. Also, my card comes at $0 annual fee in contrast to the carnival! Overall, i don't see the features to be that lucrative!
Comment
3 Star Rating
You need good credit to qualify for the Carnival Credit Card, but there is no annual fee. That is really on par with a lot credit cards you come across. They have a great rewards point system, much better then many cards I have seen. Their intro interest rate is nice, at 0%, for the first year. I find a lot of other cards aren't offering these 0% rates as much as they used to. After your intro period is up, the interest rate goes to 14% to 21%, which is well above par, compared to other cards. Unfortunately, they don't seem to offer any specialized services or benefits aside from their reward points. If you go on Carnival Cruises often, I think you would like this card, if not, don't waste your time.
Comment
2 Star Rating
The Carnival Credit Card isn't something worth throwing a carnival for. The purchase, balance transfer, and cash advance rates are comparable to some of the vendor credit cards I have, but the additional rates on this card seem exorbitant. That max penalty APR is downright terrifying, and the foreign transaction fee seems awfully silly considering that cruises often frequent foreign territories. Being someone who isn't big on cruises, the points don't make a huge difference to me personally; but considering all of the charges that cruise lines like to rack on their customers, I can see how the points would be handy for frequent Carnival Cruise Line customers. Really, one of the biggest things I like about this card is that it allows for balance transfers. Some of my cards require special "checks" that are issued once in a blue moon to perform transfers, whereas others don't allow for balance transfers period!
Comment
Review
Carnival Credit Card
WalletHub is an independent comparison service.
We work hard to show you up-to-date product terms, however, this information does not originate from us and thus, we do not guarantee its accuracy. When you click "Apply Now" you will be directed to the offering institution's website. In addition, keep in mind that actual rates and other information may vary for a number of reasons including the applicant's' creditworthiness and differences between an individual's situation and the criteria/assumptions used to generate the information displayed. Before submitting an application, always verify all terms and conditions with the offering institution. Please let us know if you notice any differences.
Ad Disclosure: Offers originating from paying advertisers are noted as "Sponsored" at the top of this page. Advertising may impact how and where offers appear on this site (including, for example, the order in which they appear). At WalletHub we try to present a wide array of offers, but our offers do not represent all financial services companies or products.
Irrespective of whether an offering institution is a paid advertiser, the presence of offer information on WalletHub does not constitute a referral or endorsement of the institution by us or vice versa. Furthermore, offers have not been reviewed or approved by the offering institution. Information is displayed first and foremost to help consumers make better decisions.
Editorial Disclaimer: Editorial and user-generated content on this page is not provided, commissioned, reviewed, approved or otherwise endorsed by the issuer. In addition, it is not the issuer's responsibility to ensure all posts and/or questions are answered.
PURCHASE INTRO APR
0% for 15 months
TRANSFER INTRO APR
0%
for 15 months
3% intro fee ($5 min) for each transfer in first 4 months, after that 5% ($5 min) for each transfer Transfer Fee
REGULAR APR
14.99% - 24.99% (V)
REWARDS RATE
1 - 5 points / $1
BONUS OFFER
20,000 points