Carnival Credit Card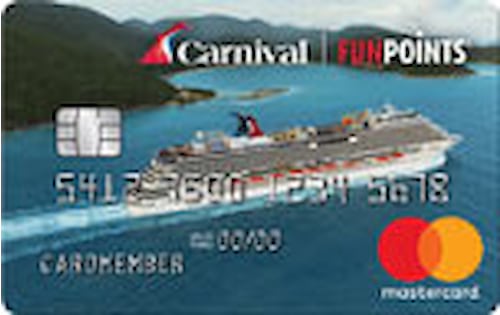 Carnival Credit Card
Info about Carnival Credit Card has been collected by WalletHub to help consumers better compare cards. The financial institution did not provide the details.
Rewards
230
Reviews
23
Q&A
Contact
Rewards
APR
Editor Review
Q&A
Customer Reviews
Excellent Credit, Good Credit
Rewards
Earn 20,000 points (valued at $200 in statement credits) after your first purchase or balance transfer.
Earn 2 points per $1 spent on Carnival Cruise Lines and World's Leading Cruise Lines purchases including onboard purchases charged to Sail & Sign® and 1 point per $1 spent everywhere else.
Plus, earn 1 point for every $1 on balance transfers made within the first 30 days, up to a maximum of 5,000 points.
Redeem for statement credits toward any Carnival purchase, onboard experiences, and more. Redeem for gifts and amenities charged to Sail & Sign.
Get 10% back as a statement credit when you book a Carnival shore excursion on carnival.com prior to your cruise.
APR on Purchases
0% intro APR for 6 months, 15.74% - 25.74% (V) APR after that
Balance Transfer
0% intro APR for 15 months, 15.74% - 25.74% (V) APR after that
Balance Transfer Fee: 5% (min $5)
Editor's Take
Carnival Credit Card Pros & Cons
0% intro APR on purchases
0% intro APR on balance transfers
Requires good/excellent credit
Carnival Credit Card's Additional Info
| | |
| --- | --- |
| cash advance fee | 5% (min $10) |
| cash advance APR | 25.99% (V) |
| foreign transaction fee | 0% |
| smart chip | Yes, chip-and-PIN |
| max late fee | $40 |
| max overlimit fee | $0 |
| max penalty APR | None |
| grace period | 23 days |
0% APR for 6 months applies on all Qualifying Carnival Cruise Booking Purchases.
0% Introductory APR on balance transfers that post to your account within 45 days of account opening.
Questions & Answers
Can't find what you are looking for? Submit your question about Carnival Credit Card to our community. Editorial and user-generated content is not provided, reviewed or endorsed by the issuer of this card.
Most Popular
Questions sort
Compare The Carnival Credit Card
Purchase Intro APR
0% for 6 months
Purchase Intro APR
0% for 15 months
Transfer Intro APR
0%

for 15 months

|

Transfer Fee:

5% (min $5)
Transfer Intro APR
0%

for 15 months

|

Transfer Fee:

3% intro fee ($5 min) for each transfer in first 4 months, after that 5% ($5 min) for each transfer
Regular APR
15.74% - 25.74% (V)
Regular APR
14.99% - 24.99% (V)
Rewards Rate
1 - 2 points / $1
Rewards Rate
1 - 5 points / $1
Carnival Credit Card Reviews
Share your insights and review the Carnival Credit Card
Review sort
2 Star Rating
I feel like the Carnival Credit Card isn't going to be useful to just anyone. You have to be planning on taking quite a few cruises in order to really get anything out of it. There's an initial bonus of 5,000 points which is great for getting you on your way. I'd rather get some kind of airline card like the British Airways card and rack up points for flights so I wasn't limited just to cruises. I guess this card would be more helpful if you're already on a cruise and you are making a lot of purchases with the cruise line. You can get double points when buying with them and use points you already have to get fun things on the cruise. The interest rates are so-so and I don't see this being a very popular card.
Comment
3 Star Rating
The Carnival Cruiseline Credit Card is one of those cards that is very helpful to a very small number of people. If you're someone who takes a lot of cruises, it's worth looking into. It's similar to those GM or Ford credit cards where if you're 100% certain you'll be patronizing the corporation that sponsors the card, you can get a lot of mileage out of using it. The 5000 free points for signing up is great, as is the 5000 points for a balance transfer. The thing to be cautions of, however, is that the grace period for making payments is only 23 days, not a full month, and with a variable interest rate that isn't anything to write home about, it's important you don't let things sit for too long. The good news is there's no annual fee, so while this may not be a card you use regularly, you won't have to pay for the privilege of not using it.
Comment
5 Star Rating
My spouse and family love to cruise. We try to take a cruise every other year and have been able to do that in part because of the Carnival Credit Card. You earn a lot of points on purchases that you are able to later spend on cruises which is amazing. If you like to travel and would like to take a cruise one day try to get this card. The interest rate is a little high so try not to carry a large balance it will save you some money however if you pay it on time and pay your balance quickly you will save money on vacations and everyone can use one of those! I highly recommend this card if you have average to good credit. You also start out with points just for opening the card which is a nice perk as well.
Comment
3 Star Rating
The Carnival Mastercard Credit Card is a fairly good credit card to have. It is a rewards credit card and it is very easy to rack up a lot of points. When you make your first purchase using this credit card you will be given a very generous 5,000 points which is very very nice. There is also no additional fees attached to this card unlike some other cards out there. There's no annual fee, and the customer service is good as well. The cards APR though could be better, but it's not horribly bad. This is a good card if you don't have anything better.
Comment
3 Star Rating
The Carnival Credit Card does not look like a bad card at all, but I've seen better. Unfortunately, most cards have a variable rate these days, but at least the rate on the Carnival card will only fluctuate from 13.99-20.99%. That is not as good as the Visa G rewards, but it is not as bad as some that fluctuate over 10 points. On My Visa G rewards card the 16.24 APR is variable and has hit above 20 before, but not too often. The rewards on the Carnival card are on par with most other reward cards I have seen. This card would certainly be useful if you plan on taking a lot of Carnival cruises, but otherwise I think getting a card from a credit union probably would be more beneficial. I have a card from Provident Credit Union with an APR that fluctuates only 5% and the max penalty is 18%. To me that is more reasonable. The max penalty on the Carnival card is 27.24%. Yikes. You also have the option of raising or lowering your APR in favor of more or less rewards points on a Provident card. It seems more flexible to me.
Comment
3 Star Rating
Great card for building up Carnival credit for cruises. The Carnival Credit Card give you 5,000 after your first purchase! Transfer an existing balance over for another 5,000. Get double points for carnival products and snag 1 point for every dollar spend else where, plus there is no annual fees. Please do be wary of the 3% transfer fee with a 23 day grace period will end up causing you extra fees if you don't intend on paying it all off asap, which really negates the point of getting the extra 5,000 points. If you love cruises, this is the card for you.
Comment
2 Star Rating
If you are a huge fan of Carnival cruises, the Carnival Credit Card might be the one for you. Each purchase allows you to accrue points that can be used towards Carnival cruises. You start off with 5,000 points and can get 5,000 bonus points for a balance transfer. Additionally, purchases of Carnival products are worth double points. The card also has no annual fee.

However, the rates themselves are not spectacular, nor is the grace period a full month. The 23 day grace period is of particular concern if you want to avoid interest payments. Additionally, to get those 5,000 points for a balance transfer costs 3%. If you don't have any interest in cruises, this card won't be a good fit. Even if you do, you have to consider how much money you'd potentially save with this rewards card vs. just saving the money yourself before a cruise and avoiding interest payments. Really only of interest to die-hard Carnival fans.
Comment
4 Star Rating
If you love traveling the world, you may want to consider getting a Carnival Credit Card! This card has a great rewards program for using on Carnival cruise lines, including 5,000 initial points and double points earned on any purchase through Carnival. This card is awesome because of it's year-long intro rate, which is followed by a regular rate that is fairly low in comparison to other cards with rewards programs centered around a particular service. I would highly recommend this card if you use the services of Carnival often; however, don't bother if you don't, because reward points are only good for cruises!
Comment
5 Star Rating
I signed up for this card a few months ago, and I have absolutely loved the benefits! There is no annual fee, and I get double points on all Carnival Cruise Line purchases. I booked a cruise in May, and I used the points that I received from that to redeem two $25 Lowe's gift cards. The online services that are provided are quick and efficient. I requested a credit line increase, and within 24 hours, they had called me and increased my credit line by $1000! I appreciate the wonderful customer service I have received as a card member. I like that I don't HAVE to use the card on Carnival to get rewards, but that I am also able to get one point on all other purchases. I would definitely recommend this card for anybody who is looking for a great starter card!
Comment
2 Star Rating
I live in New York and the recent popularity of Victor Cruz (Cruuuuuuuuuzeeee) has oddly gotten me interested in taking a cruise (the winter weather might have something to do with it as well). So I checked out the Carnival Cruise Line to see what it offers, hoping I could get a great initial bonus and score a free cruise in the coming months. Well, the Carnival Cruise Lines Credit Card gives you 5,000 bonus points after your first purchase as well as UP TO 5,000 points for transferring a balance. It also gives you 2 points per $1 spent through Carnival Cruise Lines and 1 point per $1 spent on everything else. Sounds ok in theory, but how beneficial this is depends on how expensive a cruise is to begin with as well as how much Carnival "FunPoints" are worth. Assuming you don't transfer a balance and only get 5,000 bonus points, that's only $50 off a cruise, which usually costs at least $249 - $429 if you book in advance, depending on the number of days you want to sail for. Its therefore clear that the Carnival Cruise Line is not ideal for me or most other consumers.

There are a number of rewards cards that will be more lucrative than the Carnival Credit Card. For example, the Capital One Venture Card basically serves as a 2% cash back credit card as long as you redeem miles for travel related purchases, which would come in handy for anyone who travels a lot and uses different companies and modes of transportation to do so. The Chase Sapphire Preferred Card gives you a $500 initial bonus for spending $3,000 in the first three months, which would score you a free cruise. Id therefore say to avoid the Carnival Credit Card because there are other cards out there that are more suited to helping you save on a cruise, though they don't have the branding (but what's that really worth).
Comment
+ 180 users submitted a rating without writing a full review
Review
Carnival Credit Card
WalletHub is an independent comparison service.
We work hard to show you up-to-date product terms, however, this information does not originate from us and thus, we do not guarantee its accuracy. When you click "Apply Now" you will be directed to the offering institution's website. In addition, keep in mind that actual rates and other information may vary for a number of reasons including the applicant's' creditworthiness and differences between an individual's situation and the criteria/assumptions used to generate the information displayed. Before submitting an application, always verify all terms and conditions with the offering institution. Please let us know if you notice any differences.
Ad Disclosure: Offers originating from paying advertisers are noted as "Sponsored" at the top of this page. Advertising may impact how and where offers appear on this site (including, for example, the order in which they appear). At WalletHub we try to present a wide array of offers, but our offers do not represent all financial services companies or products.
Irrespective of whether an offering institution is a paid advertiser, the presence of offer information on WalletHub does not constitute a referral or endorsement of the institution by us or vice versa. Furthermore, offers have not been reviewed or approved by the offering institution. Information is displayed first and foremost to help consumers make better decisions.
Editorial Disclaimer: Editorial and user-generated content on this page is not provided, commissioned, reviewed, approved or otherwise endorsed by the issuer. In addition, it is not the issuer's responsibility to ensure all posts and/or questions are answered.
PURCHASE INTRO APR
0% for 15 months
TRANSFER INTRO APR
0%
for 15 months
3% intro fee ($5 min) for each transfer in first 4 months, after that 5% ($5 min) for each transfer Transfer Fee
REGULAR APR
14.99% - 24.99% (V)
REWARDS RATE
1 - 5 points / $1
BONUS OFFER
20,000 points