Chime Credit Card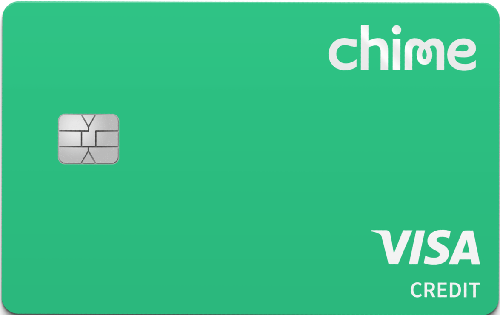 Chime Credit Card
Info about Chime Credit Card has been collected by WalletHub to help consumers better compare cards. The financial institution did not provide the details.
APR
204
Reviews
11
Q&A
Contact
APR
Editor Review
Q&A
Customer Reviews
Minimum Security Deposit
$200*
Editor's Take
Chime Credit Card Pros & Cons
Requires security deposit
Chime Credit Card's Additional Info
| | |
| --- | --- |
| cash advance fee | $0 |
| cash advance APR | N/A |
| foreign transaction fee | 0% |
| smart chip | Yes |
| max late fee | $0 |
| max overlimit fee | $0 |
| max penalty APR | N/A |
*No minimum security deposit required, but your spending limit equals the amount that you transfer from your Chime Spending Account.
To be eligible for the card, you will need a Chime Spending Account and to receive a payroll direct deposit of at least $200 within 365 days of applying.
No credit check to apply.
Turn on Safer Credit Building and your balance will be automatically paid on time, every month.
Each month, your payments will be reported to the major credit bureaus to help you build credit over time.
Add money from your Chime Spending Account into Credit Builder Secured account anytime.
Questions & Answers
Don't see what you're looking for? Submit your question about Chime Credit Card to our community. Editorial and user-generated content is not provided, reviewed or endorsed by the issuer of this card.
Most Popular
Questions sort
Compare The Chime Credit Card
Purchase Intro APR
Not Offered
Purchase Intro APR
Not Offered
Purchase Intro APR
Not Offered
Transfer Intro APR
Not Offered
Transfer Intro APR
Not Offered
Transfer Intro APR
Not Offered
Regular APR
10.99% Variable
Rewards Rate
1 - 2% Cash Back
Chime Credit Card Reviews
Share your insights and review the Chime Credit Card
Review sort
5 Star Rating
Verified Customer
Chime has helped me build my credit some much in this first 3 months than anything else I've EVER done. Thanks chime. I do really appreciate it
Comment
5 Star Rating
Verified Customer
It is the best card I have ever had. I can do anything I want with it. It builds credit really good. I put money I spend money it builds credit. It is that easy! Plus it looks good in your wallet!
Comment
2 Star Rating
Verified Customer
I pay off the balance but chime still reports I have a high balance when I don't have one. I don't think they report monthly like they should.
Comment
1 Star Rating
So although I have the safe credit builder set up and pay off the balance to 0.00 everymonth this way as a simple no brainer, it reports to the credit bureau what you've spent each month ...and this tells the credit bureaus that you have that amount as credit built up?? Not good for your credit score! They think you have a credit line up to that amount and owe that amount?? It is very confusing. Dropped my credit score 21 points one month which wasn't good. Basically you have to REDEPOSIT what you spend before the credit bureau reporting period (end of the month?)...so if you spend 400 and bring the balance to 0, make sure to put 400 back in...shows you have 400 in credit available and you haven't spent that? Very confusing. I'm going to close this account.
Comment
5 Star Rating
Verified Customer
Chime credit card is the best and I really appreciate all there effort. They give me there best service ever and I'm so happy about it
Comment
5 Star Rating
Verified Customer
I love chime best way to build credit I would definitely suggest this to my friends and family my credit score has boosted tremendously
Comment
5 Star Rating
Verified Customer
Has helped my credit score. I went from below 600 to now 7pts away from 700 in a year just using this occasionally for everyday purchases
Comment
5 Star Rating
Verified Customer
Love my credit builder card. Helps my credit a lot. As it always reports each month. It's my main card I use and it has gotten my credit score up a ton
Comment
4 Star Rating
Verified Customer
Chime got my going in the right direction I ready for real credit card and loans to keep my credit going in the right direction good for credit building
Comment
5 Star Rating
Verified Customer
Chime credit/debit card is a great card and I truly love the detailed account information and the things you can do on the app!!!!
Comment
WalletHub is an independent comparison service.
We work hard to show you up-to-date product terms, however, this information does not originate from us and thus, we do not guarantee its accuracy. When you click "Apply Now" you will be directed to the offering institution's website. In addition, keep in mind that actual rates and other information may vary for a number of reasons including the applicant's' creditworthiness and differences between an individual's situation and the criteria/assumptions used to generate the information displayed. Before submitting an application, always verify all terms and conditions with the offering institution. Please let us know if you notice any differences.
Ad Disclosure: Offers originating from paying advertisers are noted as "Sponsored" at the top of this page. Advertising may impact how and where offers appear on this site (including, for example, the order in which they appear). At WalletHub we try to present a wide array of offers, but our offers do not represent all financial services companies or products.
Irrespective of whether an offering institution is a paid advertiser, the presence of offer information on WalletHub does not constitute a referral or endorsement of the institution by us or vice versa. Furthermore, offers have not been reviewed or approved by the offering institution. Information is displayed first and foremost to help consumers make better decisions.
Editorial Disclaimer: Editorial and user-generated content on this page is not provided, commissioned, reviewed, approved or otherwise endorsed by the issuer. In addition, it is not the issuer's responsibility to ensure all posts and/or questions are answered.
PURCHASE INTRO APR
Not Offered
TRANSFER INTRO APR
Not Offered
REWARDS RATE
None
REWARDS BONUS
None