Chime Credit Card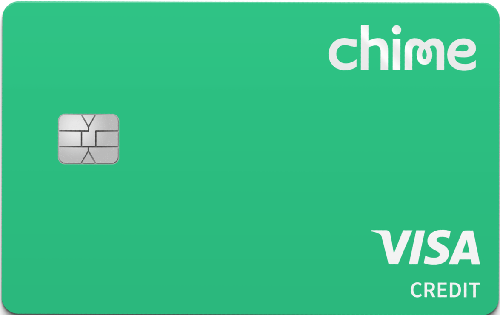 Chime Credit Card
Info about Chime Credit Card has been collected by WalletHub to help consumers better compare cards. The financial institution did not provide the details.
APR
207
Reviews
11
Q&A
Contact
APR
Editor Review
Q&A
Customer Reviews
Minimum Security Deposit
$200*
Editor's Take
Chime Credit Card Pros & Cons
Requires security deposit
Chime Credit Card's Additional Info
| | |
| --- | --- |
| cash advance fee | $0 |
| cash advance APR | N/A |
| foreign transaction fee | 0% |
| smart chip | Yes |
| max late fee | $0 |
| max overlimit fee | $0 |
| max penalty APR | N/A |
*No minimum security deposit required, but your spending limit equals the amount that you transfer from your Chime Spending Account.
To be eligible for the card, you will need a Chime Spending Account and to receive a payroll direct deposit of at least $200 within 365 days of applying.
No credit check to apply.
Turn on Safer Credit Building and your balance will be automatically paid on time, every month.
Each month, your payments will be reported to the major credit bureaus to help you build credit over time.
Add money from your Chime Spending Account into Credit Builder Secured account anytime.
Questions & Answers
Don't see what you're looking for? Submit your question about Chime Credit Card to our community. Editorial and user-generated content is not provided, reviewed or endorsed by the issuer of this card.
Most Popular
Questions sort
Compare The Chime Credit Card
Purchase Intro APR
Not Offered
Purchase Intro APR
Not Offered
Purchase Intro APR
Not Offered
Transfer Intro APR
Not Offered
Transfer Intro APR
Not Offered
Transfer Intro APR
Not Offered
Regular APR
10.99% Variable
Rewards Rate
1 - 2% Cash Back
Chime Credit Card Reviews
Share your insights and review the Chime Credit Card
Review sort
5 Star Rating
Verified Customer
Hey thank you and very appreciate you giving me the opportunity for this I have been getting my life together very well I have been getting my credit good I have an amazing job I am in the middle of getting A business loan start a contracting business and there is going to take all very well and then I'm also going to get approved for my mortgage loan to start building my house all I need is this one chance to start off so I can just get my credit up there a little bit
Comment
4 Star Rating
Verified Customer
Awesome, really good card to use! I use it almost everyday. And the credit builder is amazing as well! I say if you're looking for a no annual fee card it's this one.
Comment
5 Star Rating
Verified Customer
Chime is wonderful, super convenient. Customer service reps are very knowledgeable. And they have always been quick to help me figure out whatever issue I had.
Comment
5 Star Rating
Verified Customer
This card helps build credit. Make payments on time. Use it for everything from gas to food to recreation. This card is accepted everywhere.
Comment
5 Star Rating
Verified Customer
Love this card. It doesn't charge all the ridiculous fees all these other card companies do & it will spot you $40 if need be. Love, love , love
Comment
5 Star Rating
Verified Customer
This could definitely see my life and I appreciate time for giving me the opportunity to utilize a secured credit card. Build my credit up and it got me thinking and motivated to build my credit up even more
Comment
5 Star Rating
Verified Customer
It actually works I love the card I use it for everything. Makes my credit score better just wish I could have the metal one. Awesome card.
Comment
5 Star Rating
Verified Customer
Good company! I'm lucky I got on board when I did. I don't think they let everyone in. Thanks and keep up the good work and love your credit builder.
Comment
1 Star Rating
Do not use chime I do not recommend this company at all one bit their customer service is horrible they've lied to me multiple times about where my money is and why won't it post into my account. The processing time for external bank account transfer into Chime is 3 to 5 business days. they've had my money for over eight days and it's still not available and they continue to lie to me about why. They tell me they have absolutely no control over the money they get and that it's all up to the computer to decide when I get my money that they have no power to override anything. I feel like this is some sort of fraudulent bank trying to get peoples money. Hold it for as long as I can and some kind of high interest savings account before giving it to you. It's been removed from my Chase bank account for over four days now and it's still not available. It's not in my Chase bank it's not in chimes bank they can't find it or they won't give it to me. Horrible
Comment
5 Star Rating
Verified Customer
Good way to raise credit . I've been trying to raise my credit and I finally see some progress. I'm happy with the results. Great .
Comment
WalletHub is an independent comparison service.
We work hard to show you up-to-date product terms, however, this information does not originate from us and thus, we do not guarantee its accuracy. When you click "Apply Now" you will be directed to the offering institution's website. In addition, keep in mind that actual rates and other information may vary for a number of reasons including the applicant's' creditworthiness and differences between an individual's situation and the criteria/assumptions used to generate the information displayed. Before submitting an application, always verify all terms and conditions with the offering institution. Please let us know if you notice any differences.
Ad Disclosure: Offers originating from paying advertisers are noted as "Sponsored" at the top of this page. Advertising may impact how and where offers appear on this site (including, for example, the order in which they appear). At WalletHub we try to present a wide array of offers, but our offers do not represent all financial services companies or products.
Irrespective of whether an offering institution is a paid advertiser, the presence of offer information on WalletHub does not constitute a referral or endorsement of the institution by us or vice versa. Furthermore, offers have not been reviewed or approved by the offering institution. Information is displayed first and foremost to help consumers make better decisions.
Editorial Disclaimer: Editorial and user-generated content on this page is not provided, commissioned, reviewed, approved or otherwise endorsed by the issuer. In addition, it is not the issuer's responsibility to ensure all posts and/or questions are answered.
PURCHASE INTRO APR
Not Offered
TRANSFER INTRO APR
Not Offered
REWARDS RATE
None
REWARDS BONUS
None