Chime Credit Card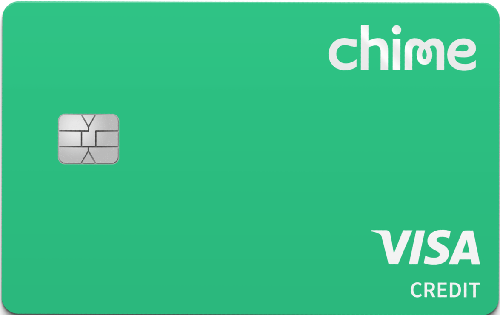 Chime Credit Card
Info about Chime Credit Card has been collected by WalletHub to help consumers better compare cards. The financial institution did not provide the details.
APR
204
Reviews
11
Q&A
Contact
APR
Editor Review
Q&A
Customer Reviews
Minimum Security Deposit
$200*
Editor's Take
Chime Credit Card Pros & Cons
Requires security deposit
Chime Credit Card's Additional Info
| | |
| --- | --- |
| cash advance fee | $0 |
| cash advance APR | N/A |
| foreign transaction fee | 0% |
| smart chip | Yes |
| max late fee | $0 |
| max overlimit fee | $0 |
| max penalty APR | N/A |
*No minimum security deposit required, but your spending limit equals the amount that you transfer from your Chime Spending Account.
To be eligible for the card, you will need a Chime Spending Account and to receive a payroll direct deposit of at least $200 within 365 days of applying.
No credit check to apply.
Turn on Safer Credit Building and your balance will be automatically paid on time, every month.
Each month, your payments will be reported to the major credit bureaus to help you build credit over time.
Add money from your Chime Spending Account into Credit Builder Secured account anytime.
Questions & Answers
Don't see what you're looking for? Submit your question about Chime Credit Card to our community. Editorial and user-generated content is not provided, reviewed or endorsed by the issuer of this card.
Most Popular
Questions sort
Compare The Chime Credit Card
Purchase Intro APR
Not Offered
Purchase Intro APR
Not Offered
Purchase Intro APR
Not Offered
Transfer Intro APR
Not Offered
Transfer Intro APR
Not Offered
Transfer Intro APR
Not Offered
Regular APR
10.99% Variable
Rewards Rate
1 - 2% Cash Back
Chime Credit Card Reviews
Share your insights and review the Chime Credit Card
Review sort
5 Star Rating
Verified Customer
In the first month of this reporting my score went up 41 points! Its so easy to maintain and runs in the background Amazing product
Comment
5 Star Rating
Verified Customer
LOVE THIS CARD! I LOVE BEING ABLE TO ADD MONEY AND THEY USE IT TO PAY WHAT'S BEEN CHARGED. NEVER ANY CONFUSION OR HASSLES. NEVER A BILL!
Comment
5 Star Rating
Verified Customer
They are great, always trying to help me improve my credit, gives me suggestions on how to raise my score, they tell me when to watch what I am spending
Comment
5 Star Rating
Verified Customer
Chime is wonderful! I would definitely recommend them to anyone despite their credit score. I have no problems with the debit or credit cards, which are accepted everywhere!
Comment
3 Star Rating
I like this card a lot because It helps you improve your credit but when you keep the balance low your credit score goes down dramatically.
Comment
5 Star Rating
Verified Customer
I love Chime credit builder. it's a great card to have to make monthly payments on your regular bills that u pay anyway and build up your credit at the same time.
Comment
1 Star Rating
Where do I start.. cliff notes version lol: this card hardly helps your score and customer support is full of some uneducated people who can't ever seem to understand what I'm asking about. Do not get this card if you're looking for a credit builder card that actually helps your score. I've been using it myself for about 6 months now using the safer credit building option which moves your money to a secured account that pays off your monthly balance so you never have to worry about a missed payment or negative marks on your report, yet they've only reported a $70 balance (THAT SHOWS AS AN OWED BALANCE, NOT A PAID OFF BALANCE) after spending about more than $1,500 on it over a 6 month period. I've reached out to customer support multiple times to address this issue and I get mixed replies and answers that aren't transparent at all, why do these companies mess with us like that? Giving some generic responses, I was told twice "on time positive payments can help your credit score" umm okay!? Lol what does that have to do with my question about my inaccurate $70 balance (which should be showing up as $1500+ paid off) that shows on my credit report because you guys haven't updated after spending so much money using the thing!? They escalated my support chat to a "specialist" who took 3 hours only to send me a dispute form to fill out. Don't they know that I can do that myself!? None of the support agents could explain or tell me why my balance wasn't updating after so long, I could fully go and dispute on my own without their help through a credit bureau. But as a customer one should be able to ask a question directly about the money one is investing into a credit building based service and yet I still haven't received transparent answers from them.
Truly been a headache dealing with this card and can't cancel it because it'll just bring my score down, stay away from this card. Chime is only good for a regular debit/checking account
Comment
4 Star Rating
Excellent card and services, always helpful and all kinds of bonus rewards. Chime is the bank that I would recommend again and again
Comment
5 Star Rating
The Chime Credit Builder Card is one of the best cards I've ever had! This card has helped me not only boost my credit score but it also works JUST like a normal debit card. Simple, Easy, EFFECTIVE!
Comment
5 Star Rating
this is a great card and helpful when trying to build your credit back up also the customer service is very helpful and understanding
Comment
WalletHub is an independent comparison service.
We work hard to show you up-to-date product terms, however, this information does not originate from us and thus, we do not guarantee its accuracy. When you click "Apply Now" you will be directed to the offering institution's website. In addition, keep in mind that actual rates and other information may vary for a number of reasons including the applicant's' creditworthiness and differences between an individual's situation and the criteria/assumptions used to generate the information displayed. Before submitting an application, always verify all terms and conditions with the offering institution. Please let us know if you notice any differences.
Ad Disclosure: Offers originating from paying advertisers are noted as "Sponsored" at the top of this page. Advertising may impact how and where offers appear on this site (including, for example, the order in which they appear). At WalletHub we try to present a wide array of offers, but our offers do not represent all financial services companies or products.
Irrespective of whether an offering institution is a paid advertiser, the presence of offer information on WalletHub does not constitute a referral or endorsement of the institution by us or vice versa. Furthermore, offers have not been reviewed or approved by the offering institution. Information is displayed first and foremost to help consumers make better decisions.
Editorial Disclaimer: Editorial and user-generated content on this page is not provided, commissioned, reviewed, approved or otherwise endorsed by the issuer. In addition, it is not the issuer's responsibility to ensure all posts and/or questions are answered.
PURCHASE INTRO APR
Not Offered
TRANSFER INTRO APR
Not Offered
REWARDS RATE
None
REWARDS BONUS
None