CB2 Store Card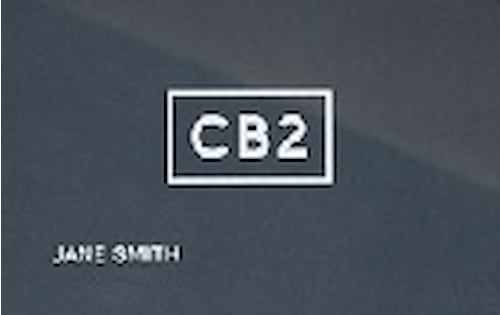 CB2 Store Card
Info about CB2 Store Card has been collected by WalletHub to help consumers better compare cards. The financial institution did not provide the details.
Rewards
197
Reviews
1
Q&A
Contact
Rewards
APR
WalletHub Review
Q&A
Customer Reviews
Excellent Credit, Good Credit, Fair Credit
Rewards
Earn 10% back in reward dollars on merchandise purchases at CB2 and Crate and Barrel.
Reward Certificates are issued in $20 increments with a maximum of 10,000 Reward Dollars being redeemed in any one billing cycle and are valid for 90 days.
You can chose to earn reward dollars on purchases or receive everyday 6 months special financing.
APR on Purchases
0% intro APR for 6 months, 28.49% (V) APR after that
Balance Transfer
Balance Transfers Not Allowed
WalletHub Review
CB2 Store Card Pros & Cons
CB2 Store Card's Additional Info
| | |
| --- | --- |
| cash advance fee | N/A |
| cash advance APR | N/A |
| foreign transaction fee | N/A |
| smart chip | No |
| max late fee | $40 |
| max overlimit fee | $0 |
| max penalty APR | None |
| grace period | 23 days |
Deferred Interest Details: No interest if paid in full within 6 months on purchases of at least $749.
Questions & Answers
Can't find what you are looking for? Submit your question about CB2 Store Card to our community. Editorial and user-generated content is not provided, reviewed or endorsed by the issuer of this card.
Most Popular
Questions sort
Compare The CB2 Store Card
Purchase Intro APR
0% for 6 months
Purchase Intro APR
Not Offered
Purchase Intro APR
Not Offered
Transfer Intro APR
Not Offered
Transfer Intro APR
Not Offered
Transfer Intro APR
Not Offered
Regular APR
17.99% - 26.99% (V)
Rewards Rate
10% in Rewards Dollars
Rewards Rate
1 - 5% Cash Back
CB2 Store Card Reviews
Share your insights and review the CB2 Store Card
Review sort
2 Star Rating
Encourages high amounts of spending at a time while seeming gracious with a 6 month 0% interest rate for 6 months and can not transfer balance from or to any other cards.
Comment
2 Star Rating
Crate and Barrel Store Card has no rewards, balance transfers, or regular APR% rate. I can't see a reason to use this card.. You would be better off using a rewards card like Capital One.
Comment
3 Star Rating
Crate and Barrel Store Card has good and not so good features the intro rate on purchases of 0% for 6 months, 25 day grace period, deferred Interest details 6-month financing available on purchases of $999 and above and earning $20 in reward dollars are all pluses but I do not like the regular rate of 26.99% (V) that seems high and that 35 dollar overdraft fee is also high. They could make a few changes to make this specialty store card even more attractive to consumers.
Comment
3 Star Rating
My overall reaction is meh to this card. The grace period could be longer, a $35 dollar overdraft fee could be lower and used as a sweeter deal if they really wanted to get people into this card. The 6 month no interest rate deal is pretty typical but it doesn't say what it will hike up to after that time and that's information I'd definitely want before signing on for a credit care. Unless you're constantly furnishing homes, Crate and Barrel doesn't seem like the ideal store to have a credit card with anyway. Also the fact that your cash rewards are conditional to a handful of stores is pretty lame. It's almost a non-reward.
Comment
2 Star Rating
Customers can earn $10 for every $200 spent (which is basically a 5% discount on purchases), but these rewards are extremely specific to just a few stores. The 0% APR for 6 months is an alright deal, but it is hard to say how much it will increase afterwards. This may be a good option if you plan on furnishing your house within 6 months of signing up for the account, but otherwise seems like a poor card.
Comment
2 Star Rating
Perhaps the only real reward to Crate and Barrel's non-reward Store Card is that for the first 6 months, the interest rate is set at 0%. This could be particularly useful if you were interested in buying furniture or other large, more expensive items that paying for over 6 months at 0% would be beneficial. However, other than that, I can't see a reason to keep this card in your wallet. You would be better served utilizing a rewards card like AMEX or Capital One rewards, after the 6 month initial interest rate period is over.
Comment
1 Star Rating
The Crate and Barrel store card is a dismal card indeed. No rewards, no balance transfers, no regular APR% rate. However it does offer ten dollars cash back for every 200 dollars you spend... which, again, is pretty bad. Because it is a specialized store card also, the card only nets you rewards at Crate and Barrel stores, CB2, and The Land of Nod. The Crate and Barrel Card isn't a great card to have and I would recommend looking elsewhere for a multiple purpose credit card that you can earn rewards on.
Comment
2 Star Rating
This card has its good and bad parts. Good being convenience and low interest for the first six months. Bad is after six months interest is through the roof. Yes they offer a grace period for payments but if you should go one day past that period, you get hit with higher interest and huge late fees.
Comment
2 Star Rating
Although my wife and I used our Crate and Barrel store card to pay for a large purchase (refurnishing several rooms of our house), we were sure to pay it off within the six month 0% period. The rates beyond that are ridiculous, and could be bettered with a small amount of searching. We used the card once, and then have never used it since, and do not do any real major shopping here now.
Comment
2 Star Rating
The Crate and Barrel Store Card has its pros and cons, but I think the cons on this one heavily outweighs the pros. The card offers no annual fee, which is great, six months with zero interest, special offers and rewards for users, and an extensive grace period for those who need it. Those are all great things to offer, but most of these are perks that most other store cards also give their users. Although, all of these combined do not come close to the outrageous interest rate after the introductory 6-month period. A nearly 30% interest rate is something that will scare many people away from any card, even if they offer the best of rewards. On the other hand, a card like this could come in handy for someone looking to rebuild or establish credit because they may approve those who have "less than perfect" credit. I don't think this would be a card I would want to utilize though due to the interest rate alone.
Comment
WalletHub is an independent comparison service.
We work hard to show you up-to-date product terms, however, this information does not originate from us and thus, we do not guarantee its accuracy. When you click "Apply Now" you will be directed to the offering institution's website. In addition, keep in mind that actual rates and other information may vary for a number of reasons including the applicant's' creditworthiness and differences between an individual's situation and the criteria/assumptions used to generate the information displayed. Before submitting an application, always verify all terms and conditions with the offering institution. Please let us know if you notice any differences.
Ad Disclosure: Offers originating from paying advertisers are noted as "Sponsored" at the top of this page. Advertising may impact how and where offers appear on this site (including, for example, the order in which they appear). At WalletHub we try to present a wide array of offers, but our offers do not represent all financial services companies or products.
Irrespective of whether an offering institution is a paid advertiser, the presence of offer information on WalletHub does not constitute a referral or endorsement of the institution by us or vice versa. Furthermore, offers have not been reviewed or approved by the offering institution. Information is displayed first and foremost to help consumers make better decisions.
Editorial Disclaimer: Editorial and user-generated content on this page is not provided, commissioned, reviewed, approved or otherwise endorsed by the issuer. In addition, it is not the issuer's responsibility to ensure all posts and/or questions are answered.
PURCHASE INTRO APR
Not Offered
TRANSFER INTRO APR
Not Offered
REGULAR APR
17.99% - 26.99% (V)
REWARDS RATE
1 - 5% Cash Back
BONUS OFFER
None