CB2 Store Card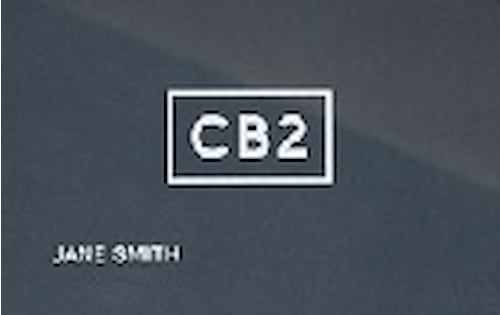 CB2 Store Card
Info about CB2 Store Card has been collected by WalletHub to help consumers better compare cards. The financial institution did not provide the details.
Rewards
197
Reviews
1
Q&A
Contact
Rewards
APR
WalletHub Review
Q&A
Customer Reviews
Excellent Credit, Good Credit, Fair Credit
Rewards
Earn 10% back in reward dollars on merchandise purchases at CB2 and Crate and Barrel.
Reward Certificates are issued in $20 increments with a maximum of 10,000 Reward Dollars being redeemed in any one billing cycle and are valid for 90 days.
You can chose to earn reward dollars on purchases or receive everyday 6 months special financing.
APR on Purchases
0% intro APR for 6 months, 28.49% (V) APR after that
Balance Transfer
Balance Transfers Not Allowed
WalletHub Review
CB2 Store Card Pros & Cons
CB2 Store Card's Additional Info
| | |
| --- | --- |
| cash advance fee | N/A |
| cash advance APR | N/A |
| foreign transaction fee | N/A |
| smart chip | No |
| max late fee | $40 |
| max overlimit fee | $0 |
| max penalty APR | None |
| grace period | 23 days |
Deferred Interest Details: No interest if paid in full within 6 months on purchases of at least $749.
Questions & Answers
Can't find what you are looking for? Submit your question about CB2 Store Card to our community. Editorial and user-generated content is not provided, reviewed or endorsed by the issuer of this card.
Most Popular
Questions sort
Compare The CB2 Store Card
Purchase Intro APR
0% for 6 months
Purchase Intro APR
Not Offered
Purchase Intro APR
Not Offered
Transfer Intro APR
Not Offered
Transfer Intro APR
Not Offered
Transfer Intro APR
Not Offered
Regular APR
17.99% - 26.99% (V)
Rewards Rate
10% in Rewards Dollars
Rewards Rate
1 - 5% Cash Back
CB2 Store Card Reviews
Share your insights and review the CB2 Store Card
Review sort
4 Star Rating
The thing about store cards, is that they all come with crazy high APR. One can not give a legitimate review on that factor alone. Where most store cards differ is in the rewards, and the Crate and Barrel store card offers rewards while most other store cards do not. You get $10 for every $200 spent. I use it when I need to go christmas or just general gift shopping. The financing requirement is quite high, compared to the Amazon store card of only $99 for qualifying items. At the end of the day, there are better store cards, but I don't think you will go wrong with this one.
Comment
3 Star Rating
Everyone seems to be complaining about the APR on the Crate and Barrel Store Card without looking at the incredible deals that come along with it. Ten dollars back on every $200 dollars spent is 5% back. That is better than the majority of cards I have ever seen. Also, they offer great financing options for larger purchases too. Yes the APR is high but if you use the card intelligently and responsibly I think it would be worth anyone's while to give it a try. But, then again, there are definitely better cards on the market. Worth a shot if you like the deals, but worth shopping around as well.
Comment
1 Star Rating
The Crate and Barrel Store Card does not seem like it is worth it. The APR on it is massive and it does not seem worth it to get 10 dollars back on a 200 dollar purchase. So unless you are able to pay off all of your merchandise quickly that money is going to add up. There is, however, financing available but, you have to purchase $999 to qualify. Given all the facts on this credit card, even for a store card it does not seem worth it. Too little rewards and yet too many drawbacks. I would rather just use a regular rewards credit card, than this Crate and Barrel Store Card.
Comment
2 Star Rating
I don't see much to like about the Crate and Barrel store card. The APR is high at 26.99% and while there is a financing option, you have to spend $999 to partake. Also, is 10 dollars earned for every 200 spent really worth the high APR? Unless you are paying everything off quickly, that APR is going to erase those bonus gains. Looking at other home decor stores, The Pottery Barn credit card seems to give you a little better option. The APR, still higher than I would like, is a little more reasonable at 22.8%.The rewards are 1 point per dollar spent, and at 250 points you get a 25 dollar reward certificate. That is essentially what you are getting with the Crate and Barrel card. The 12 month special financing offered by Pottery Barn may be worth investigating. I think once again you are probably are better off paying up front or using your regular credit card unless financing plans are available to you.
Comment
2 Star Rating
Really, the APR on this card is the killer. The rewards aren't so bad, 5% on every $200 along with special offers, but I don't think it's worth the downsides. 6 month financing is also a good deal, but since you have to spend $999 to get that, I don't think it would be worth it unless you get this card for a specific expensive purchase. Otherwise, I would highly recommend the Capital One Cash Rewards Card. It's not store specific, but it has a much better APR (22.9%) and also has 0% APR until July 2014. That is a significantly better deal, especially on small purchases than you're getting with this store specific card.
Comment
1 Star Rating
I do not recommend the Crate and Barrel Store Card. I'd rather use a Travel Rewards Card such as the Capital One VentureOne Rewards Credit Card. The Crate & Barrel Card can only be used in the store and the regular interest rate is 26.99%. The VentureOne Card has a 0% APR until October 2014 with a variable APR of 11.9%-19.9% proceeding October 2014. The Crate & Barrel reward incentive does not compare to the VentureOne reward incentive program. With the Crate & Barrel Card you earn $10 in rewards for every $200 spent. VentureOne provides 1.25 flyer miles for each dollar of any purchase. The VentureOne miles never expire and there is no limit to the amount of miles earned.
Comment
1 Star Rating
The Crate and Barrel Store Card doesn't really seem to be a good choice as a store card. There is no rewards program associated with the card which is a bit of a travesty, aside from the fact that you can earn $10 back for every $200 that you spend. However, this comes with an absurdly high 27% interest rate, which is just awful for a store rewards card. Balance transfers and cash advances are also not possible. I would avoid this card like the plague, unless you're really, really, desperate for an extra 5% back at Crate and Barrel, although you'll lose that with the huge interest rate.
Comment
2 Star Rating
The Crate and Barrel Store Card is probably not worth it unless you desperately want to finance an expensive item from the store. Even then, it's probably better to look for a normal credit card with an introductory period. Because it is a store card, you can't use it anywhere else. You do get 5% back for every $200 you spend at the store, but the issue is that you have to spend all of those rewards at a few not very practical stores. Compared to a card like Best Buy's store card, the financing period is very restrictive and the APR is extremely high. Unless you're moving into a new place and know for sure you want to deck it out with Crate and Barrel stuff, it doesn't seem that useful.
Comment
1 Star Rating
Crate and Barrel Store Card seems like a very bad option for a credit card for numerous reasons. I am a person who likes to have cash back points and rewards of that sort, this offers that technically but it does a not so good job at it seeing as the points can only be spent at a very limited amount of stores that have a limited variety of products. If you are like me and you want a card that gives good rewards the Amazon CC and Paypal CC give amazing offers, and are very trusted with great service, I would personally stay away from this one if I were you.
Comment
1 Star Rating
The Crate and Barrel Store Card is just overall not a good card to have. It's a store card, so you can only use it at Crate and Barrel for starters. They also don't offer any type of rewards for using it in store. Target's RED card offers 5% back on all purchases for example. Of course, Crate and Barrel is its own unique brand that caries its own unique products too. The only benefit to this card is their 6 month interest free financing, but it is only on $1,000 purchases. If you need some extra time paying off a big C&B purchase get this card, but otherwise stay away.
Comment
WalletHub is an independent comparison service.
We work hard to show you up-to-date product terms, however, this information does not originate from us and thus, we do not guarantee its accuracy. When you click "Apply Now" you will be directed to the offering institution's website. In addition, keep in mind that actual rates and other information may vary for a number of reasons including the applicant's' creditworthiness and differences between an individual's situation and the criteria/assumptions used to generate the information displayed. Before submitting an application, always verify all terms and conditions with the offering institution. Please let us know if you notice any differences.
Ad Disclosure: Offers originating from paying advertisers are noted as "Sponsored" at the top of this page. Advertising may impact how and where offers appear on this site (including, for example, the order in which they appear). At WalletHub we try to present a wide array of offers, but our offers do not represent all financial services companies or products.
Irrespective of whether an offering institution is a paid advertiser, the presence of offer information on WalletHub does not constitute a referral or endorsement of the institution by us or vice versa. Furthermore, offers have not been reviewed or approved by the offering institution. Information is displayed first and foremost to help consumers make better decisions.
Editorial Disclaimer: Editorial and user-generated content on this page is not provided, commissioned, reviewed, approved or otherwise endorsed by the issuer. In addition, it is not the issuer's responsibility to ensure all posts and/or questions are answered.
PURCHASE INTRO APR
Not Offered
TRANSFER INTRO APR
Not Offered
REGULAR APR
17.99% - 26.99% (V)
REWARDS RATE
1 - 5% Cash Back
BONUS OFFER
None