Discover it® Miles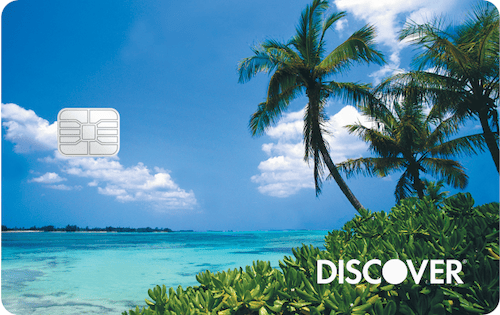 Discover it® Miles
Rewards
397
Reviews
13
Q&A
Contact
Rewards
APR
WalletHub Review
Q&A
Customer Reviews
Excellent Credit, Good Credit
Rewards
UNLIMITED BONUS: Only Discover gives you an unlimited match of all the Miles you've earned at the end of your first year. For example, if you earn 35,000 Miles, you get 70,000 Miles. There's no signing up, no minimum spending or maximum rewards. Just a Miles-for-Miles match.
Automatically earn unlimited 1.5x Miles on every dollar of every purchase - with no annual fee.
Redeem Miles to pay any part of your monthly bill, including your minimum payment.
Turn Miles into cash in any amount, any time. Or redeem as a statement credit for travel purchases like airfare, hotels, rideshares, gas stations, restaurants and more with no blackout dates. However you redeem, Miles keep the same value. And Miles never expire.
APR on Purchases
0% intro APR for 15 months, 16.24% - 27.24% Variable APR after that
Balance Transfer
0% intro APR for 15 months, 16.24% - 27.24% Variable APR after that
Balance Transfer Fee: 3% intro balance transfer fee, up to 5% fee on future balance transfers (see terms)*
WalletHub Review
Discover it Miles Pros & Cons
First-year rewards get doubled
0% foreign transaction fee
Intro APRs on purchases and balance transfers
High regular interest rate
Not as rewarding after the first year
Discover it Miles' Additional Info
| | |
| --- | --- |
| cash advance fee | Either $10 or 5% of the amount of each cash advance, whichever is greater |
| cash advance APR | 29.24% Variable |
| foreign transaction fee | 0% |
| smart chip | Yes, chip-and-signature |
| max late fee | $41 |
| max overlimit fee | See Terms |
| max penalty APR | None |
| grace period | See Terms |
0% intro APR for 15 months on purchases. Then 16.24% to 27.24% Standard Variable Purchase APR will apply.
Discover helps remove your personal information from select people-search websites. Activate by mobile app for free.
Discover is accepted nationwide by 99% of the places that take credit cards.
Freeze your account in seconds with an on/off switch either on the mobile app or website to prevent new purchases, cash advances, and balance transfers.
Get an alert if we find your Social Security number on any of thousands of Dark Web sites.* Activate for free.
Click "Apply Now" to see terms and conditions.
Discover it® Miles Reviews FAQ
Can't find what you are looking for? Submit your question about Discover it® Miles to our community. Editorial and user-generated content is not provided, reviewed or endorsed by the issuer of this card.
Most Popular
Questions sort
At this time, there are no travel insurance benefits with the Discover It Miles card.

The Discover it Miles has a purchase intro APR offer of 0% for 15 months.
That means new cardholders won't have to pay interest for any new purchases made within 15 months of account opening.
You can check your Discover it Miles balance from your online account. You can also check your balance:
On the phone: Call customer service at (800) 547-8638.
Via text alerts: You can...
Compare The Discover it Miles
Purchase Intro APR
0% for 15 months
Purchase Intro APR
Not Offered
Purchase Intro APR
0% for 15 months
Transfer Intro APR
0%

for 15 months

|

Transfer Fee:

3% intro balance, up to 5% fee on future balance transfers (see terms)*
Transfer Intro APR
Not Offered
Transfer Intro APR
0%

for 15 months

|

Transfer Fee:

3% intro balance, up to 5% fee on future balance transfers (see terms)*
Regular APR
16.24% - 27.24% Variable
Regular APR
20.24% - 28.24% (V)
Regular APR
16.24% - 27.24% Variable
Rewards Rate
1.5 miles / $1
Rewards Rate
2 - 5 miles / $1
Rewards Rate
1 - 5% Cash Back
Discover it Miles Video Review
Discover it Miles Reviews
Share your insights and review the Discover it® Miles
Review sort
5 Star Rating
Verified Customer
Really good. Easy to talk support and even keep an eye on your spending. The ability to use points to pay your bill is awesome. I recommended this card!
Comment
5 Star Rating
Verified Customer
I'm glad I decided to give Discover it a try despite the negative reviews! And if you're using this card to rebuild your credit I highly recommend! As long as you use this card monthly without exceeding 30% of you credit limit and paying your balance in full a week before it's due day you will not be disappointed!! After 6 months my deposit was returned and my credit limit was greatly increased. My credit score went from laughable to excellent in 8 months! I have avoided rebuilding my credit for years because I listen to how hard it is and these cards really just scam good people trying to do right! Honestly if you do a little research make a plan and stick to it you can't go wrong! I'm very happy with Discover it!! I highly recommend it if your trying to rebuild your credit!!
Comment
5 Star Rating
Verified Customer
Excellent introductory APR! Great customer service. Representatives are very patient and concerned for a complete resolution is reached.
Comment
5 Star Rating
Verified Customer
Discover has some of the best customer service on the planet!! What you need they bend over backwards to provide! Short wait times and efficient customer service! Bravo!
Comment
5 Star Rating
Verified Customer
Great customer service with customer first mentality and realistic rotating quarterly groups for 5% Cash Back like gas, groceries, restaurants
Comment
3 Star Rating
Verified Customer
I wished they reported to the credit agencies more often than they do! My balance is way outdated! Other than that it's a great card...
Comment
5 Star Rating
Verified Customer
Great to have in case of emergencies I got it for emergency No interest for 15 months the Great card to have in your pocket and it gives you cash back to boot
Comment
4 Star Rating
Verified Customer
I got the Discover It Miles credit card about a year ago. I just got my Discover Match to all the miles I earned last year and they did indeed match it! I earned $166 myself and they matched $166 and I took it as a $332 deposit to my checking account.

So far it's my favorite of all my credit cards!



I also have a USAA Preferred Cash Rewards, Apple Card, Capital One Quicksilver Card, AMEX Blue Card and Amazon Prime Card.




When I signed up I got a $4,000 limit with a 747 credit score. Not bad. USAA & Apple gave me a higher limit but I don't usually spend more than $3K/month anyway so it doesn't bother me.


This week they increased my limit to $9,000 even though I don't plan on using even half of that but it's good to know it's there for those occasional times when I make a purchase over $4K (like my dogs vet bill a few years ago). I could pay cash or debit but I want my rewards since $120 cashback on a $4K purchase is nice so I'm glad I have that higher limit..



There are two things I absolutely love about this card:




1). ZERO interest for 14 months! That's been amazing! Normally I pay my card off in full every month but in November I had to (not really "had" but I really wanted to) build a new gaming PC and it was about $3,300. I put it all on this card and paid $1,100/month for 3 months without worrying about a cent of interest. I liked that a lot. They basically lent me money for free!




Sadly my 0% APR promo expires in June :(




2), Even better than the 0% APR is the 1.5% cashback WITH Discover matching that 1.5% so a total of 3% cashback on everything! My USAA PCR card and Capital One card only offer 1.5% cashback. The only time I don't use this card is on Amazon since my Amazon card is 5% cashback but only on Amazon purchases.




Sadly my 1.5% Discover Match promo expires in May. :(





All in all I really like this card a lot and use it for everything (except Amazon). I like that you can contact customer support via text on the Discover app and they are usually pretty quick to respond. But you can call in too if you want to talk to them. All the customer service reps I've talked too speak great English and don't have strong accents that make it hard to understand what they're saying.




The biggest downside is that Discover is not accepted at a lot of places that do accept Visa & Mastercard. But it is accepted at more places I shop than Amex at least.




When my promos both expire I'll probably use this card and my USAA. card. I highly recommend signing up for this card if you have a Good credit score (720+) and plan on making a lot of purchases.
Comment
1 Star Rating
Discover is a not a good credit card. They will suck you in to apply. Drop your credit limit two or three times without letting you know. This was done a few times in leas than 6 months, which lower your great credit score. If they dropped it because I score went down, what impact will this foolishness have. Dissatisfied Card holder.
Comment
5 Star Rating
I used my Miles by Discover card for a few years while I was in graduate school. I attended a low residency program that required me to fly to a different city every six months and stay in a hotel for 10 days each time. Obviously, this added up to a lot of money and luckily that meant a lot of miles. I was able to redeem miles at first just for statement credits, but later for actual flights and hotel stays. The best feature of this account is the fact that I am able to just use the miles to take a percentage off of a travel charge. For example, one time I did not have quite enough miles to cover the entirety of a $330 flight, but I used the miles I had and took $200 off of my statement, effectively making a cross country flight only cost $130. Aside from the miles aspect, I have had great customer service with this card as well. I lost my wallet once and it was very quick and painless to cancel the card and get a replacement. Discover also offers temporary virtual card numbers in case you want to order from a website that you're not sure if you should trust. This is, in my opinion, one of the best features although it tends to be one that people don't know about.
Comment
Review
Discover it® Miles
WalletHub is an independent comparison service.
We work hard to show you up-to-date product terms, however, this information does not originate from us and thus, we do not guarantee its accuracy. When you click "Apply Now" you will be directed to the offering institution's website. In addition, keep in mind that actual rates and other information may vary for a number of reasons including the applicant's' creditworthiness and differences between an individual's situation and the criteria/assumptions used to generate the information displayed. Before submitting an application, always verify all terms and conditions with the offering institution. Please let us know if you notice any differences.
Ad Disclosure: Offers originating from paying advertisers are noted as "Sponsored" at the top of this page. Advertising may impact how and where offers appear on this site (including, for example, the order in which they appear). At WalletHub we try to present a wide array of offers, but our offers do not represent all financial services companies or products.
Irrespective of whether an offering institution is a paid advertiser, the presence of offer information on WalletHub does not constitute a referral or endorsement of the institution by us or vice versa. Furthermore, offers have not been reviewed or approved by the offering institution. Information is displayed first and foremost to help consumers make better decisions.
Editorial Disclaimer: Editorial and user-generated content on this page is not provided, commissioned, reviewed, approved or otherwise endorsed by the issuer. In addition, it is not the issuer's responsibility to ensure all posts and/or questions are answered.