Discover it® Miles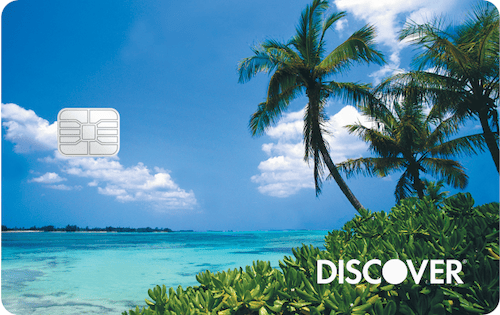 Discover it® Miles
Rewards
396
Reviews
13
Q&A
Contact
Rewards
APR
WalletHub Review
Q&A
Customer Reviews
Excellent Credit, Good Credit
Rewards
UNLIMITED BONUS: Only Discover gives you an unlimited match of all the Miles you've earned at the end of your first year. For example, if you earn 35,000 Miles, you get 70,000 Miles. There's no signing up, no minimum spending or maximum rewards. Just a Miles-for-Miles match.
Automatically earn unlimited 1.5x Miles on every dollar of every purchase - with no annual fee.
Redeem Miles to pay any part of your monthly bill, including your minimum payment.
Turn Miles into cash in any amount, any time. Or redeem as a statement credit for travel purchases like airfare, hotels, rideshares, gas stations, restaurants and more with no blackout dates. However you redeem, Miles keep the same value. And Miles never expire.
APR on Purchases
0% intro APR for 15 months, 16.24% - 27.24% Variable APR after that
Balance Transfer
0% intro APR for 15 months, 16.24% - 27.24% Variable APR after that
Balance Transfer Fee: 3% intro balance transfer fee, up to 5% fee on future balance transfers (see terms)*
WalletHub Review
Discover it Miles Pros & Cons
First-year rewards get doubled
0% foreign transaction fee
Intro APRs on purchases and balance transfers
High regular interest rate
Not as rewarding after the first year
Discover it Miles' Additional Info
| | |
| --- | --- |
| cash advance fee | Either $10 or 5% of the amount of each cash advance, whichever is greater |
| cash advance APR | 29.24% Variable |
| foreign transaction fee | 0% |
| smart chip | Yes, chip-and-signature |
| max late fee | $41 |
| max overlimit fee | See Terms |
| max penalty APR | None |
| grace period | See Terms |
0% intro APR for 15 months on purchases. Then 16.24% to 27.24% Standard Variable Purchase APR will apply.
Discover helps remove your personal information from select people-search websites. Activate by mobile app for free.
Discover is accepted nationwide by 99% of the places that take credit cards.
Freeze your account in seconds with an on/off switch either on the mobile app or website to prevent new purchases, cash advances, and balance transfers.
Get an alert if we find your Social Security number on any of thousands of Dark Web sites.* Activate for free.
Click "Apply Now" to see terms and conditions.
Discover it® Miles Reviews FAQ
Can't find what you are looking for? Submit your question about Discover it® Miles to our community. Editorial and user-generated content is not provided, reviewed or endorsed by the issuer of this card.
Most Popular
Questions sort
At this time, there are no travel insurance benefits with the Discover It Miles card.

The Discover it Miles has a purchase intro APR offer of 0% for 15 months.
That means new cardholders won't have to pay interest for any new purchases made within 15 months of account opening.
You can check your Discover it Miles balance from your online account. You can also check your balance:
On the phone: Call customer service at (800) 547-8638.
Via text alerts: You can...
Compare The Discover it Miles
Purchase Intro APR
0% for 15 months
Purchase Intro APR
Not Offered
Purchase Intro APR
0% for 15 months
Transfer Intro APR
0%

for 15 months

|

Transfer Fee:

3% intro balance, up to 5% fee on future balance transfers (see terms)*
Transfer Intro APR
Not Offered
Transfer Intro APR
0%

for 15 months

|

Transfer Fee:

3% intro balance, up to 5% fee on future balance transfers (see terms)*
Regular APR
16.24% - 27.24% Variable
Regular APR
20.24% - 28.24% (V)
Regular APR
16.24% - 27.24% Variable
Rewards Rate
1.5 miles / $1
Rewards Rate
2 - 5 miles / $1
Rewards Rate
1 - 5% Cash Back
Discover it Miles Video Review
Discover it Miles Reviews
Share your insights and review the Discover it® Miles
Review sort
5 Star Rating
I love this credit card so much. My husband and I travel multiple times throughout the year and we are always looking for a way to save money. This is the perfect credit card for people that are always traveling and on the go. One of the things that I like the most about this card is the fact that it is not linked to just one particular airline. You can use the bonus miles to book flights on any available airline, which is always a plus. Another added bonus is the fact that the credit card company provides collision damage insurance for rental cars that are paid for with this card. All of this plus you get a very good interest rate. I would recommend this card to anyone.
Comment
5 Star Rating
This card goes above and beyond any other credit card I've ever used. First they have great info on their site that will answer just about any question you have about the card. If you can't find your answer there then you can call their customer support up and they will gladly help you with any questions you have. They offer no annual fee which is awesome and makes this card even more desierable. They also offer travel rewards for your purchases that is great if you like to travel. Overall this is a great card and if you're looking for a card that's going to give you rewards back for using it then this is the card for you.
Comment
5 Star Rating
There are a lot of cards out there that offer no annual fee and some pretty nice rewards that can be used for a variety of things, most notably travel. This card, I've found, has advantages over others. One feature that I found unique and beneficial for a number of people was the educational material they have on their website that provides the means for people to learn how to better manage their money. But what got me was the protection they provide against fraud. The customer support has been incredible; the few times that I have had to call in I was treated with courtesy and respect. This is good card that I highly recommend.
Comment
5 Star Rating
I got this card in 2008 because they were offering a free GPS after first purchase. I had not intentions of it becoming my primary card, but it is. My wife and I like to take road trips so the $100.00 credit for travel is a wonderful perk. You get the 100.00 after accumulating 10,000 points. They always have promotions going on where you can get double miles/points. They are amazing to work with. I constantly get my rates lowered and the customer services reps are great to deal with. I would highly recommend this card to anyone and at the very least a card from Discover. It truly "Pays to Discover".
Comment
5 Star Rating
This is a wonderful card for harnessing your airline miles and making them work for you. If you travel even occasionally you'll see the benefit from this card. Since there's no annual fee, there's really no reason NOT to get it. Even if you're just making a few purchases on it here and there, you're eventually going to rack up enough for a nice relaxing vacation, completely passively. Also, Discover as a company in general is among the best to work with. They've actually been recognized as having the best customer service of any major credit card company for a few years now. So, if you get this card you really won't regret it.
Comment
5 Star Rating
After starting my own company in the entertainment industry in which I travel a lot I decided on the Miles card. The 1,000 bonus miles every time you make a purchase for the first month is very attractive to me. I'm often entertaining clients and this goes hand in hand in the way I run my business. I've found it to be quite convenient. I am a fan of being able to use the card with any airline, hotel, with no blackout dates, etc... I don't always read the fine print but was shocked when I saw I received 12,000 miles just for opening the card. Miles also provides me with secondary collision insurance when I rent vehicles during my travel which I often do. I really have no complaints about Miles by Discover. The only suggestion I have is not use the car unless you plan on traveling or work in an industry that requires you to travel. Just seems to make more sense.
Comment
5 Star Rating
I absolutely love this Discover card! I've had the account for over a year now and really can't say anything bad about it. The perks are fantastic- great points for the first twelve months of purchases and I can use the points on more than just airline tickets! The balance transfer is a bonus and the interest is really quite good for a rewards card. Of course, the whole point of having a card like this is to not carry a balance, but I can definitely see the benefits of this card if someone were to have to. Customer service has never been an issue, and it's incredibly easy to access the account online. No complaints here!
Comment
5 Star Rating
This was the first (and now, only) airline miles card I ever had. I was really skeptical on how hard it would be to use and earn miles, and then of course, trying to redeem them. A friend of mine in my business had recommended it, since we all travel quite a bit. I knew I had to get something, since I felt that I was missing out because of how often I fly. So I applied, and started earning even before my first trip. They automatically credited my account with 12,000 miles, and from then on, I was hooked! Since I use this card for a lot of everyday purchases, my miles added up fairly quickly. The redemption was fairly easy also. I anticipated a lot of red tape and hassle, but that wasn't so, and I was able to book flights with the miles almost as easily as I book my regular business travel flights. I like that it also has no annual fee, which has always been a little pet peeve of mine when credit card companies charge that to good customers. I highly recommend this card as THE way to earn and redeem your airline miles.
Comment
5 Star Rating
I thought this card was the bees knees when I first got it and it really was. I was saving up to go to China to teach English for a year and I wanted miles to travel around China and other countries. The benefits are awesome- you get bonus miles and it seems pretty easy to rack up more miles. The catch? Discover isn't accepted by a lot of airlines. Sure, it's accepted in the United States pretty regularly, but Visa is the big seller for international travel. So, yes, the benefits are amazing (and I'm enjoying the benefits again now that I'm back in the United States) but as a travel card....it's really best for domestic travel in the United States rather than international travel. The idea is great but the execution is pretty bad. I thought it was neat through- you can use your travel miles at Amazon.com or for other cool things (partner sites) instead of being restricted to only miles. Would highly recommend despite the international travel aspirations.
Comment
5 Star Rating
Miles discover card is really good especially when traveling by airline, with its many bonuses you can receive. As soon as you join, you get and receive a 12,000 bonus miles! Just for all new members; which is a whole lot! The only catch here is better than all the other cards, you only have to make a purchase in each of the following months for 12 months straight. With a easy task like that, who wouldn't go for it, right? In fact they also give you a extra mile for every dollar you spend on your trip as well as offering double miles on your first 3,000 miles you travel. All these bonuses are freaking fantastic! They all stack up that getting the card itself is one good investment you can put your money into.There are also no annual fees in getting the Miles Discovery Card; I would give this discover thing a 11/10 if it were a movie.
Comment
Review
Discover it® Miles
WalletHub is an independent comparison service.
We work hard to show you up-to-date product terms, however, this information does not originate from us and thus, we do not guarantee its accuracy. When you click "Apply Now" you will be directed to the offering institution's website. In addition, keep in mind that actual rates and other information may vary for a number of reasons including the applicant's' creditworthiness and differences between an individual's situation and the criteria/assumptions used to generate the information displayed. Before submitting an application, always verify all terms and conditions with the offering institution. Please let us know if you notice any differences.
Ad Disclosure: Offers originating from paying advertisers are noted as "Sponsored" at the top of this page. Advertising may impact how and where offers appear on this site (including, for example, the order in which they appear). At WalletHub we try to present a wide array of offers, but our offers do not represent all financial services companies or products.
Irrespective of whether an offering institution is a paid advertiser, the presence of offer information on WalletHub does not constitute a referral or endorsement of the institution by us or vice versa. Furthermore, offers have not been reviewed or approved by the offering institution. Information is displayed first and foremost to help consumers make better decisions.
Editorial Disclaimer: Editorial and user-generated content on this page is not provided, commissioned, reviewed, approved or otherwise endorsed by the issuer. In addition, it is not the issuer's responsibility to ensure all posts and/or questions are answered.