First Progress Platinum Select Mastercard® Secured Credit Card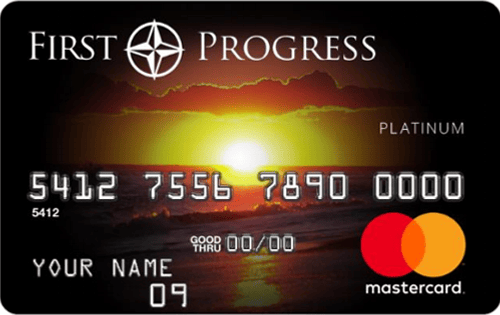 First Progress Platinum Select Mastercard® Secured Credit Card
APR
3,698
Reviews
91
Q&A
Contact
APR
Editor Review
Q&A
Customer Reviews
Fair Credit, Limited History, Bad Credit
Minimum Security Deposit
$200
APR on Purchases
14.74% (V)
Editor's Take
First Progress Platinum Select Pros & Cons
Qualify with limited or no credit history
First Progress Platinum Select's Additional Info
| | |
| --- | --- |
| cash advance fee | 3% (min $10) |
| cash advance APR | 20.74% (V) |
| foreign transaction fee | 3% |
| smart chip | Yes |
| max late fee | $41 |
| max overlimit fee | $0 |
| max penalty APR | None |
Receive Your Card More Quickly with New Expedited Processing Option
No Credit History or Minimum Credit Score Required for Approval
Quick and Complete Online Application; No credit inquiry required!
Includes Free Real-Time Access to Your Credit Score and Ongoing Credit Monitoring powered by Experian
Full-Feature Platinum Mastercard® Secured Credit Card; Try our new Mobile App for Android users!
Good for Car Rental, Hotels; Anywhere Credit Cards Are Accepted!
Monthly Reporting to all 3 Major Credit Bureaus to Establish Credit History
Credit Line Secured by Your Fully-Refundable Deposit of $200 -- $2,000 Submitted with Application
Just Pay Off Your Balance and Receive Your Deposit Back at Any Time
24/7 Online Access to Your Account
Nationwide program; available in all 50 US states *See Card Terms.
Get a fresh start! A discharged bankruptcy still in your credit bureau file will not cause you to be declined.
Questions & Answers
Can't find what you are looking for? Submit your question about First Progress Platinum Select Mastercard® Secured Credit Card to our community. Editorial and user-generated content is not provided, reviewed or endorsed by the issuer of this card.
Most Popular
Questions sort
You can just check it online, through here: https://www.firstprogress.com/customercenter/login
Compare The First Progress Platinum Select
Purchase Intro APR
Not Offered
Purchase Intro APR
Not Offered
Purchase Intro APR
Not Offered
Transfer Intro APR
Not Offered
Transfer Intro APR
Not Offered
Transfer Intro APR
Not Offered
First Progress Platinum Select Reviews
Share your insights and review the First Progress Platinum Select Mastercard® Secured Credit Card
Review sort
1 Star Rating
I would not, under any circumstances, apply for this card! The costs are far too high, which is somewhat expected when dealing with a card that promises that anyone can get it. But if you're struggling with credit and trying to build up a credit score, shelling out almost $350 right off the bat for the privilege of using a credit card is not really the way to go. There are better options out there for people who are looking to build up their credit ratings. (Orchard Bank is one that pops into my mind) If you do decide to get this card, watch all your information like a hawk and make sure that you are on top of any hidden fees or charges when dealing with the company. And as soon as it's possible, get rid of the card and switch to something with some better terms.
Comment
3 Star Rating
Ok, so when you're looking to build or rebuild your credit, you probably want to keep costs low right? I mean, if your credit was damaged it might have been due to money problems and if you are just new to the credit world or a stay at home spouse looking to maintain credit standing, you don't want to be wasting money either. This is especially true since secured cards aren't going to offer you much in the way of rewards or low interest rates, which means there's really nothing to pay for. There are secured cards out there that don't charge fees and secured cards all offer basically guaranteed approval, so you wont need to be a better candidate to get one or anything like that.

Anyway, all I'm saying is keep that in mind when you're checking out the First Progress Secured Credit card because there's no reason to settle and waste money. Now, if the First Progress is the cheapest option out there, you'd need to look no further. I think a nice pro/con list can help us make that determination.

Pros

- The fact that you can get the Secured First Progress Card if you have the $300 to place a minimum deposit has to be a plus since itll get you started building credit as long as you pay your bills on time.

Cons

- The fact that you need to throw down $300 to get the First Progress Secured Card has to be a minus since most secured cards only require a $200 deposit. It's all about that liquidity, baby!
- And of course the First Progress Secured Card's $39 annual fee doesn't put a smile on my face.

All in all, you can do better than the First Progress Secured Credit Card. I recommend the Orchard Bank Secured Card instead because it doesn't charge an annual fee in the first year, and a year is usually all you need to build the credit necessary to get a regular credit card.
Comment
3 Star Rating
I will go wil the first progress secured credit card simply because it is SECURED and approval is based off of the amount you deposit however I was approved for the Capital One Secured card but failed to make my $200 payment in time I was declined by the Orchard Bank/HSBC Secured card due to my banking history? ( I was unable to open a deposit account with HSBC bank so therefore enabling me from opening up a so called SECURED credit card go figure.
Comment
3 Star Rating
The First Progress Secured Credit Card has an interesting name. No, it's not because of the word "secured." That just means you have to place a refundable security deposit for approval. This security deposit serves as your credit line and provides the issuer with the security needed to charge relatively and offer what amounts to guaranteed approval. Rather, the reason why the First Progress Secured Card has a funny name is because it certainly won't allow you to "progress" to a better credit score with as much of the money you had "first" of all as possible. For this reason it does not take "first" prize among secured cards in helping your credit standing "progress." The First Progress Secured Credit Card's $39 annual fee and $300 minimum deposit requirement are simply too high. Contrast that to what the Orchard Bank Secured Card charges, for example. It has a $35 annual fee beginning in the SECOND YEAR and only requires a $200 deposit. Therefore, it allows you to build credit at a cheaper price than the First Progress Secured Credit Card and maintain more liquidity in the process.

Minimizing fixed costs is so important to credit building precisely because you do not need to actually make purchases in order to do so. You can simply lock your card in a drawer and benefit from positive information going into your major credit reports each month. Since you might be able to progress to an unsecured credit card in as little as a year, the Orchard Bank Card can therefore allow you to build credit for free while the same cannot be said of the First Progress Bank Secured Card. Oh, and there is a reason I haven't even mentioned interest rates. Secured cards are going to have high rates because they are built for people with limited or damaged credit, and for this reason you should always pay for whatever purchases you make with one in full.
Comment
+ 3,604 users submitted a rating without writing a full review
Review
First Progress Platinum Select Mastercard® Secured Credit Card
WalletHub is an independent comparison service.
We work hard to show you up-to-date product terms, however, this information does not originate from us and thus, we do not guarantee its accuracy. When you click "Apply Now" you will be directed to the offering institution's website. In addition, keep in mind that actual rates and other information may vary for a number of reasons including the applicant's' creditworthiness and differences between an individual's situation and the criteria/assumptions used to generate the information displayed. Before submitting an application, always verify all terms and conditions with the offering institution. Please let us know if you notice any differences.
Ad Disclosure: Offers originating from paying advertisers are noted as "Sponsored" at the top of this page. Advertising may impact how and where offers appear on this site (including, for example, the order in which they appear). At WalletHub we try to present a wide array of offers, but our offers do not represent all financial services companies or products.
Irrespective of whether an offering institution is a paid advertiser, the presence of offer information on WalletHub does not constitute a referral or endorsement of the institution by us or vice versa. Furthermore, offers have not been reviewed or approved by the offering institution. Information is displayed first and foremost to help consumers make better decisions.
Editorial Disclaimer: Editorial and user-generated content on this page is not provided, commissioned, reviewed, approved or otherwise endorsed by the issuer. In addition, it is not the issuer's responsibility to ensure all posts and/or questions are answered.