Home Depot® Credit Card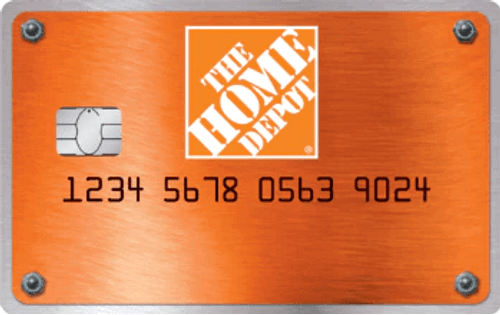 Home Depot® Credit Card
Info about Home Depot® Credit Card has been collected by WalletHub to help consumers better compare cards. The financial institution did not provide the details.
756
Reviews
101
Q&A
Contact
APR
Editor Review
Q&A
Customer Reviews
Excellent Credit, Good Credit, Fair Credit
APR on Purchases
0% intro APR for 6 - 24 months, 17.99% - 26.99% APR after that
Balance Transfer
Balance Transfers Not Allowed
Editor's Take
Home Depot® Credit Card Pros & Cons
Home Depot® Credit Card's Additional Info
| | |
| --- | --- |
| cash advance fee | N/A |
| cash advance APR | N/A |
| foreign transaction fee | N/A |
| smart chip | Yes, chip-and-PIN |
| max late fee | $40 |
| max overlimit fee | $0 |
| max penalty APR | None |
| grace period | 25 days |
Limited-time offer: Get $25 off your first purchase of $25 up to $299, $50 off your first purchase of $300 up to $999 and $100 off your first purchase of $1,000 or more. Terms Apply.
Deferred Interest Details: No interest if paid in full within 6 months on purchases of $299 or more.
Deferred Interest Financing: No interest if paid in full within 24 months Installed Water Treatment purchases of at least $600.
Deferred Interest Financing: No interest if paid in full within 12 months on appliances purchases of $299 or more.
Questions & Answers
Can't find what you are looking for? Submit your question about Home Depot® Credit Card to our community. Editorial and user-generated content is not provided, reviewed or endorsed by the issuer of this card.
Most Popular
Questions sort
Compare The Home Depot® Credit Card
Purchase Intro APR
0% for 6 - 24 months
Purchase Intro APR
Not Offered
Purchase Intro APR
Not Offered
Transfer Intro APR
Not Offered
Transfer Intro APR
Not Offered
Transfer Intro APR
Not Offered
Regular APR
17.99% - 26.99%
Regular APR
24.99% - 29.99% (Variable)
Home Depot® Credit Card Video Review
Home Depot® Credit Card Reviews
Share your insights and review the Home Depot® Credit Card
Review sort
5 Star Rating
Verified Customer
Home Depot Credit Card by CitiBank is an excellent card to request because Home Depot offers percentage discounts with its first purchase, and Home Depot offers the greatest 6-months, 12-months, and 24-months special purchasing plans that make doing projects easy!
Comment
1 Star Rating
Verified Customer
I cannot sign in, and can't get my User Id, or password to work! I'm still waiting for my $25 promo as advertised! Done with it! I do not have this much trouble with my other Credit Cards. The other credit Cards offers come through, so WHY not this one???
Comment
5 Star Rating
Verified Customer
I love have home depot credit card, you never know at what time you need something .plus I love their promotions I can pay offer time. If you don't have a promotion, pay what you owe every month.
Comment
4 Star Rating
Verified Customer
Great card to have. Very convenient for most household items and small home projects around home. Would recommend it's regular use.
Comment
3 Star Rating
Verified Customer
When I do use the store card, it is only for the promotion or savings offered on a purchase that day. Otherwise I use my go-to card (Merrick).
Comment
3 Star Rating
Verified Customer
I have not had any bad encounters with home Depot , but no info to the country and I am looking to do some remodeling on my new place so we will see in the near future if they hold up to customer service.
Comment
5 Star Rating
Verified Customer
new cardholders can save $25 to $100 on their first purchase of $25+. Large purchases paid in full within an allotted timeframe can also be interest-free, though failing to pay in time could also lead to a big deferred-interest bill. You can learn more about the pros and cons
Comment
4 Star Rating
Verified Customer
I wanted to pay in full my Anderson window purchase. But wasn't allowed to do so. I then made a debit payment on 7/29/21 in the amount of $3,000. And again the next day 7/30-21 for $2,427. This was done the avoid paying any interest before the end of the emotional period.
Comment
1 Star Rating
Verified Customer
The application process was straightforward, pretty simple, however with that being said My first purchase was a refrigerator. I ordered it online and was given a one-week delivery date. I received confirmation from the Home Depot and multiple updates concerning my order which was scheduled for August 6. I have been using an ice chest for the week and was definitely excited about receiving my new fridge. Well the day prior to my delivery, I receive a notification that my order will arrive tomorrow, Friday Aug 6. At this point, we've moved everything out of the way to make a clear path for the delivery driver/installer only to receive an email on Friday saying there may be a problem with your delivery please call this number. So I called the number, was placed on hold multiple times only to find out they cannot locate my refrigerator. I'm then told, sorry about that, we can order you a replacement BUT It won't arrive until August 14. WTH? I was furious but stayed professional with the representative and simply asked her to please Cancel my order and that I couldn't wait that long especially with an 8yr old and a Toddler in my home. I was assured by the rep that I would receive an immediate credit within 3 business days. WELL after a week and NO credit back to my account, I called and asked why my credit hadn't posted to my account, I was then placed on hold for exactly 20 minutes….it felt like an eternity, and then I was transferred without knowing why and they disconnected my call…I called back and another rep looked up my account, placed me on hold twice and then proceeded to tell me it takes 14 business days to receive credit. I was stunned…I couldn't believe what she was saying to me. I asked to speak with a supervisor/manager and she told me it may take up to 72 hours to receive a call back. I continued to remain professional on the call and I told her how upset I was and I needed a better response than what she was providing and the ENTIRE time I was speaking the representative was talking over me trying to get her point across, it was extremely rude and poor customer service. I know everyone's experience will not be the same, so don't let this stop you from applying…just proceed with caution and make sure you follow up on any notifications you receive. I was going to also order a dishwasher from them but now I'm rethinking it and will most likely order from Lowe's. Yes I have a credit card with them and I've haven't experienced any issues yet. Hopefully never. Good luck with your decision.
Comment
2 Star Rating
the problem I had is the lack of customer service, its automated nightmare I had set up a payment to be taken out of my checking account, the payment was made on the 16th, 5 days later I get an email that the bank denied my payment to be taken said wrong account number, yet the account number on my account shown on the home depot account that I used was correct. after hours on the phone it's determined that somehow when they submitted to my bank one number was dropped off the account number. I had to make the payment over the phone that day otherwise there wasn't enough time to mail. They charged me a fee of 5.00 to do it over the phone BECAUSE OF THEIR SCREW UP! that's ok it's paid off and I will close the account. bad choice on my part, I will stick with my other bank credit card had it for 33 years never problems like this.
Comment
Review
Home Depot® Credit Card
WalletHub is an independent comparison service.
We work hard to show you up-to-date product terms, however, this information does not originate from us and thus, we do not guarantee its accuracy. When you click "Apply Now" you will be directed to the offering institution's website. In addition, keep in mind that actual rates and other information may vary for a number of reasons including the applicant's' creditworthiness and differences between an individual's situation and the criteria/assumptions used to generate the information displayed. Before submitting an application, always verify all terms and conditions with the offering institution. Please let us know if you notice any differences.
Ad Disclosure: Offers originating from paying advertisers are noted as "Sponsored" at the top of this page. Advertising may impact how and where offers appear on this site (including, for example, the order in which they appear). At WalletHub we try to present a wide array of offers, but our offers do not represent all financial services companies or products.
Irrespective of whether an offering institution is a paid advertiser, the presence of offer information on WalletHub does not constitute a referral or endorsement of the institution by us or vice versa. Furthermore, offers have not been reviewed or approved by the offering institution. Information is displayed first and foremost to help consumers make better decisions.
Editorial Disclaimer: Editorial and user-generated content on this page is not provided, commissioned, reviewed, approved or otherwise endorsed by the issuer. In addition, it is not the issuer's responsibility to ensure all posts and/or questions are answered.
PURCHASE INTRO APR
Not Offered
TRANSFER INTRO APR
Not Offered
REWARDS RATE
None
BONUS OFFER
None