The World of Hyatt Credit Card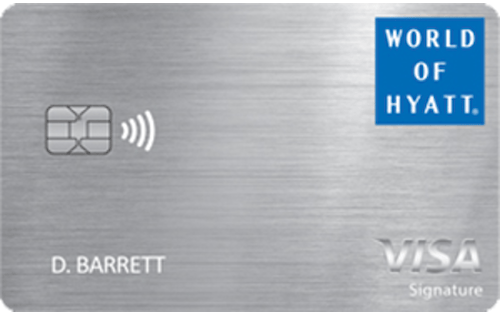 The World of Hyatt Credit Card
Earn 30,000 Bonus Points
after you spend $3,000 on purchases in your first 3 months from account opening.
Rewards
249
Reviews
21
Q&A
Contact
Rewards
APR
Editor Review
Q&A
Customer Reviews
Earn 30,000 Bonus Points
after you spend $3,000 on purchases in your first 3 months from account opening.
Excellent Credit, Good Credit
Rewards
Earn 30,000 Bonus Points after you spend $3,000 on purchases in your first 3 months from account opening. Plus, up to 30,000 More Bonus Points by earning 2 Bonus Points total per $1 spent in the first 6 months from account opening on purchases that normally earn 1 Bonus Point, on up to $15,000 spent
Enjoy complimentary World of Hyatt Discoverist status for as long as your account is open.
Get 1 free night each year after your Cardmember anniversary at any Category 1-4 Hyatt hotel or resort.
Receive 5 tier qualifying night credits towards status after account opening, and each year after that for as long as your account is open
Earn an extra free night at any Category 1-4 Hyatt hotel if you spend $15,000 in a calendar year
Earn 2 qualifying night credits towards tier status every time you spend $5,000 on your card
Earn up to 9 points total for Hyatt stays - 4 Bonus Points per $1 spent at Hyatt hotels & 5 Base Points per $1 you can earn as a World of Hyatt member
Earn 2 Bonus Points per $1 spent at restaurants, on airline tickets purchased directly from the airlines, on local transit and commuting and on fitness club and gym memberships
APR on Purchases
16.24% - 23.24% (V)
Balance Transfer
APR: 16.24% - 23.24% (V)
Balance Transfer Fee: Either $5 or 5% of the amount of each balance transfer, whichever is greater.
Editor's Take
Hyatt Credit Card Pros & Cons
30,000 points initial rewards bonus
Reports to the three major credit bureaus
No intro APR on purchases
No intro APR on balance transfers
Hyatt Credit Card's Additional Info
| | |
| --- | --- |
| cash advance fee | Either $10 or 5% of the amount of each transaction, whichever is greater. |
| cash advance APR | 25.24% (V) |
| foreign transaction fee | $0 |
| smart chip | Yes, chip-and-PIN |
| | |
| --- | --- |
| max late fee | See Terms |
| max overlimit fee | See Terms |
| max penalty APR | 29.99% (V) |
| grace period | See Terms |
Questions & Answers
Don't see what you're looking for? Submit your question about The World of Hyatt Credit Card to our community. Editorial and user-generated content is not provided, reviewed or endorsed by the issuer of this card.
Most Popular
Questions sort
Don't think so. It's not "good" credit. Mine was 651 and I got turned down.
Compare The Hyatt Credit Card
Purchase Intro APR
Not Offered
Purchase Intro APR
Not Offered
Purchase Intro APR
Not Offered
Transfer Intro APR
Not Offered
Transfer Intro APR
Not Offered
Transfer Intro APR
Not Offered
Regular APR
16.24% - 23.24% (V)
Regular APR
16.24% - 23.24% (V)
Regular APR
16.49% - 25.49% (V)
Rewards Rate
1 - 4 points / $1
Rewards Rate
1 - 3 points / $1
Rewards Rate
3 - 7 points / $1
Hyatt Credit Card Reviews
Share your insights and review the The World of Hyatt Credit Card
Review sort
3 Star Rating
My long-time girlfriend uses this card often for travelling, because she stays at the Hyatt whenever possible. That part of the card is great! She earns extra nights, and then we go on vacation! Apart from the Hyatt rewards, however, this card doesn't have much going for it. There's no intro period, which isn't too big of a deal. The rate isn't too bad, maybe under most rates out there, but you just don't get many perks other than with the actual Hyatt hotels. This is the type of card you want to use while you're staying there, but other than that you'll probably be better off with a different card.
Comment
3 Star Rating
I got the Hyatt card thinking that it would be a great card for my husband and I seeing as how much we like to travel. We always enjoy staying at the Hyatt when on vacation so we thought it would be a great perk to have available and rack up free nights to help in cutting our expenses. It was proving to be beneficial at first seeing that we received two free nights after we made our first purchase. It didn't go well from there. I hadn't paid attention to the fact that we only were getting one point per dollar on our transactions outside of the Hyatt purchases. It was a little disappointing. It is a decent card, however unless you frequently go to the Hyatt, it's not as great as competitor cards.
Comment
4 Star Rating
My husband and I decided to get the Hyatt credit card after realizing how much we travel to see out of state family. We were so ecstatic about the idea of getting a couple of free stays at the hotel as part of the sign up deal that we didn't pay attention to the fact that the hotel is a far drive from where most of our family lives. We don't use the card as often as we had expected to, but our experiences with it have been positive. The company honored our free stays, and customer service was helpful in answering my questions about the reward system. We hope to get more use out of the card this holiday season!
Comment
1 Star Rating
Very poor customer service with Hyatt. They do not honor their free nights. They expire in less than a year and hide that fact in micro sized print. Forget this one. Horrible experience with Hyatt when trying to redeem this. Rude and unresponsive personnel.
Comment
2 Star Rating
The Hyatt Credit Card is decent, but I don't see it as being a great option for anyone who isn't a diehard Hyatt customer. The reason is simple, it doesn't offer enough value for someone who isn't routinely staying at a Hyatt hotel and earning the 3 points per dollar that the Hyatt Card provides on Hyatt purchases. This is especially true in light of the Hyatt Credit Card's competition, which will become clear after this quick pro/con list.

Pros

- 2 Free nights: You get 2 free Hyatt nights after your first purchase, and free hotel accommodations are always nice, especially with summer coming up.
- With a Hyatt Credit Card account, you get one free night each year on your cardholder anniversary.

Cons

- 2 Free Nights: The Hyatt Card's initial bonus is both a pro and a con given that it's attractive in a vacuum but unattractive when considered along with the competition. The Hilton Credit Card gives you up to 8 free nights and the Chase Sapphire Preferred offers $500 for travel or $400 in cash.
- Annual fee: The Hyatt Credit Card charges a $75 annual fee, which pretty much counteracts the free anniversary night.
- Ongoing rewards: One point per dollar for non-Hyatt purchases isn't great, and neither is the 3 points for Hyatt purchases, unless you're constantly racking them up.
- No low interest rates: Despite its lacking rewards, the Hyatt Credit Card is a rewards credit card through and through, seeing as it doesn't offer 0% intro rates on purchases or transfers.

Long story short, I wouldn't get the Hyatt Card. Instead, if an initial bonus is what I'm after, I'd go with the Chase Sapphire Preferred or the Hilton Card. If I wanted ongoing travel rewards and I'm not a loyal Hyatt customer, I'd probably go with the Capital One Venture because it gives you basically 2% cash back when you redeem for travel of any kind.
Comment
4 Star Rating
A good rule of thumb for hotel rewards credit cards is to only get a card affiliated with a particular hotel if you stay at it almost exclusively. One caveat to this rule is created by initial rewards bonuses, since you don't need to be a frequent patron to benefit from free nights doled out after account opening, first purchase or spending a certain amount in the first couple months. That means there are two types of people for whom this Hyatt Credit Card could be a good fit, Hyatt loyalists and deal hunters. Obviously the deal hunters would only really be interested in the two free nights the Hyatt Card provides, one after you make your first purchase and one after you spend $1,000 during the first three months. These nights would be a big draw for Hyatt loyalists too, but they'd also be interested to know that the Hyatt Credit Card offers 3 Hyatt Gold Passport Points for every dollar spent at Hyatt hotels and one for every dollar spent on everything else. The real question though is how this card, which has a $75 annual fee and requires excellent credit, stacks up against the competition.

Seeing as the Marriott Credit Card offers up to 6 free nights in initial bonuses and a few other cards offer at least 2 free nights, the Hyatt Credit Card probably isn't your best bet if you don't have any allegiance to Hyatt hotels and only really want the most value from your card's initial bonus. This is especially true, since a number of the other top tier hotel cards don't charge annual fees in the first year. Hyatt loyalists obviously aren't going to get credit cards tied to other hotels, but they could decide to pass on the Hyatt Rewards Credit Card in favor of a generic hotel credit card or a cash back credit card. Which you decide to do really depends on just how frequently you stay at Hyatt Hotels because if you're limiting your rewards to one type of purchase, this type of purchase had better be one of your top 2-3 expenses.
Comment
+ 314 users submitted a rating without writing a full review
Review
The World of Hyatt Credit Card
WalletHub is an independent comparison service.
We work hard to show you up-to-date product terms, however, this information does not originate from us and thus, we do not guarantee its accuracy. When you click "Apply Now" you will be directed to the offering institution's website. In addition, keep in mind that actual rates and other information may vary for a number of reasons including the applicant's' creditworthiness and differences between an individual's situation and the criteria/assumptions used to generate the information displayed. Before submitting an application, always verify all terms and conditions with the offering institution. Please let us know if you notice any differences.
Ad Disclosure: Offers originating from paying advertisers are noted as "Sponsored" at the top of this page. Advertising may impact how and where offers appear on this site (including, for example, the order in which they appear). At WalletHub we try to present a wide array of offers, but our offers do not represent all financial services companies or products.
Irrespective of whether an offering institution is a paid advertiser, the presence of offer information on WalletHub does not constitute a referral or endorsement of the institution by us or vice versa. Furthermore, offers have not been reviewed or approved by the offering institution. Information is displayed first and foremost to help consumers make better decisions.
Editorial Disclaimer: Editorial and user-generated content on this page is not provided, commissioned, reviewed, approved or otherwise endorsed by the issuer. In addition, it is not the issuer's responsibility to ensure all posts and/or questions are answered.