Lane Bryant Credit Card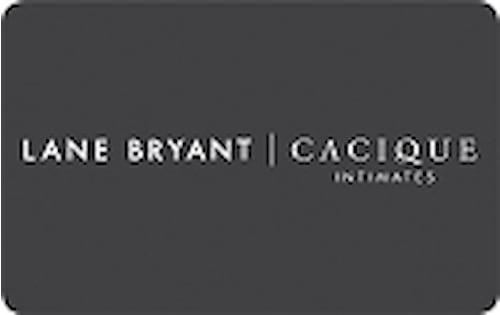 Lane Bryant Credit Card
Info about Lane Bryant Credit Card has been collected by WalletHub to help consumers better compare cards. The financial institution did not provide the details.
Rewards
242
Reviews
31
Q&A
Contact
Rewards
APR
WalletHub Review
Q&A
Customer Reviews
Excellent Credit, Good Credit, Fair Credit
Rewards
Get $20 off your first purchase when you open and use your card the same day. Minimum online purchase of $20.01 required.
Earn 15 points for every $1 you spend at Lane Bryant, Lane Bryant Outlet, Cacique, cacique.com and lanebryant.com
Earn 20 points per $1 when you gain Gold status by spending $350 in a calendar year. Earn 25 points per $1 when you gain Platinum status by spending $800 in a calendar year.
Get a $10 credit Reward for every 3000 points accumulated.
Get extra points with special monthly offers. Get cardmember exclusives (including a birthday gift).
Free standard shipping. Minimum purchase required of $75 for Silver and Gold, and none for Platinum status.
APR on Purchases
29.99% (V)
Balance Transfer
Balance Transfers Not Allowed
WalletHub Review
Lane Bryant Credit Card Pros & Cons
$20 discount initial rewards bonus
Lane Bryant Credit Card's Additional Info
| | |
| --- | --- |
| cash advance fee | N/A |
| cash advance APR | N/A |
| foreign transaction fee | N/A |
| smart chip | No |
| max late fee | $41 |
| max overlimit fee | $0 |
| max penalty APR | None |
| grace period | 25 days |
Get 60 days of returns with receipt.
Questions & Answers
Can't find what you are looking for? Submit your question about Lane Bryant Credit Card to our community. Editorial and user-generated content is not provided, reviewed or endorsed by the issuer of this card.
Most Popular
Questions sort
Compare The Lane Bryant Credit Card
Purchase Intro APR
Not Offered
Purchase Intro APR
Not Offered
Purchase Intro APR
Not Offered
Transfer Intro APR
Not Offered
Transfer Intro APR
0%

for 12 billing cycles

|

Transfer Fee:

$0
Transfer Intro APR
Not Offered
Regular APR
10.50% - 18.00% (V)
Regular APR
17.99% - 27.74% (V)
Rewards Rate
15 points / $1
Rewards Rate
1 - 2 points / $1
Rewards Rate
1 - 5% Cash Back
Lane Bryant Credit Card Reviews
Share your insights and review the Lane Bryant Credit Card
Review sort
3 Star Rating
Verified Customer
The balance is incorrect. My balance is only 32.92. Why is this not being recorded correctly? My payment was not late, it's paid on time.
Comment
5 Star Rating
Verified Customer
Lane Bryant card is great. watch and make sure you pay it off each month otherwise, the interest will get you.
Comment
2 Star Rating
Paying off and letting my card sit. After they've raised my apr for absolutely no reason to 26% during a pandemic just shows how awful a company they are. The huge kicker is that it's 2021 and they still don't allow automatic payments. Essentially if you miss by a single day you get hit with the huge late fee. Dropping this card and company.
Comment
4 Star Rating
Verified Customer
Love Lane Bryant. Nice staff in store and on the phone! Would be nice once you pay off the balance on your credit card,they would give you a credit line increase!
Comment
5 Star Rating
Verified Customer
I love this store, great quality merchandise and excellent customer service. The best part of lane bryant is ordering on line and having your purchase shipped directly to a local store.
Comment
5 Star Rating
Verified Customer
Lost weight. Haven't had a need to go because of the pandemic and weight loss . I don't have anything else to say. They are very accommodating and customer service is great
Comment
1 Star Rating
Worst credit card company ever. Lane Bryant and Full Beauty credit cards charged me $29.00 late fees for making my payment early! I made my payment on July 10th that was due on August 6th. I just got a statement that my payment was late. They charged me a late fee. I called and asked why they said that the payment was too early so it went on last months payment. I dont understand. If my payment was due on the 6th then it should have switched over by the 10th and the payment should have went on the next statement. So they charged me $29.00 each for making a payment too early. They also will not reverse the late fee.
Comment
1 Star Rating
I rarely use this card, as i find Lane Bryant's clothing to be matronly and dowdy. I keep it, quite honestly, because it helps me have a longer credit history, which keeps my credit score up. Weeks ago, I received an email stating that my card was going to be cancelled due to non-use. So, I bought one item and had it shipped. As soon as the charge was displayed, I tried to pay off the credit card. I tried every day for ten days, on different platforms and different browsers, but couldn't submit the payment. Finally, I sent a message and their response was to call their customer service line. 45 minutes later, I was finally able to complete the payment. I'm convinced that not allowing me to pay early is a shady way of being able to charge interest or even forcing me to incur a late payment fee. It's a shame, and one I fully place on Lane Bryant, as Torrid uses the same bank, and I've never had issues making that payment.
Comment
1 Star Rating
You CANNOT set up auto-pay with this credit card, unlike every other credit card out there. You have to log on to the website manually to pay your bill every month. This is set up to entrap you because you will forget, and BAM! There's that late fee. Avoid this credit card!
Comment
2 Star Rating
Verified Customer
Lane Bryant has beautiful clothes, but the bank they are associated with is horrible a nightmare, don't get their credit card I recommend, because they will hurt your credit more than help, they check your credit reports without your permission, and lower your credit line, they don't care how well your making your payments on time, but about your past and your credit reports, close those cards BOYCOTT LANE BRYANT for using COMMENITY BANK.
Comment
Review
Lane Bryant Credit Card
WalletHub is an independent comparison service.
We work hard to show you up-to-date product terms, however, this information does not originate from us and thus, we do not guarantee its accuracy. When you click "Apply Now" you will be directed to the offering institution's website. In addition, keep in mind that actual rates and other information may vary for a number of reasons including the applicant's' creditworthiness and differences between an individual's situation and the criteria/assumptions used to generate the information displayed. Before submitting an application, always verify all terms and conditions with the offering institution. Please let us know if you notice any differences.
Ad Disclosure: Offers originating from paying advertisers are noted as "Sponsored" at the top of this page. Advertising may impact how and where offers appear on this site (including, for example, the order in which they appear). At WalletHub we try to present a wide array of offers, but our offers do not represent all financial services companies or products.
Irrespective of whether an offering institution is a paid advertiser, the presence of offer information on WalletHub does not constitute a referral or endorsement of the institution by us or vice versa. Furthermore, offers have not been reviewed or approved by the offering institution. Information is displayed first and foremost to help consumers make better decisions.
Editorial Disclaimer: Editorial and user-generated content on this page is not provided, commissioned, reviewed, approved or otherwise endorsed by the issuer. In addition, it is not the issuer's responsibility to ensure all posts and/or questions are answered.
PURCHASE INTRO APR
Not Offered
TRANSFER INTRO APR
0%
for 12 billing cycles
$0 Transfer Fee
REGULAR APR
10.50% - 18.00% (V)
REWARDS RATE
1 - 2 points / $1
BONUS OFFER
20,000 points