Lane Bryant Credit Card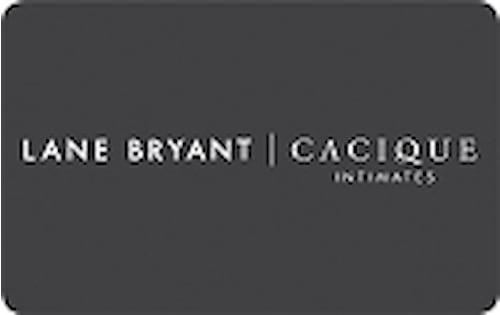 Lane Bryant Credit Card
Info about Lane Bryant Credit Card has been collected by WalletHub to help consumers better compare cards. The financial institution did not provide the details.
Rewards
242
Reviews
31
Q&A
Contact
Rewards
APR
WalletHub Review
Q&A
Customer Reviews
Excellent Credit, Good Credit, Fair Credit
Rewards
Get $20 off your first purchase when you open and use your card the same day. Minimum online purchase of $20.01 required.
Earn 15 points for every $1 you spend at Lane Bryant, Lane Bryant Outlet, Cacique, cacique.com and lanebryant.com
Earn 20 points per $1 when you gain Gold status by spending $350 in a calendar year. Earn 25 points per $1 when you gain Platinum status by spending $800 in a calendar year.
Get a $10 credit Reward for every 3000 points accumulated.
Get extra points with special monthly offers. Get cardmember exclusives (including a birthday gift).
Free standard shipping. Minimum purchase required of $75 for Silver and Gold, and none for Platinum status.
APR on Purchases
29.99% (V)
Balance Transfer
Balance Transfers Not Allowed
WalletHub Review
Lane Bryant Credit Card Pros & Cons
$20 discount initial rewards bonus
Lane Bryant Credit Card's Additional Info
| | |
| --- | --- |
| cash advance fee | N/A |
| cash advance APR | N/A |
| foreign transaction fee | N/A |
| smart chip | No |
| max late fee | $41 |
| max overlimit fee | $0 |
| max penalty APR | None |
| grace period | 25 days |
Get 60 days of returns with receipt.
Questions & Answers
Can't find what you are looking for? Submit your question about Lane Bryant Credit Card to our community. Editorial and user-generated content is not provided, reviewed or endorsed by the issuer of this card.
Most Popular
Questions sort
Compare The Lane Bryant Credit Card
Purchase Intro APR
Not Offered
Purchase Intro APR
Not Offered
Purchase Intro APR
Not Offered
Transfer Intro APR
Not Offered
Transfer Intro APR
0%

for 12 billing cycles

|

Transfer Fee:

$0
Transfer Intro APR
Not Offered
Regular APR
10.50% - 18.00% (V)
Regular APR
17.99% - 27.74% (V)
Rewards Rate
15 points / $1
Rewards Rate
1 - 2 points / $1
Rewards Rate
1 - 5% Cash Back
Lane Bryant Credit Card Reviews
Share your insights and review the Lane Bryant Credit Card
Review sort
1 Star Rating
They did't show my complete balance when I paid my account in full in July, they added fees after I paid it in full. Then I never got a statement showing I owed anything. Since I didn't use the card and thought I paid it off, I didn't check on it. Funny how they can't get me a statement, but managed to send my past due notice.

It's a nice scam on people who don't use the card on a regular basis.
Comment
1 Star Rating
I wish I could give zero stars. I wish Lane Bryant had a different Bank to hold customer credit card accounts.

Comenity Bank has got to be the worst company ever to deal with. When I make payments they routinely pull money from my bank account then they hold the money for several days and charge 2-3 "fees" plus a late fee and fees on the late fee before applying my payment to my account. It is easy to look and see at times that late fees were added on the same date they applied a payment. Then I can see in my bank account where the payment came out sometimes a week or more before the due date. Since I complained about this I can now see they wait until the day or so after to apply the payment.

I haven't charged anything on my card in over 12 months and they have added about $900 in all their charges. It doesn't matter how much I pay and how many days before my due date that I pay, they still make up some stupid excuse about glitches or needing 7 business days to process a payment. They are never able to tell me what kind of "fees" they charge multiple times a month.

They tried to tell me I couldn't close my account with them when I told them verbally and then in writing to close it. This company does not have integrity. Do not do any business with them. Stay away from Comenity Bank.
Comment
1 Star Rating
Worst card ever. I applied for the card in-store because the saleslady was pushing the promotional discount, but then I never used the card. Nonetheless they sent a bill for $100+. It was impossible to get through to a real person on their phone line, there was no option for disputing a charge, and the voice recognition did not recognize the concept no matter how I reworded it. Finally I told it to close the account. It said it had done so. I mailed them a check along with a letter telling them to close the account. In response all I got was another bill, for a late charge and interest. Doesn't say closed account. Also the bill does not print the account number, only the last four digits, and I cannot access their online system without an account number. So now I'm sending them another check and a letter, and if they still don't close the account, I guess I'll have to get a lawyer. Lessons learned for me, never fall for an in-store credit card application again, and avoid all things Lane Bryant. That one-time immediate in-store discount is going to end up costing me close to $150, or more if I can't get them to close the account without making up anymore charges or fees. Zero stars if it were an option.
Comment
1 Star Rating
Not happy with them. I've had enough of their foolishness... And as one other reviewer mentioned they try and extort a $39. late fee, even when paying on the same day... so if you get home and it's 8pm? they consider that late... How is it late if its on the due date?? There are 24 hrs in a day, last time I checked. It's a system that processes the payment, not a person. get outta here with the nonsense. Canceling my card.
Comment
2 Star Rating
Verified Customer
Easy application process. But high APR, poor customer service, and the clothing quality/prices are hit or miss. Rewards are more like coupons as they have limited windows of use. But if you are in a bind and need to get an outfit for something like a new job or something, and you know you can pay it off in a month or at most by the second month, it would be worth it. Or if you just want to by something small every month (like chapstick), it does report to all 3 agencies so it can help to boost your credit IF USED PROPERLY AND PAID FULL MONTHLY.
Comment
1 Star Rating
I wish I could give this store a 0 rating! After over 10 years of being a loyal customer, they charged me a late fee after I paid my bill (on the day it was due) just because it was after 8 pm. Absolutely ridiculous! I even spoke to a representative and called in to pay my bill and she never mentioned anything about a late fee being applied. Needless to say, I hate that this happens but they have lost a customer in me for good! The customer service guy basically told me that he had the authority to waive the fee but he wasn't going to. I'm canceling my account with them ASAP! Horrible customer service!
Comment
1 Star Rating
Verified Customer
Sooo... applied for LB credit card. Approved. They say upon approval you get $20 off your first order (which btw per their website, there are no limitations to this $20 discount). After approval, gathering my items, my coupon, at checkout.... unable to use my $20 off coupon because there were sales going on within the store & online (I tried both)!! Completely disgusted by this entire process & company. May want to document this if your not planning on honoring it!! False advertising to me!!!
Comment
1 Star Rating
Verified Customer
This card is a joke. The APR is ridiculous, I never get the bonus points unless I call and ask why I haven't gotten them, and the online "customer service" is useless. You have to call someone and that is 50/50 if you are going to get a friendly person that actually helps
Comment
1 Star Rating
I've been a customer for a long time I decided to check my interest rate and apparently the interest rate changed in 2015 so now im paying two interest rates a month. I plan to pay this card off and never step into that store again. This is so wrong, yeah this use to be my favorite card too until this happened.
Comment
5 Star Rating
I love it and i will always use it
Comment
Review
Lane Bryant Credit Card
WalletHub is an independent comparison service.
We work hard to show you up-to-date product terms, however, this information does not originate from us and thus, we do not guarantee its accuracy. When you click "Apply Now" you will be directed to the offering institution's website. In addition, keep in mind that actual rates and other information may vary for a number of reasons including the applicant's' creditworthiness and differences between an individual's situation and the criteria/assumptions used to generate the information displayed. Before submitting an application, always verify all terms and conditions with the offering institution. Please let us know if you notice any differences.
Ad Disclosure: Offers originating from paying advertisers are noted as "Sponsored" at the top of this page. Advertising may impact how and where offers appear on this site (including, for example, the order in which they appear). At WalletHub we try to present a wide array of offers, but our offers do not represent all financial services companies or products.
Irrespective of whether an offering institution is a paid advertiser, the presence of offer information on WalletHub does not constitute a referral or endorsement of the institution by us or vice versa. Furthermore, offers have not been reviewed or approved by the offering institution. Information is displayed first and foremost to help consumers make better decisions.
Editorial Disclaimer: Editorial and user-generated content on this page is not provided, commissioned, reviewed, approved or otherwise endorsed by the issuer. In addition, it is not the issuer's responsibility to ensure all posts and/or questions are answered.
PURCHASE INTRO APR
Not Offered
TRANSFER INTRO APR
0%
for 12 billing cycles
$0 Transfer Fee
REGULAR APR
10.50% - 18.00% (V)
REWARDS RATE
1 - 2 points / $1
BONUS OFFER
20,000 points