Lane Bryant Credit Card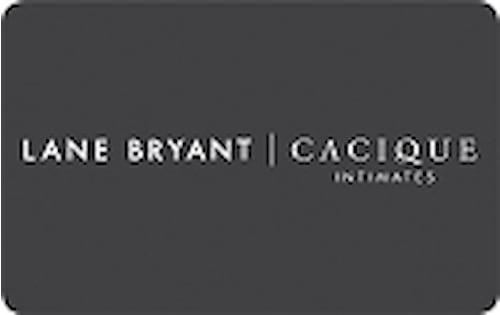 Lane Bryant Credit Card
Info about Lane Bryant Credit Card has been collected by WalletHub to help consumers better compare cards. The financial institution did not provide the details.
Rewards
241
Reviews
31
Q&A
Contact
Rewards
APR
WalletHub Review
Q&A
Customer Reviews
Excellent Credit, Good Credit, Fair Credit
Rewards
Get $20 off your first purchase when you open and use your card the same day. Minimum online purchase of $20.01 required.
Earn 15 points for every $1 you spend at Lane Bryant, Lane Bryant Outlet, Cacique, cacique.com and lanebryant.com
Earn 20 points per $1 when you gain Gold status by spending $350 in a calendar year. Earn 25 points per $1 when you gain Platinum status by spending $800 in a calendar year.
Get a $10 credit Reward for every 3000 points accumulated.
Get extra points with special monthly offers. Get cardmember exclusives (including a birthday gift).
Free standard shipping. Minimum purchase required of $75 for Silver and Gold, and none for Platinum status.
APR on Purchases
29.24% (V)
Balance Transfer
Balance Transfers Not Allowed
WalletHub Review
Lane Bryant Credit Card Pros & Cons
$20 discount initial rewards bonus
Lane Bryant Credit Card's Additional Info
| | |
| --- | --- |
| cash advance fee | N/A |
| cash advance APR | N/A |
| foreign transaction fee | N/A |
| smart chip | No |
| max late fee | $41 |
| max overlimit fee | $0 |
| max penalty APR | None |
| grace period | 25 days |
Get 60 days of returns with receipt.
Questions & Answers
Can't find what you are looking for? Submit your question about Lane Bryant Credit Card to our community. Editorial and user-generated content is not provided, reviewed or endorsed by the issuer of this card.
Most Popular
Questions sort
Compare The Lane Bryant Credit Card
Purchase Intro APR
Not Offered
Purchase Intro APR
Not Offered
Purchase Intro APR
Not Offered
Transfer Intro APR
Not Offered
Transfer Intro APR
0%

for 12 billing cycles

|

Transfer Fee:

$0
Transfer Intro APR
Not Offered
Regular APR
10.50% - 18.00% (V)
Regular APR
17.99% - 27.74% (V)
Rewards Rate
15 points / $1
Rewards Rate
1 - 2 points / $1
Rewards Rate
1 - 5% Cash Back
Lane Bryant Credit Card Reviews
Share your insights and review the Lane Bryant Credit Card
Review sort
1 Star Rating
Comenity Bank Lane Bryant store card is junk. Without autopay options on this store card account, I received no email ( even though signed up ) that I saw, I got no SMS for late fees. Had phone calls from a number I did not recognize and was not identified as comenity or Lane Bryant ( or I would have answered ) . they left no messages . since I get constant calls from telemarketers I screen my calls. Ridiculous and fraudulent practices ( designed to collect late fees and effect my credit report ). Soon as I clear the card I will be canceling. I will also be doing away with any other Comenity accounts my wife has ( Torrid ) .
Comment
1 Star Rating
I called to make a payment over the phone 4 days before my bill was do.. They only accepted an electronic transfer payment from my checking account. I got a payment confirmation, and nothing was ever taken out of my bank account, now 3 days over due, I checked into my account online to see why it hadn't posted, to find that it never went through.. So, now I have a late fee on top of a $25 payment return fee.. So, now I am paying an additional $60 for something that cost me $30... Nice.. I called a csr and they told me that it will give me a payment confirmation even if I 'may have hit the wrong button' while entering my account info.. So, make sure you enter your acct numbers right! I'm going to the store to pay off the balance and I'm closing my account. The clothes are way overpriced, for the crap fabric they're made with these days, anyway.. The item of clothing I bought from them just before Christmas is already falling apart. This company is a joke.
Comment
4 Star Rating
I like the Lane Bryant card, I like earning the bonus $20 every now and again but I would like it more if the bonus coupon didn't expire. I earned it, I'd like to use it when I get around to it, not the month the company says I have to. I wish the APR was lower, I don't care to charge to it often because I don't want to pay that high interest rate. Overall, good benefits to the card, just don't keep a balance.
Comment
3 Star Rating
We've had a lane bryant card for a few years now, first starting off as a basic member with $150 in credit, and ultimately leading up to platinum status at the moment with over $600 in credit. That's one heck of a shopping spree! Applying for the card was quick and easy and done right there on the spot in the store. We got our card in the mail about a week later so that was a really fast turn around. The APR is a little high, but when you reach platinum status you can call them up and negotiate for a lower rate. Having this card entitles you to their magazine monthly and you frequently get coupons for things like $75 off $150, which means you can really maximize your savings. I would like to see more credit line increases, but that and the APR are about the only negatives I can think of.
Comment
5 Star Rating
i love lane Bryant clothes. Having this card definitely makes me shop a little more often then i would normally,but it does allow me shop during the special sales. lane Bryant have good clothes that are made to last a long time. My sister and nieces love to shops there.I learn from my nieces and daughter to practice using rewards and discount on offered that applying,because this card has been a good thing.I admit it, the reason i opened the lane Bryant store card was to take advantage of the 20% discount offered when i paid for my purchases at the register.I had my lance Bryant for several years ago.
Comment
4 Star Rating
This card is best if you can pay your balance in full each month because of the high interest rate, that's my biggest problem with it. Otherwise, it's a great card to do business with. I usually shop on line and so fitting is sometimes challenging. There have been a few time I've had to send things back for size and it was very easy to do. No extra fees appeared on my card and it was an easy exchange.
Comment
4 Star Rating
An incredibly high APR for a store card. I don't think people realize how much extra they are paying for their clothes. The card is easy to use and the customer service staff are great!
Comment
5 Star Rating
I love the Lane Bryant Card. It's great for school shopping and allows me to get all that I need at the beginning of each school year. It's great for everything from bras to pajamas, to casual clothes, and even formal outfits. We've used it every fall, particularly around the back-to-school tax free weekend.
Comment
5 Star Rating
My favorite card! I love having a Lane Bryant Card! I love that I am not limited to its use, so I can use it at all the sister stores and outlets (Catherine's, Cacique, Lane Bryant Outlet, I miss Fashion Bug). I get so many offers as a card holder for great deals, like spend $75 get $25 off (and up). I am always in the know for the next great deal and I love my rewards cheques. I believe it is $10 for every 400 points, but there are many ways to get double points so it adds up fast! They really do, I had a $25 reward cheque I could not spend in time, when I mentioned it to customer service, they sent me a new one! What great customer service. I love Lane Bryant and their card is the perfect accessory :-)
Comment
4 Star Rating
The Lane Bryant Card is great. The application process was quick and easy. I love that even when I don't have the cash in hand I can still shop during the special sales. I even get some extra perks for being a card holder. I love the ability to pay online, as I never think to mail a payment. The reminder payment reminder emails are helpful. Overall this card is awesome.
Comment
Review
Lane Bryant Credit Card
WalletHub is an independent comparison service.
We work hard to show you up-to-date product terms, however, this information does not originate from us and thus, we do not guarantee its accuracy. When you click "Apply Now" you will be directed to the offering institution's website. In addition, keep in mind that actual rates and other information may vary for a number of reasons including the applicant's' creditworthiness and differences between an individual's situation and the criteria/assumptions used to generate the information displayed. Before submitting an application, always verify all terms and conditions with the offering institution. Please let us know if you notice any differences.
Ad Disclosure: Offers originating from paying advertisers are noted as "Sponsored" at the top of this page. Advertising may impact how and where offers appear on this site (including, for example, the order in which they appear). At WalletHub we try to present a wide array of offers, but our offers do not represent all financial services companies or products.
Irrespective of whether an offering institution is a paid advertiser, the presence of offer information on WalletHub does not constitute a referral or endorsement of the institution by us or vice versa. Furthermore, offers have not been reviewed or approved by the offering institution. Information is displayed first and foremost to help consumers make better decisions.
Editorial Disclaimer: Editorial and user-generated content on this page is not provided, commissioned, reviewed, approved or otherwise endorsed by the issuer. In addition, it is not the issuer's responsibility to ensure all posts and/or questions are answered.
PURCHASE INTRO APR
Not Offered
TRANSFER INTRO APR
0%
for 12 billing cycles
$0 Transfer Fee
REGULAR APR
10.50% - 18.00% (V)
REWARDS RATE
1 - 2 points / $1
BONUS OFFER
20,000 points