Lane Bryant Credit Card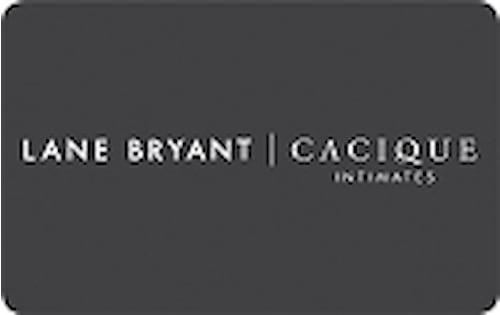 Lane Bryant Credit Card
Info about Lane Bryant Credit Card has been collected by WalletHub to help consumers better compare cards. The financial institution did not provide the details.
Rewards
241
Reviews
31
Q&A
Contact
Rewards
APR
WalletHub Review
Q&A
Customer Reviews
Excellent Credit, Good Credit, Fair Credit
Rewards
Get $20 off your first purchase when you open and use your card the same day. Minimum online purchase of $20.01 required.
Earn 15 points for every $1 you spend at Lane Bryant, Lane Bryant Outlet, Cacique, cacique.com and lanebryant.com
Earn 20 points per $1 when you gain Gold status by spending $350 in a calendar year. Earn 25 points per $1 when you gain Platinum status by spending $800 in a calendar year.
Get a $10 credit Reward for every 3000 points accumulated.
Get extra points with special monthly offers. Get cardmember exclusives (including a birthday gift).
Free standard shipping. Minimum purchase required of $75 for Silver and Gold, and none for Platinum status.
APR on Purchases
29.99% (V)
Balance Transfer
Balance Transfers Not Allowed
WalletHub Review
Lane Bryant Credit Card Pros & Cons
$20 discount initial rewards bonus
Lane Bryant Credit Card's Additional Info
| | |
| --- | --- |
| cash advance fee | N/A |
| cash advance APR | N/A |
| foreign transaction fee | N/A |
| smart chip | No |
| max late fee | $41 |
| max overlimit fee | $0 |
| max penalty APR | None |
| grace period | 25 days |
Get 60 days of returns with receipt.
Questions & Answers
Can't find what you are looking for? Submit your question about Lane Bryant Credit Card to our community. Editorial and user-generated content is not provided, reviewed or endorsed by the issuer of this card.
Most Popular
Questions sort
Compare The Lane Bryant Credit Card
Purchase Intro APR
Not Offered
Purchase Intro APR
Not Offered
Purchase Intro APR
Not Offered
Transfer Intro APR
Not Offered
Transfer Intro APR
0%

for 12 billing cycles

|

Transfer Fee:

$0
Transfer Intro APR
Not Offered
Regular APR
10.50% - 18.00% (V)
Regular APR
17.99% - 27.74% (V)
Rewards Rate
15 points / $1
Rewards Rate
1 - 2 points / $1
Rewards Rate
1 - 5% Cash Back
Lane Bryant Credit Card Reviews
Share your insights and review the Lane Bryant Credit Card
Review sort
4 Star Rating
I love my Lane Bryant Card. Love it as much as the store. Having the card definitely makes me shop a little more often then I would normally, but it does allow me to take better advantage of sales and discounts. I can easily make payments at the store, and for me that's a plus and helps me stay on top of my payments.
Comment
4 Star Rating
Overall, I am pleased with this card. I've had it for about a year and a half now. My initial credit limit was $100, but that increased to $300 after about 10 months. I don't carry a large balance, so the interest rates aren't bad even though the percentage is high. The only reason i didn't rate it as 5 stars is because I shop there quite a bit, but don't feel like I get many rewards certificates. To date, I've gotten 2 or 3.
Comment
5 Star Rating
I absolutely love this card! I've had it for at least four years now. The company shows their appreciation with reward cheques. Also, there are special coupons and sales for cardholders, which i always try to take advantage of. Lane Bryant's clothes are made to last so every penny charged is well spent. Also the card can be used with their sister companies.
Comment
4 Star Rating
Overall, I love this card. You can get a great discount for signing up, and you get points when you use it. It does have a high APR, so be really careful how much you charge and how quickly you pay it. The best practice is to use it for rewards then pay it off.
Comment
5 Star Rating
The Lane Bryant Card is the best thing ever! I only got it because of the discount that was offered for applying, but I am very thankful for the sales lady, because this card has been a good thing.
Comment
4 Star Rating
Initially I applied for the card to get the discount at the store. I was surprised to be approved, but in the year since then this card has turned into a serious asset for my business life. I don't have to worry now if I need to go and get a new outfit for a sudden trip or meeting - and wearing better clothing has boosted my confidence at work too.

The card itself has very reasonable rates, and great rewards when you buy something!
Comment
3 Star Rating
I admit it, the reason I opened the Lane Bryant store card was to take advantage of the 20% discount offered when I paid for my purchases at the register. Lane Bryant's interest rates are outrageously high, so this isn't the card to use if you need to carry a balance each month. I only use it when it is advantageous to do so, and I pay it in full each month. Since I pay the balance in full each month, I've never experienced any difficulties related to billing, interest, or unrelated charges. I would give the card a higher rating if the interest charges were lower.
Comment
5 Star Rating
I have had my Lane Bryant for almost 10 years. It was super easy to apply for. I applied for it initially just to get the 20% discount and paid my balance off that day never thinking I would actually use it again but I have used it over the last 10 years. I have never had a billing problem, customer service is always super nice. I love that you get special coupons just for being a cardholder. I would recommend this card to anyone that asks me about it.
Comment
5 Star Rating
I applied for the Lane Bryant store card several years ago while shopping at Lane Bryant for my wife. During checkout the sales assistant told me of a promotion that gave 20% off that purchase if I applied for the store card. It was easy to apply and I received my discount. Since then we have used it a few times, mainly in conjunction with online deals that I was sent via email. It is an easy card to get and keep, and for those times that we use it, we appreciate having it. We've never had any trouble with billing or the one or two times I've had to call customer service (usually because I forgot some of my information). I would certainly recommend it to anyone if they can get it with the sales discount.
Comment
3 Star Rating
I have had the Lane Bryant card for many years. I use it mainly for lingerie as the fit and support are excellent. I occasionally buy other items at the store as long as the "bling" factor is low. I prefer a more understated look. The interest rate is pretty high, but is manageable as long as the bill is paid off quickly. I have not used it online as I prefer to try things on before I buy them. I usually do not visit frequently enough to use the rewards, but I do make use of the sales and buy one get one half off often. Nice to have the card in case I have a need and they are running a sale.
Comment
Review
Lane Bryant Credit Card
WalletHub is an independent comparison service.
We work hard to show you up-to-date product terms, however, this information does not originate from us and thus, we do not guarantee its accuracy. When you click "Apply Now" you will be directed to the offering institution's website. In addition, keep in mind that actual rates and other information may vary for a number of reasons including the applicant's' creditworthiness and differences between an individual's situation and the criteria/assumptions used to generate the information displayed. Before submitting an application, always verify all terms and conditions with the offering institution. Please let us know if you notice any differences.
Ad Disclosure: Offers originating from paying advertisers are noted as "Sponsored" at the top of this page. Advertising may impact how and where offers appear on this site (including, for example, the order in which they appear). At WalletHub we try to present a wide array of offers, but our offers do not represent all financial services companies or products.
Irrespective of whether an offering institution is a paid advertiser, the presence of offer information on WalletHub does not constitute a referral or endorsement of the institution by us or vice versa. Furthermore, offers have not been reviewed or approved by the offering institution. Information is displayed first and foremost to help consumers make better decisions.
Editorial Disclaimer: Editorial and user-generated content on this page is not provided, commissioned, reviewed, approved or otherwise endorsed by the issuer. In addition, it is not the issuer's responsibility to ensure all posts and/or questions are answered.
PURCHASE INTRO APR
Not Offered
TRANSFER INTRO APR
0%
for 12 billing cycles
$0 Transfer Fee
REGULAR APR
10.50% - 18.00% (V)
REWARDS RATE
1 - 2 points / $1
BONUS OFFER
20,000 points