PEX Visa® Core Business Prepaid Card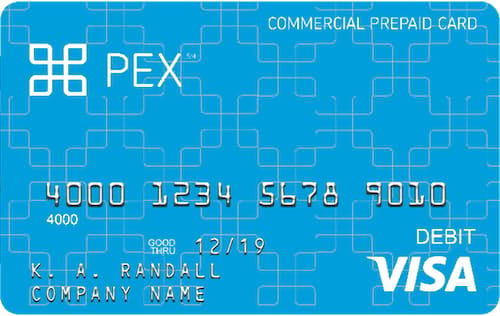 PEX Visa® Core Business Prepaid Card
Info about PEX Visa® Core Business Prepaid Card has been collected by WalletHub to help consumers better compare cards. The financial institution did not provide the details.
Key Fees
Reviews
Q&A
Contact
Key Fees
Q&A
Customer Reviews
Usage Fees
Activation Fee: None
Monthly Fee: $8
Signature Transaction Fee: Free
Pin Transaction Fee: Free
ATM Fees
In Network ATM Transaction Fee: N/A
ATM Network Size: N/A
Out of Network ATM Transaction Fee: N/A
Foreign ATM Transaction Fee: N/A
PEX Visa® Core Business Prepaid Card's Additional Info
| | |
| --- | --- |
| live customer support | Free |
| automated customer support | Free |
| reload options | Direct Deposit |
| cancellation fee | Free |
| inactivity fee | None |
The $8 monthly fee is waived if the cardholder spends $50k per month through the platform
Administrators issue cards without time-consuming applications or credit checks as this is not a credit card
You can give cards to any employee, contractor or volunteer. Their cards will only work where, when and how you choose
Set rules. Set budgets. Or set nothing. PEX works for you. Every person or role can have their own approved merchant category and spending limits. PEX keeps spending in check
Track spending by the second. PEX reports transactions in real-time. Cardholders submit receipts and accounting codes with a mobile app
Get PEX Card for mobile. You can Check your balance, Track spending and Attach receipts to transactions
When it comes to funding your PEX account, you have three options: (a) ACH Credit (bank-initiated); (b) Wire Transfer; (c) ACH Debit (PEX Service)
PEX Visa® Core Business Prepaid Card Q&A
Can't find what you are looking for? Submit your question about PEX Visa® Core Business Prepaid Card to our community. Editorial and user-generated content is not provided, reviewed or endorsed by the issuer of this card.
Most Popular
Questions sort

Your best bet is to call customer service at 1-877-274-3390. Most likely they'll be able to answer your question.
PEX Visa® Core Business Prepaid Card Reviews
Share your insights and review the PEX Visa® Core Business Prepaid Card
Review sort
5 Star Rating
XAP Credit Solution remains the best credit expertise I have known. I had 16 negative things on my credit that were holding me back. One of them is from Capital one another from sears which I paid off and I am not sure of the others but they are both 6 years old. I filed bankruptcy 5years ago and settled with all of these. My attention was called that they are still on my reports I recently got referred by my best friend to hire (XAPCREDITSOLUTION at Writeme dot Com 972 597 9704 which I did and he helped me fix my credit and my score improved by a huge leap. I recommend anyone that needs to fix his or her credit to get through with XAP. He is just the best. Kudos to the entire team XAP!
Comment
5 Star Rating
This business card is too good , have many offers. Most of the other providers could not provide the offers and cannot compete with this PEX. Very much satisfied with this card
some of the offers are

Best Replacement for your Business Credit Or Debit Card.
Instantly fund employee purchases.
Gain 24/7 control over where and how much employees spend.
Save money - no surprise interest charges or overdraft fees.
Comment
+ 20 users submitted a rating without writing a full review
Review
PEX Visa® Core Business Prepaid Card
WalletHub is an independent comparison service.
We work hard to show you up-to-date product terms, however, this information does not originate from us and thus, we do not guarantee its accuracy. When you click "Apply Now" you will be directed to the offering institution's website. In addition, keep in mind that actual rates and other information may vary for a number of reasons including the applicant's' creditworthiness and differences between an individual's situation and the criteria/assumptions used to generate the information displayed. Before submitting an application, always verify all terms and conditions with the offering institution. Please let us know if you notice any differences.
Ad Disclosure: Offers originating from paying advertisers are noted as "Sponsored" at the top of this page. Advertising may impact how and where offers appear on this site (including, for example, the order in which they appear). At WalletHub we try to present a wide array of offers, but our offers do not represent all financial services companies or products.
Irrespective of whether an offering institution is a paid advertiser, the presence of offer information on WalletHub does not constitute a referral or endorsement of the institution by us or vice versa. Furthermore, offers have not been reviewed or approved by the offering institution. Information is displayed first and foremost to help consumers make better decisions.
Editorial Disclaimer: Editorial and user-generated content on this page is not provided, commissioned, reviewed, approved or otherwise endorsed by the issuer. In addition, it is not the issuer's responsibility to ensure all posts and/or questions are answered.