Sam's Club® Business Credit Card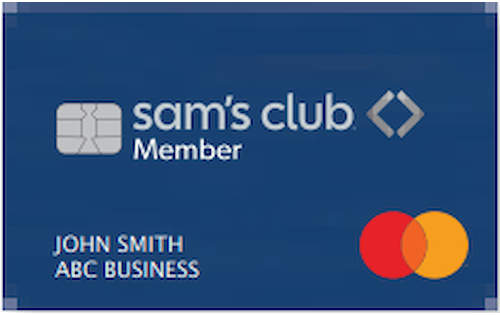 Sam's Club® Business Credit Card
Info about Sam's Club® Business Credit Card has been collected by WalletHub to help consumers better compare cards. The financial institution did not provide the details.
Rewards
217
Reviews
12
Q&A
Contact
Rewards
APR
Editor Review
Q&A
Customer Reviews
Excellent Credit, Good Credit
Rewards
Receive $30 statement credit when you open an account and make a $30 purchase within 30 days of account opening. Terms Apply.
Earn 5% back on gas at U.S. and Puerto Rico gas stations and on gas at Sam's Club and Walmart fuel stations (on the first $6,000 per year in purchases, then 1% on purchases after).
Earn 3% back on dining and 1% for all other eligible purchases.
Plus members will earn 3% cash back on all Sam's Club purchases, plus 2% in cash rewards on eligible in-club purchases.
Maximum of $5,000 in Cash Back rewards can be earned in a calendar year.
APR on Purchases
15.90% - 23.90% (V)
Balance Transfer
Balance Transfers Not Allowed
Editor's Take
Sam's Club® Business Credit Card Pros & Cons
$30 initial rewards bonus
No intro APR on purchases
No balance transfers allowed
Requires good/excellent credit
Sam's Club® Business Credit Card's Additional Info
| | |
| --- | --- |
| cash advance fee | 3% (min $5) |
| cash advance APR | 20.90% - 26.90% (V) |
| foreign transaction fee | 0% |
| smart chip | Yes, chip-and-signature |
| max late fee | $39.99 |
| max overlimit fee | $0 |
| max penalty APR | 29.99% |
| grace period | 20 days |
MasterRental, Purchase Assurance and Extended Warranty.
Acceptance at all Sam's Club and Walmart® locations nationwide.
Questions & Answers
Don't see what you're looking for? Submit your question about Sam's Club® Business Credit Card to our community. Editorial and user-generated content is not provided, reviewed or endorsed by the issuer of this card.
Most Popular
Questions sort
Compare The Sam's Club® Business Credit Card
Purchase Intro APR
Not Offered
Purchase Intro APR
Not Offered
Purchase Intro APR
0% for 15 billing cycles
Transfer Intro APR
Not Offered
Transfer Intro APR
Not Offered
Transfer Intro APR
0%

for 15 billing cycles

|

Transfer Fee:

3% (min $5)
Regular APR
15.90% - 23.90% (V)
Regular APR
16.74% - 21.74% (V)
Regular APR
14.74% - 23.74% (V)
Rewards Rate
1 - 5% Cash Back
Rewards Rate
1 - 5% Cash Back
Rewards Rate
1 - 5% Cash Back
Sam's Club® Business Credit Card Reviews
Share your insights and review the Sam's Club® Business Credit Card
Review sort
1 Star Rating
I have had my account with Sam's club for a couple of years now. The credit card through Symphony bank, initially a Discover card now MasterCard, has never issued any rewards to me. Each time I called to find out about the rewards the story changed or they pushed the date out or just outright lied about sending the check. I just got off the phone with them and was told it was sent Feb 21. I asked to where they sent the check and Mike (Employee ID: 469952) stated it was sent to the address I gave them when I gave him in the beginning of my conversation. I stated I never gave an address, he verified my identity by asking me to verify the phone number associated with the account. He then asked what address I live at. I stated I would like to know where the check was sent. He stated he could not tell me due to security restrictions. I stated that I wanted to speak with his supervisor. I was transferred to "James" (supposed Employee ID: 1265) this was a lie and I knew it. James got on the line and I explained the situation and asked where the check was sent. James refused to tell me where the check was sent due to "security" even after I have verified my identity. I asked them to stop payment on this check that was sent and send one with a tracking number to the address on file, which should have been no issue. I was told they would not issue another check, and that they could only credit it back to my account and I would have to wait another year before receiving my rewards. I am now starting a better business report and hope that Sam's will terminate this contract. If you have experienced this type of occurrence please contact me as I will also be attempting to initiate a class action suit. Contact me at
[email protected]
Please pass this post to all you know at banking with this Symphony Bank or with accounts at Sam's club
Comment
1 Star Rating
I applied for the Card for the Cash Back Perks. I went into Sams club to apply specifically for the Sams Mastercard. I emplyee tried to sign me up multiple times and said I was not approved for the master card. From there they sent me to customer service where she then signed me up for the card. Come to find out she signed me up for the Store card with NO BENEFITS for a $3000 limit, HA!. I was furious, I had not given them permission to do so. I fought with phone customer service to have the card taken off of my credit and to close the account. I had them re-run my info for the master card and I was approved for $12,000 limit. Find it kind of funny I was orginally declined for the Master card but then I was approved for $12,000. I have perfect credit!

A month later I needed to update my name on the credit card, It will take 7-10 business days to get the card. What kind of BS is this. Chase can have a card out to me next day. WHAT THE HELL IS WRONG WITH SYNCHRONY BANK??? The customer service was rude and when I spoke to a supervisor she was just as rude. I have had nothing but problems with the customerservice since I opened this card. I wish I would have read the reviews before I opened a Card with Sams
Comment
5 Star Rating
Sam's Club credit card is easy to use.
Comment
1 Star Rating
The customer service for this MasterCard which is issued by Synchrony Bank(aka formally GE Financial) is a real disaster!!! I believe they dragged people off the street to man the phones! Need I say more.
Comment
2 Star Rating
The Sam's Club Business Card is not my favorite. Out of all the cards I own, I probably dislike this one the most. There are a few downsides to using this card. First of all the cash advance fee is a minimum of five dollars. I don't how many other people often use cash advance, but I do, so this really bugs me. Secondly, the late fees and overlimit fees are too high for my taste. The few good things about this card are, one, there is no annual fee, and two, they have a nice rewards program. Really weigh the pros and cons before opening a Sam's Business Card.
Comment
3 Star Rating
I don't see why the Sam's Club card (same company as Wal-Mart) would use the Discover network. That is the biggest drawback of this card since Discover is not a popular card and is not accepted in many places. The rewards program is good but it is capped at a certain level. I'm not really feeling that, I think that if you use a credit card, there should be no limits on earning. There is no annual fee which is nice, but there are other problems. The cash advance fee is high and the grace period is really short. I think that this card could hurt people if they aren't really strong on their financials. The biggest drawback is the lack of balance transfers. I wish these would be allowed.
Comment
5 Star Rating
The great thing about the Sam's Club card is that you can only use it at certain places. I like a card that is not available to use basically at the store and not available to use everywhere else. The fact that it is only offered through Discover is a little disappointing, but it is still a good card. If you are a business owner, the car is also good because of the 2% that you get back after so many purchases. Overall this is a very good card for businesses or for regular users. I have owned my card for many years now and I love it. In contrast, the Sam's Club card is much better than my regular Visa card because the interest rate is much lower.
Comment
4 Star Rating
The first thing that is worth mentioning is that the Sam's Club credit card is offered through the Discover network, which is slightly less popular than Visa, but effective all the same. It shouldn't be an issue for concern, but it's just to note that it deviates from the standard of most other credit card offers a bit. As for the actual value of the card, it seems perfect for the business owner who finds themselves purchasing in bulk. It seems like this card was developed to enhance the Sam's club experience by offering base percentage rewards instead of using a points system. I like that they deal in percentages instead of points because it's a more straightforward approach. The only qualm I have is that the maximum late fees are some of the highest I've seen, but I suppose that's understandable for a business card. I suppose the expectation / rationalization is that owners will spend more each month. Overall I'd say that this is a great deal for business owners who already find themselves shopping at Sam's Club.
Comment
4 Star Rating
If you're a business owner and do a lot of purchases through Sam's Club, Sam's Club Business Credit Card
honestly isnt that bad for you. 2% back over a long time and many purchases at Sam's Club will net you a lot of savings. 1% for everything else isn't that bad, it just isn't what makes the card worth it. APR is alright too, probably could get better but it just is another credit card and you probably will find something better. The one downside is that it doesn't have an introductory rate. This card would be amazing if it had that but you can't get everything you wish from a card for a specific store.
Comment
4 Star Rating
This credit card seems helpful if you're a business plus member at Sam's Club only, I wouldn't even consider it otherwise. The Sam's Club Business Credit Card offers 2% back on all purchases if you were a business, which is amazing. 2% is already unheard of almost for most cards (you do need to spend quite a bit to get the 2% back though), although the 1% cashback for a regular business member is not nearly as exciting, and equivalent to a regular card. If I was a business owner, I would much rather consider this card over my current TrueEarnings Card from Costco and American Express, but perhaps not the business version of the Costco American Express, which offers up to 4% back on gasoline, but only 1% on most purchases. I'd definitely consider this card strongly if I was a business plus member.
Comment
Review
Sam's Club® Business Credit Card
WalletHub is an independent comparison service.
We work hard to show you up-to-date product terms, however, this information does not originate from us and thus, we do not guarantee its accuracy. When you click "Apply Now" you will be directed to the offering institution's website. In addition, keep in mind that actual rates and other information may vary for a number of reasons including the applicant's' creditworthiness and differences between an individual's situation and the criteria/assumptions used to generate the information displayed. Before submitting an application, always verify all terms and conditions with the offering institution. Please let us know if you notice any differences.
Ad Disclosure: Offers originating from paying advertisers are noted as "Sponsored" at the top of this page. Advertising may impact how and where offers appear on this site (including, for example, the order in which they appear). At WalletHub we try to present a wide array of offers, but our offers do not represent all financial services companies or products.
Irrespective of whether an offering institution is a paid advertiser, the presence of offer information on WalletHub does not constitute a referral or endorsement of the institution by us or vice versa. Furthermore, offers have not been reviewed or approved by the offering institution. Information is displayed first and foremost to help consumers make better decisions.
Editorial Disclaimer: Editorial and user-generated content on this page is not provided, commissioned, reviewed, approved or otherwise endorsed by the issuer. In addition, it is not the issuer's responsibility to ensure all posts and/or questions are answered.
PURCHASE INTRO APR
Not Offered
TRANSFER INTRO APR
Not Offered
REGULAR APR
16.74% - 21.74% (V)
ANNUAL FEE
$0 intro for 12 mos, $95 after
REWARDS RATE
1 - 5% Cash Back
REWARDS BONUS
$750