Simmons Bank Rewards Visa Signature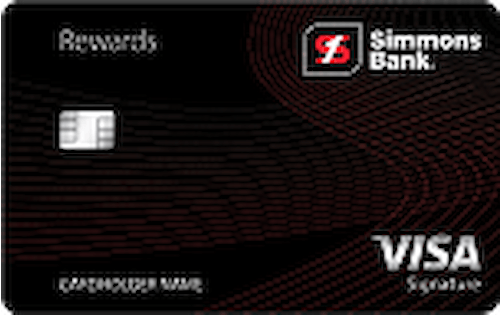 Simmons Bank Rewards Visa Signature
Info about Simmons Bank Rewards Visa Signature has been collected by WalletHub to help consumers better compare cards. The financial institution did not provide the details.
Rewards
125
Reviews
2
Q&A
Contact
Rewards
APR
Editor Review
Q&A
Customer Reviews
Excellent Credit, Good Credit
Rewards
Receive 30,000 bonus rewards points for spending $3,000 in the first 3 months of account opening.
Cardholders receive 1.25 points per net dollar spent on their card.
Redeem your points for cash back, airfare, dream vacations and top merchandise.
APR on Purchases
13% - 21% (V)
Balance Transfer
0% intro APR for 12 months, 13% - 21% (V) APR after that
Balance Transfer Fee: 3% (min $10)
Editor's Take
Simmons Bank Rewards Visa Signature Pros & Cons
0% intro APR on balance transfers
30,000 points initial rewards bonus
Reports to the three major credit bureaus
No intro APR on purchases
Requires good/excellent credit
Simmons Bank Rewards Visa Signature's Additional Info
| | |
| --- | --- |
| cash advance fee | 3% (min $4) |
| cash advance APR | 17% - 25% (V) |
| foreign transaction fee | 2% |
| smart chip | Yes |
| max late fee | $39 |
| max overlimit fee | $0 |
| max penalty APR | None |
| grace period | 25 days |
0% Intro APR for 12 months on balance transfers completed within 60 days of account opening date.
Get coverage for damage due to collision or theft up to the actual cash value of most rental cars.
Get up to $1,000,000 travel accident insurance at no additional cost.
Receive valuable perks like access to exclusive hotels, complimentary 24-hour Visa Signature concierge and special entertainment packages.
Questions & Answers
Don't see what you're looking for? Submit your question about Simmons Bank Rewards Visa Signature to our community. Editorial and user-generated content is not provided, reviewed or endorsed by the issuer of this card.
Most Popular
Questions sort
You can check your Simmons Rewards Visa Signature rewards points here.
Compare The Simmons Bank Rewards Visa Signature
Purchase Intro APR
Not Offered
Purchase Intro APR
0% for 15 months
Transfer Intro APR
0%

for 12 months

|

Transfer Fee:

3% (min $10)
Transfer Intro APR
0%

for 15 months

|

Transfer Fee:

3% intro fee ($5 min) for each transfer in first 4 months, after that 5% ($5 min) for each transfer
Regular APR
14.24% - 24.24% (V)
Rewards Rate
1.25 points / $1
Rewards Rate
1 - 5 points / $1
Simmons Bank Rewards Visa Signature Reviews
Share your insights and review the Simmons Bank Rewards Visa Signature
Review sort
1 Star Rating
Completely incompetent customer service people. We were given totally wrong information about the terms of the credit card. We then discovered the terms were a rip-off anyway. Definitely would not recommend.
Comment
5 Star Rating
My husband and myself have used our Visa Platinum Rewards Card for many years. It has been the perfect card for us. We do not let our debt pile up; in fact we pay our balance in full each month. However we do utilize the car for most of our purchases (i.e., gas, groceries, clothing, entertainment, etc.). We enjoy accumulating the reward points and using them each year to help with airfare for conventions for my husband or a family vacation for both of us. In addition, we use the points we earn to provide dining cards as gifts to our children. - shirley.
Comment
+ 123 users submitted a rating without writing a full review
Review
Simmons Bank Rewards Visa Signature
WalletHub is an independent comparison service.
We work hard to show you up-to-date product terms, however, this information does not originate from us and thus, we do not guarantee its accuracy. When you click "Apply Now" you will be directed to the offering institution's website. In addition, keep in mind that actual rates and other information may vary for a number of reasons including the applicant's' creditworthiness and differences between an individual's situation and the criteria/assumptions used to generate the information displayed. Before submitting an application, always verify all terms and conditions with the offering institution. Please let us know if you notice any differences.
Ad Disclosure: Offers originating from paying advertisers are noted as "Sponsored" at the top of this page. Advertising may impact how and where offers appear on this site (including, for example, the order in which they appear). At WalletHub we try to present a wide array of offers, but our offers do not represent all financial services companies or products.
Irrespective of whether an offering institution is a paid advertiser, the presence of offer information on WalletHub does not constitute a referral or endorsement of the institution by us or vice versa. Furthermore, offers have not been reviewed or approved by the offering institution. Information is displayed first and foremost to help consumers make better decisions.
Editorial Disclaimer: Editorial and user-generated content on this page is not provided, commissioned, reviewed, approved or otherwise endorsed by the issuer. In addition, it is not the issuer's responsibility to ensure all posts and/or questions are answered.
PURCHASE INTRO APR
0% for 15 months
TRANSFER INTRO APR
0%
for 15 months
3% intro fee ($5 min) for each transfer in first 4 months, after that 5% ($5 min) for each transfer Transfer Fee
REGULAR APR
14.24% - 24.24% (V)
REWARDS RATE
1 - 5 points / $1
REWARDS BONUS
20,000 points