Sony® Credit Card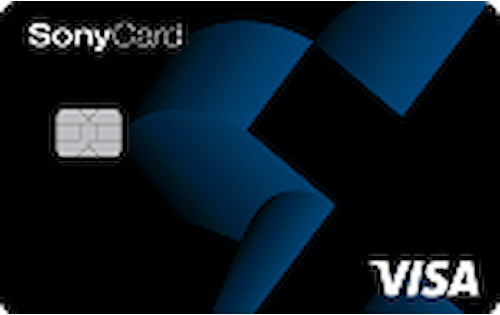 Sony® Credit Card
Info about Sony® Credit Card has been collected by WalletHub to help consumers better compare cards. The financial institution did not provide the details.
Rewards
490
Reviews
21
Q&A
Contact
Rewards
APR
WalletHub Review
Q&A
Customer Reviews
Excellent Credit, Good Credit
Rewards
Limited time: Earn $50 statement credit upon first purchase of any amount within 60 days of account opening and an additional $50 statement credit after spending $500 within 60 days of account opening.
Earn 5 Sony Rewards points per $1 spent on select entertainment purchases (on tickets to movies, concerts, sporting events and more) and Sony products.
Earn 2 points per $1 spent at restaurants, including takeout, fast food, delivery services and on internet & cable and rideshare purchases. Earn 1 point per $1 spent on all other purchases.
Redeem your points for VIP experiences, electronics and entertainment.
APR on Purchases
18.24% - 26.99% (V)
Balance Transfer
APR: 26.99%
Balance Transfer Fee: 5% (min $10)
WalletHub Review
Sony® Credit Card Pros & Cons
$100 initial rewards bonus
No intro APR on purchases
No intro APR on balance transfers
Requires good/excellent credit
Sony® Credit Card's Additional Info
| | |
| --- | --- |
| cash advance fee | 5% (min $10) |
| cash advance APR | 27.99% (V) |
| foreign transaction fee | 3% |
| smart chip | Yes, chip-and-signature |
| max late fee | $41 |
| max overlimit fee | $0 |
| max penalty APR | None |
| grace period | 25 days |
Once approved, a temporary shopping pass may be issued and sent to your smartphone, allowing you to shop right away. Terms Apply.
Visa Benefits: Auto Rental Insurance, Emergency Card Replacement, Zero Liability and Roadside Dispatch.
Questions & Answers
Can't find what you are looking for? Submit your question about Sony® Credit Card to our community. Editorial and user-generated content is not provided, reviewed or endorsed by the issuer of this card.
Most Popular
Questions sort
The Sony Rewards website is your only option.
Compare The Sony® Credit Card
Purchase Intro APR
Not Offered
Purchase Intro APR
Not Offered
Purchase Intro APR
0% for 12 months from account opening
Transfer Intro APR
Not Offered
Transfer Intro APR
0%

for 12 billing cycles

|

Transfer Fee:

$0
Transfer Intro APR
Not Offered
Regular APR
18.24% - 26.99% (V)
Regular APR
12.50% - 18.00% (V)
Regular APR
19.49% - 29.49% Variable
Rewards Rate
1 - 5 points / $1
Rewards Rate
1 - 2 points / $1
Rewards Rate
1 - 3 points / $1
Sony® Credit Card Reviews
Share your insights and review the Sony® Credit Card
Review sort
3 Star Rating
The Sony Card from Capital One definitely has some nice perks, although I wouldn't say any of them are all that unique. I would say the best feature of the card is the 0% interest rate for a year (give or take) when you sign up. The rewards structure is nice if you buy a lot of Sony products, but my Chase Freedom card has a similar rewards system but does not limit my points based on the brands that I buy. I also prefer a card with a more fixed interest rate. I can be pretty certain that my Chase Freedom card will have the same rate month to month, but the Sony card has a 13% - 25% variable rate. Overall, if I had to pick a new credit card, I would probably pass on the Sony card for a card that gives me more flexibility in the rewards that I earn.
Comment
3 Star Rating
The Sony Card from Capital One looks like an okay card if you purchase a fair amount of Sony products. If you get the card now, the intro rate of 0% interest will last until July 2014, so almost a year. That is not too bad of a deal. You also get 5 rewards points for ever 1 dollar you spend on Sony products at authorized retailers, and 3 points per one dollar on dining out and movie purchases. Also, not too bad. Everything else is 1 point per dollar spent, which is pretty par for the course. My Visa G rewards is the same in that regard. The regular rate is variable and falls between 13.9-24.9%. That is an eleven point range there. I just never like that kind of uncertainty. It really seems unnecessary and only serves the purpose of bilking customers. I guess a comparable card would be the Playstation credit card. That has the same large, variable rate. Why? I honestly think you would be better off with using another credit card with a lower APR, unless either of these cards don't fluctuate that much. I think it is something you would really need to research before signing up.
Comment
5 Star Rating
I just recently started using the Sony Card from Capital One, and honestly can't say enough positive things about it. If you frequently purchase and use Sony products like my family does, then I highly recommend checking this card out. It has a 0% interest rate until July of 2014, and has a relatively reasonable regular interest rate after that. It also offers great perks such as the points you can earn with each purchase. I earn 5 points for every dollar spent on Sony purchases at authorized retailers, 3 points for each dollar spent dining out, and 1 point for each dollar spent on any other purchases I make. I give this card a 5 star rating.
Comment
4 Star Rating
If you love Sony products as much as I do then this card is a no brainer. The Sony Card from Capital One is a great card to have if you purchase a lot from sony. I find myself being somewhat of a brand loyalist and I have gotten a lot from Sony in the past. The rewards you earn using this card can rack up pretty fast. You get 3 points per $1.00 you spend on Sony products, and you also get points for buying things from other places as well. On top of that. It's definitely a card to pick up, it's fairly easy to get approved for as well.
Comment
5 Star Rating
As a big fan of Sony products, the Sony Card from Capital One can be a fantastic card to have if you are too. If you purchase a lot of Sony products like I do, such as PlayStation or HDTVs, this card's reward program is worth it alone. You earn 5 points for every $1 spent at a Sony approved store and this can add up very quickly, which let you rake in the rewards just that much faster. They even give you a bonus of 5,000 points on your first purchase! This credit card also has no annual fee, 0% APR until the promo period expires and very competitive interest rates after that expires. If you are a big fan of Sony or just want a great credit card in general, then look no further than the Sony Card from Capital One.
Comment
5 Star Rating
One of the best cards I've used. The points system works extremely well for my spending habits because I often find myself purchasing Sony products, and then being able to use those points for music and movies is great. Previous cards I've used all had annual fees, so the lack of one here is a breath of fresh air. Overall, if you find yourself constantly buying Sony products and want a card to reward you for that habit as well as having a solid credit card overall, this is without a doubt one of the best choices you could use, even if you're not a Sony fan.
Comment
5 Star Rating
The Sony Card from Capital One offers a great incentive with their rewards program but moreover, it is the fact they have 0% intro APR on purchases until July 2014 and no annual fee that make this credit card a strong and solid choice. I have had a Legacy Visa card and I had to pay 75 dollars a year as an annual fee and that would always apply directly on my credit balance. It was awful as there were no rewards on the card either. The Sony Card from Capital One does not pull such nonsense. The Sony Card from Capital One is also unique in that you can use the points to redeem for Sony Products. I am definitely getting the PS4 and will surely have this card on hand in order to buy Sony games and other electronics. A great card with unique incentives.
Comment
5 Star Rating
If you love electronics as much as I do and trust the Sony brand this card is a definite must. You get to redeem your points for either new products or for discounts on their products. I love keeping up to date with technology so I am always looking to spend my points. The redemption process is very simple and the points add up very quickly when you use the card. One of the better rewards cards I have come across. Also I have two cards with Capital one and have never had an issue with them. They are not overly annoying trying to sell you things, and if there is an issue they are very quick to help out.
Comment
5 Star Rating
This is a great card for people with Good Credit, this was my third card I've used and probably my favorite. Its great especially for people who Love Sony like myself, you can use your points towards ordering new Electronics from Sony. Anyone who loves Gadgets should apply for this card as soon as you can, you will save hundreds if you play it smart. This card also doesn't have an annual fee which is great and saves you money every year.

The Customer service at Capital One is also excellent, every person I've spoken to was courteous and I was not on hold for more then a few minutes, they also spoke good English which is important. I've had some issues such as my card getting lost and they were very professional and mailed me a new card in less than a week. Overall I highly recommend this card and Capital One as a whole.
Comment
5 Star Rating
I absolutely love this card because I love Sony. I have had this card for about two years now and I really enjoy when I get enough points to order a new gadget. My interest rates are very low and I have never had a major issue (mostly because I pay off my balance each month...I simply want the free points!). What strikes me as different with the Sony Credit Card is that they actually encourage you to use your points and not to forget about them! They send me a Sony Rewards magazine about twice a year with nice pictures and descriptions of the many Sony products available to redeem my points with! The last reward that I got was the new Sony Cybershot Camera. It was a 500 dollar camera that was basically free. Besides the rewards, the customer service is great too. They immediately get rid of any unauthorized purchases and its easy to talk to a real person if you have a problem. If you are looking for a credit card to rack up points, and you are a gadget junkie, this is the credit card for you.
Comment
WalletHub is an independent comparison service.
We work hard to show you up-to-date product terms, however, this information does not originate from us and thus, we do not guarantee its accuracy. When you click "Apply Now" you will be directed to the offering institution's website. In addition, keep in mind that actual rates and other information may vary for a number of reasons including the applicant's' creditworthiness and differences between an individual's situation and the criteria/assumptions used to generate the information displayed. Before submitting an application, always verify all terms and conditions with the offering institution. Please let us know if you notice any differences.
Ad Disclosure: Offers originating from paying advertisers are noted as "Sponsored" at the top of this page. Advertising may impact how and where offers appear on this site (including, for example, the order in which they appear). At WalletHub we try to present a wide array of offers, but our offers do not represent all financial services companies or products.
Irrespective of whether an offering institution is a paid advertiser, the presence of offer information on WalletHub does not constitute a referral or endorsement of the institution by us or vice versa. Furthermore, offers have not been reviewed or approved by the offering institution. Information is displayed first and foremost to help consumers make better decisions.
Editorial Disclaimer: Editorial and user-generated content on this page is not provided, commissioned, reviewed, approved or otherwise endorsed by the issuer. In addition, it is not the issuer's responsibility to ensure all posts and/or questions are answered.
PURCHASE INTRO APR
Not Offered
TRANSFER INTRO APR
0%
for 12 billing cycles
$0 Transfer Fee
REGULAR APR
12.50% - 18.00% (V)
REWARDS RATE
1 - 2 points / $1
BONUS OFFER
20,000 points