Sony® Credit Card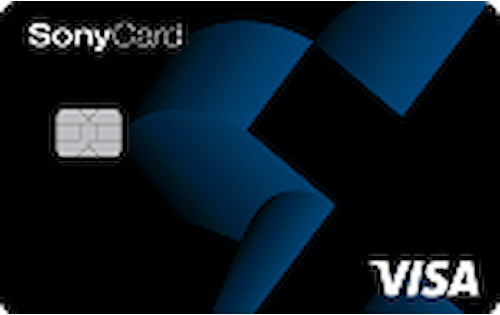 Sony® Credit Card
Info about Sony® Credit Card has been collected by WalletHub to help consumers better compare cards. The financial institution did not provide the details.
Rewards
490
Reviews
21
Q&A
Contact
Rewards
APR
WalletHub Review
Q&A
Customer Reviews
Excellent Credit, Good Credit
Rewards
Limited time: Earn $50 statement credit upon first purchase of any amount within 60 days of account opening and an additional $50 statement credit after spending $500 within 60 days of account opening.
Earn 5 Sony Rewards points per $1 spent on select entertainment purchases (on tickets to movies, concerts, sporting events and more) and Sony products.
Earn 2 points per $1 spent at restaurants, including takeout, fast food, delivery services and on internet & cable and rideshare purchases. Earn 1 point per $1 spent on all other purchases.
Redeem your points for VIP experiences, electronics and entertainment.
APR on Purchases
18.24% - 26.99% (V)
Balance Transfer
APR: 26.99%
Balance Transfer Fee: 5% (min $10)
WalletHub Review
Sony® Credit Card Pros & Cons
$100 initial rewards bonus
No intro APR on purchases
No intro APR on balance transfers
Requires good/excellent credit
Sony® Credit Card's Additional Info
| | |
| --- | --- |
| cash advance fee | 5% (min $10) |
| cash advance APR | 27.99% (V) |
| foreign transaction fee | 3% |
| smart chip | Yes, chip-and-signature |
| max late fee | $41 |
| max overlimit fee | $0 |
| max penalty APR | None |
| grace period | 25 days |
Once approved, a temporary shopping pass may be issued and sent to your smartphone, allowing you to shop right away. Terms Apply.
Visa Benefits: Auto Rental Insurance, Emergency Card Replacement, Zero Liability and Roadside Dispatch.
Questions & Answers
Can't find what you are looking for? Submit your question about Sony® Credit Card to our community. Editorial and user-generated content is not provided, reviewed or endorsed by the issuer of this card.
Most Popular
Questions sort
The Sony Rewards website is your only option.
Compare The Sony® Credit Card
Purchase Intro APR
Not Offered
Purchase Intro APR
Not Offered
Purchase Intro APR
0% for 12 months from account opening
Transfer Intro APR
Not Offered
Transfer Intro APR
0%

for 12 billing cycles

|

Transfer Fee:

$0
Transfer Intro APR
Not Offered
Regular APR
18.24% - 26.99% (V)
Regular APR
12.50% - 18.00% (V)
Regular APR
19.49% - 29.49% Variable
Rewards Rate
1 - 5 points / $1
Rewards Rate
1 - 2 points / $1
Rewards Rate
1 - 3 points / $1
Sony® Credit Card Reviews
Share your insights and review the Sony® Credit Card
Review sort
5 Star Rating
Anyone who enjoys Sony products or electronics in general needs to have this card. The card offers great rewards and easy point earnings on electronics. If you are not into electronics or find you don't buy them very often than the card is likely going to seem like a waste to you. The points are easy to track and easy to redeem. I have used the rewards for a nice led television and it really didn't take very long to add up. There is also a wide variety of things you can choose to redeem. The customer service on the card has always been on par with other companies, and I have never had any serious issues.
Comment
5 Star Rating
I have used my Sony Card for 2 years now. I put almost everything on it and pay it off each month. I put 3,000/month on it so I get serious rewards very quickly. I have supplemented the purchase of an upgraded PS3, 2 televisions and a Blu-Ray player with the cards points. The whole experience has been great and I have had absolutely no problems. My bill is pretty standard and gives me a good idea of how I am doing for points. Capital One has always been OK for service with me, but this card seems to be the exception as I have had no issues. The few times I call and have a question I get a person who can answer it on the first try. If you know how to use a credit card to build credit you will appreciate the rewards this card gives you. A great addition to your wallet.
Comment
5 Star Rating
I applied for the Sony card about 3 years ago. It gave me $200 worth of Sony points. I was able to wait for a sale on Amazon and get a free (yes, free) Playstation 3. Other than the awesome sign up reward, its an overall great card to have. I have never had with their customer service, or had any issues with my bill. In exchange for their great service, I use my card often and pay my bill on time. It's a pretty simple process, but that's just how a credit card should work. Thank you Sony and Capital One.
Comment
5 Star Rating
I signed up for the Sony Card with Capital One a few years back because of the great offer they were offering back then. Sony was offering a $200 gift card after your first purchase, and being a Sony lover I just had to support them by getting the Sony Card. On top of the initial $200 giftcard, you also get points that you can use at the Sony store. This helps a lot when I decide to update to the latest electronic gadgets. Just recently I used it to purchase my portable gaming system the "Vita".

The Sony card has been nothing but of great use to me due to no annual rate + reward point system. I would highly recommend getting this card if you're a Sony supporter as it will save you tons of money down the road with both their bonus offers and the service the card offers.
Comment
4 Star Rating
I signed up for the sony card because of wheel of fortune. My wife and I watch wheel most every night and they usually have a promotion which they give you a spin id just a number with your initials and a series of numbers. If you have the sony card and your number is chosen your win 50,000 dollars. Which we really need along with most everybody does in this economy. I really don't use the card much but have it in case of emergency. you can earn points if you do use it but I have not really checked into what you can get with the points but I'm sure it is minimal but I would recommend it.
Comment
5 Star Rating
I originally signed up for a Sony card because the Sony store had a promotion going on. If you signed up and got approved for the card, you get 20% off your order. I decided to give it a shot only for the money off discount, but I actually ended up using this card more than most of my other cards. I love the low interest rates, that's a huge plus in my book. The best part for me, though, is the rewards program. I've already gotten money off my purchases just from using this card. I do shop at Sony a lot, It's pretty much the only brand I'll shop with when it comes to electronics. Since I already shop with them, getting those extra bonus rewards definitely comes in handy for me. The customer service is great as well, I've never had a problem getting through, and the reps actually know what I'm talking about when I ask them a question. If you have good credit, this is definitely one card to go for!
Comment
4 Star Rating
I'll begin by saying that I'm a tech savvy and I purchase a lot of electronics each month, both for myself and for my company. I'm not here to promote them or anything, but I think it's safe to say that over 30% of those devices come from Sony. Furthermore, I have to say that I LOVE cards with well-build reward systems, cards that truly reward you, not only offer you so-called "advantages" that you would never use in the first place.

Like I said, Capital One's Sony Card fitted me like a glove. The interest rate is a little below the average, which is very good. Then, you get 5 points for every dollar spent at an authorized Sony seller, which is great. It may not mean much to most people, but it made a huge difference to me. It's true that you can spend those points only on other Sony products, but, if you're a console gamer, you'll be able to buy PlayStation games with those points, which also seems fine to me.

All in all, do I recommend the Sony Card from Capital One? It all depends whether you're a tech maniac/gamer or just buy lots of Sony products. Even so, given the interest rate, you can't go wrong with this credit card.
Comment
5 Star Rating
This is one of my favorite cards mostly because it's got no annual fee. It's that kind of card you can have sitting around just in case without feeling like your spending cash on nothing. Still, I don't just let it sit around. It's got a good rewards system of something like 5 points per dollar and that adds up if you buy a lot of Sony products like I do. You can also get points on other things so your not limited to just Sony, you just get a nice little bit back if you do happen to want to buy something from them. You almost lose money NOT using a card like this one or at least finding a good reward granting card for those bigger buys. If you're thinking about getting a card the Sony card is a good one to pick up if you ask me.
Comment
4 Star Rating
This credit card helped me save on unneeded payments that I cannot afford such as the interest I will not have to pay for about one more year. I have around 10,000 points total on it. I buy many things and use my credit card for it. Even when the interest rate starts, it is relatively low since it is better than most other cards. It will also help improve my six hunderd point credit score. I am saving my rewards points for something big my family will enjoy to use. I've had previous credit cards with extremely large interest and almost had me in a lot of debt before I canceled them and switched to the Sony card. If you like getting electronics, then this card would be very good for you. Recommended to people who are frequent shoppers.
Comment
5 Star Rating
I only have positive things to say about my Sony Card, even with the average rates, it is worth it to me to use this card all of the time. Being a fan of Sony and their products, it only made since for me to get this card. I shop at the Sony store quite often, and that's how I ended up getting this card. Due to my addiction to music, movies and electronics in general, the points I collect with this card are well worth the effort and ensures that I use this card for most of my purchases. After over 3 years with this card, I have received my fair share of rewards from my points and its just always a nice thing to get a reward from a card in a form that you actually enjoy!
Comment
WalletHub is an independent comparison service.
We work hard to show you up-to-date product terms, however, this information does not originate from us and thus, we do not guarantee its accuracy. When you click "Apply Now" you will be directed to the offering institution's website. In addition, keep in mind that actual rates and other information may vary for a number of reasons including the applicant's' creditworthiness and differences between an individual's situation and the criteria/assumptions used to generate the information displayed. Before submitting an application, always verify all terms and conditions with the offering institution. Please let us know if you notice any differences.
Ad Disclosure: Offers originating from paying advertisers are noted as "Sponsored" at the top of this page. Advertising may impact how and where offers appear on this site (including, for example, the order in which they appear). At WalletHub we try to present a wide array of offers, but our offers do not represent all financial services companies or products.
Irrespective of whether an offering institution is a paid advertiser, the presence of offer information on WalletHub does not constitute a referral or endorsement of the institution by us or vice versa. Furthermore, offers have not been reviewed or approved by the offering institution. Information is displayed first and foremost to help consumers make better decisions.
Editorial Disclaimer: Editorial and user-generated content on this page is not provided, commissioned, reviewed, approved or otherwise endorsed by the issuer. In addition, it is not the issuer's responsibility to ensure all posts and/or questions are answered.
PURCHASE INTRO APR
Not Offered
TRANSFER INTRO APR
0%
for 12 billing cycles
$0 Transfer Fee
REGULAR APR
12.50% - 18.00% (V)
REWARDS RATE
1 - 2 points / $1
BONUS OFFER
20,000 points