Williams Sonoma Credit Card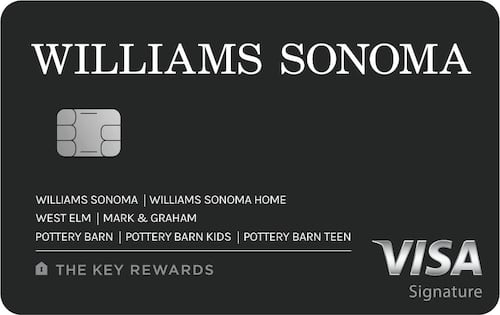 Williams Sonoma Credit Card
Info about Williams Sonoma Credit Card has been collected by WalletHub to help consumers better compare cards. The financial institution did not provide the details.
Rewards
76
Reviews
1
Q&A
Contact
Rewards
APR
WalletHub Review
Q&A
Customer Reviews
Rewards
Earn 10% back for the first 30 days when you use your card at Williams Sonoma or at any of the seven family brands.
5% back in rewards online and in stores across the seven family brands.
4% back in rewards at grocery stores and restaurants (excludes fast food); and 1% back in rewards on everything else.
For every $10 of Rewards you earn, you will receive a $10 Rewards Certificate following a 30-day vesting period.
Celebrate with a $25 birthday reward sent annually to your email when you shop with your Card.
Free standard shipping on eligible purchases in-store or online.
APR on Purchases
0% intro APR for 12 months, 27.99% (V) APR after that
Balance Transfer
APR: 27.99% (V)
Balance Transfer Fee: 0%
WalletHub Review
Williams Sonoma Credit Card Pros & Cons
0% intro APR on purchases
10% back in rewards initial rewards bonus
No intro APR on balance transfers
Requires excellent credit
Williams Sonoma Credit Card's Additional Info
| | |
| --- | --- |
| cash advance fee | 4% (min $10) |
| cash advance APR | 27.99% (V) |
| foreign transaction fee | 0% |
| smart chip | Yes, chip-and-signature |
| max late fee | $40 |
| max overlimit fee | $0 |
| max penalty APR | None |
| grace period | 25 days |
Choose between 5% back in rewards or 12 Month optional promotional financing on purchases of $750 or more.
Questions & Answers
Can't find what you are looking for? Submit your question about Williams Sonoma Credit Card to our community. Editorial and user-generated content is not provided, reviewed or endorsed by the issuer of this card.
Most Popular
Questions sort
Compare The Williams Sonoma Credit Card
Purchase Intro APR
0% for 12 months
Purchase Intro APR
0% for 15 months
Purchase Intro APR
0% for 15 billing cycles
Transfer Intro APR
Not Offered
Transfer Intro APR
0%

for 15 months

|

Transfer Fee:

3%
Transfer Intro APR
0%

for 15 billing cycles

|

Transfer Fee:

3% (min $5)
Regular APR
17.99% - 27.99% (V)
Regular APR
18.24% - 28.24% (V)
Rewards Rate
1% - 5%% Cash Back
Rewards Rate
1.5 - 5% Cash Back
Rewards Rate
1 - 5% Cash Back
Williams Sonoma Credit Card Reviews
Share your insights and review the Williams Sonoma Credit Card
Review sort
1 Star Rating
I am on hold now for 50 min trying to get my birthday reward that was not automatically sent for the 2nd year in a row. I called last week and the rep said give it a couple more days - it was already the 15th of my birthday month. I waited a week and the next rep said same thing. I told her that's what they told me a week ago and she offered me a credit of $25. She needed a supervisor to assist sending the credit and no supervisor assisted. I am now on hold for supervisor. It's not really a reward if you have to work this hard for it. My advice is to use a different reward card (NOt through Capital One) if you want the reward to work without this much work. The reps are nice but have no authority to assist so the system doesn't work. Williams Sonoma should not be using this bank - it has their name on it so they should be managing this vendor. I do NOT recommend this card or Capitol One. On hold now for an hour and NO supervisor is assisting. ☹️
Comment
1 Star Rating
We have several credit cards...SEVERAL different companies to deal with. This is the ABSOLUTE WORST card to have. We are business owners, so we juggle financial purchases on several different cards. We have had Capital One cards in the past so we figured, what the heck: Another card and benefits wouldn't hurt, and we needed some new kitchen supplies for our business (we're private chefs).
When I went to pay the first bill, it was one minute late, literally, the time stamp was 8:01pm. When I called the next day to try to get that late fee (that was assessed to the account for being one minute late) waived, stating that they could see the time stamp of the payment, they told me "Unfortunately because it's a new account there is no option for us to waive this for you". If you are even 1 minute late in paying your bill (that is due 8pm on the due date), you will be charged a late fee and no-one can help remove it. I KNOW FOR A FACT they can assist with these issues, but they refused to.
Capital One has been a staple in our home/business for over 10 years. I will NEVER use this card EVER again!!!! I will pay it off (as slowly as I can because it's interest free) and will NEVER EVER touch it again. I will also never recommend this card to anyone. I will continue to shop at WS because it's not their problem...There are BETTER cards out there that offer you way better perks. Don't fall for this trap. Pass on the Capital One WS card.
Comment
1 Star Rating
Applied to get the 20% off deal that WS is/was running. They weren't able to approve me in time for the deal despite doing an instant credit check (score was >700).
I called several times and they eventually told me it would take 7-10 business days to get a letter to learn more. Canceled my application. I guess this is why WS is changing the credit card provider.
Comment
5 Star Rating
Verified Customer
William Sonoma gives you $25 every time you have a birthday. To spend online or in the store. They also send you coupons for 20% off and special events.
Comment
5 Star Rating
Verified Customer
Love shopping at William Sonoma. Always have great sales and great cook books. Plus I accrue points as I shop to use with future purchases.
Comment
5 Star Rating
Verified Customer
So far this card has been very helpful, I love shopping at Williams- Sonoma.. they have just about everything we need for every occasion. You won't be disappointed shopping here.
Comment
5 Star Rating
Verified Customer
The card is easy to get but high apr, made for trophy wives to use, thankfully the fifth wife is more responsible with money, stays in a sock drawer.
Comment
1 Star Rating
Verified Customer
Approved, then closed account before I even received the card. Shows up on credit report as opened and closed the same day by creditor.
Comment
1 Star Rating
DO NOT BUY I opened a card to buy a large purchase ($250). The rewards are not remotely worth it and they try everything to NOT give you a discount or free shipping. I was charged $27 due to a small banking error. I immediately rectified it but was told that the fee could not be waived despite paying early and in full. I spoke to customer service about this issue and they refused to rectify it despite this being something that cost them no money. I even tried to see if they would reduce the fee. Nothing. The product I bought was definitely not worth the amount of time money and energy I have spent on this issue. Trust me, this discount for this card is no where near worth it. I will no longer be shopping here, and I can assure you, I will be telling this to every single person I personally know in the professional/televised cooking world. BTW They charge you $9 by the way to pay over the phone. This review above is counter to every other review I have come across and clearly has been created to promote the card and is unbiased.
Comment
4 Star Rating
The Williams Sonoma Credit Card is a pretty decent card if you have good credit. It's a rewards card with my favorite, no annual fee. You start out with 2,500 points and you can earn 1-3 points on the dollar. You earn 1 point everywhere except Williams Sonoma, where you earn 3 points per dollar. The rewards are pretty good too. $25 Gift Cards or a statement credit is a reward worth working toward. Furthermore, they're very competitive by offering free shipping to their cardholders as well as culinary experiences around the world. Interest is competitive at 13.74% - 21.74%. If you shop at Williams Sonoma a lot, it's definitely worth getting.
Comment
+ 66 users submitted a rating without writing a full review
Review
Williams Sonoma Credit Card
WalletHub is an independent comparison service.
We work hard to show you up-to-date product terms, however, this information does not originate from us and thus, we do not guarantee its accuracy. When you click "Apply Now" you will be directed to the offering institution's website. In addition, keep in mind that actual rates and other information may vary for a number of reasons including the applicant's' creditworthiness and differences between an individual's situation and the criteria/assumptions used to generate the information displayed. Before submitting an application, always verify all terms and conditions with the offering institution. Please let us know if you notice any differences.
Ad Disclosure: Offers originating from paying advertisers are noted as "Sponsored" at the top of this page. Advertising may impact how and where offers appear on this site (including, for example, the order in which they appear). At WalletHub we try to present a wide array of offers, but our offers do not represent all financial services companies or products.
Irrespective of whether an offering institution is a paid advertiser, the presence of offer information on WalletHub does not constitute a referral or endorsement of the institution by us or vice versa. Furthermore, offers have not been reviewed or approved by the offering institution. Information is displayed first and foremost to help consumers make better decisions.
Editorial Disclaimer: Editorial and user-generated content on this page is not provided, commissioned, reviewed, approved or otherwise endorsed by the issuer. In addition, it is not the issuer's responsibility to ensure all posts and/or questions are answered.
PURCHASE INTRO APR
0% for 15 months
TRANSFER INTRO APR
0%
for 15 months
3% Transfer Fee
REGULAR APR
17.99% - 27.99% (V)
REWARDS RATE
1.5 - 5% Cash Back
BONUS OFFER
$200