Pros
45,000 points

initial bonus
No foreign fee
Cons
$150

annual fee
No preset spending limit
American Express Green Card Review Summary
The American Express® Green Card is a card for people with good or excellent credit who want to earn extra rewards on travel expenses and at restaurants. It is best for high-spenders who plan to pay the bill in full each month and anticipate spending enough to more than cover the cost of the card's $150 annual fee via rewards earnings.
The Amex Green Card's best features are its bonus rewards and travel benefits. New applicants can earn an initial bonus of 45,000 points by spending $2,000 within 6 months of opening a new account. All cardholders earn 3 points per $1 spent on travel-related purchases and at restaurants worldwide. And that's supplemented by hundreds of dollars in credits annually, to cover the cost of expedited airport security screening and airport lounge access.
The Amex Green Card's worst features are its $150 annual fee and its lack of a clearly defined spending capacity. The card's limited financing capabilities and having to pay off at least most purchases fully by the due date could also be considered drawbacks.
You can learn more about the pros and cons of the American Express Green Card below. This will enable you to make an informed decision about whether or not to apply for the Amex Green Card.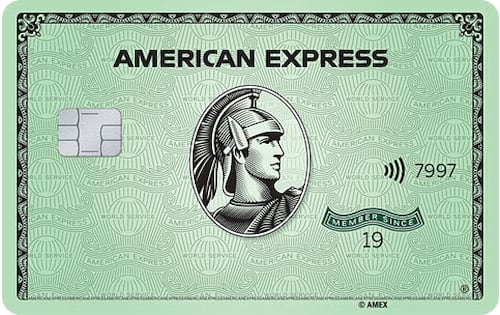 Rates & Fees
| Terms Apply
Regular APR
See Pay Over Time APR
Rewards Rate
1 - 3 points / $1
Rewards Bonus
45,000 points
Rewards Details
Earn 45,000 Membership Rewards® points after you spend $2,000 on purchases on your new Card in your first 6 months.
Earn 3X Membership Rewards® Points on Restaurants worldwide, including takeout and delivery.
Earn 3X Membership Rewards® points on all eligible travel, from subway swipes and window seats to hotel stays and city tours.
Earn up to $100 in annual statement credits to help you get through security faster with CLEAR®.
Earn up to $100 in annual statement credits to access 750+ airport lounges globally through LoungeBuddy.
Get up to 12 complimentary months of Uber Eats Pass subscription when you enroll with your card by 12/31/21.
Terms Apply.
Additional Info
No Foreign Transaction Fees.
$150 Annual Fee.
This American Express Card has no preset spending limit, giving you purchasing power that adjusts with your use of the card. No preset spending limit does not mean unlimited spending. Your purchases are approved based on a variety of factors including spending patterns, your payment history, your credit history, and financial resources known to us.
Advantages of the American Express Green Card
45,000 points

for an Initial Bonus
Those bonus points, which new cardholders can earn by spending $2,000 in the first 6 months, are worth an average of $347 when redeemed through American Express Membership Rewards. On average, credit cards offering an initial bonus in the form of points or miles give roughly 27,928 (worth around $209).
So, based on initial points alone, Amex Green's welcome bonus figures to be a bit better than average. Fortunately for applicants who time things right, bonus points might not be the only thing in your welcome wagon.
Extra Rewards on Travel & Dining
Amex Green gives 3 points per $1 spent on all travel-related purchases as well as all purchases made at restaurants (including takeout and delivery) around the world. That works out to about 2.31% cash back, on average.
Travel includes everything from airfare and hotel reservations to ridesharing, tolls and public transit, whether booked directly with a travel provider or through a third-party travel comparison website. And unlike some other Amex cards' dining rewards, restaurants outside the U.S. are eligible for bonus points, too.
Annual Travel Credits
Amex Green cardholders are eligible for a pair of yearly bonuses that can help make travel more efficient and more comfortable. There's up to $100 in credits annually to reimburse cardholders for membership fees for the airport screening service CLEAR. In addition, there's up to $100 per year in credits for airport lounge access via the service LoungeBuddy.
If you fly frequently and don't already have access to savings on those services, that's great news. But if you're unlikely to use them often, don't give these features too much emphasis when deciding which card to apply for.
Disadvantages of the American Express Green Card
$150

Annual Fee
For context, the average annual fee on a credit card is roughly $21. In other words, the American Express Green Card is about seven times more expensive than the average credit card. That doesn't necessarily mean Amex Green is a bad deal. Rather, it just has an uphill climb to prove it deserves a spot in your wallet.
Below-Average Base Rewards Rate
Non-travel/restaurant spending yields just 1 point per $1 with the Amex Green Card. That's pretty standard for a rewards card, but most credit card points are worth a penny each. Amex points get you a bit less than that, on average.
No Preset Spending Limit (NPSL)
The American Express Green Card does have a spending limit; you just won't know exactly what it is at any given time. The limit may vary over time, based on your spending and payment history as well as broader market factors. And American Express probably won't communicate such changes to you proactively.
As a result, you won't ever really know how close you are to maxing out your card. That could make it difficult to rely on Amex Green alone. The card's marketing materials do mention the ability to spend above your limit, and earn rewards in the process, but they don't provide much in the way of specifics.
Limited Financing Capabilities
Amex Green is a hybrid card, which means cardholders must pay off most charges by the due date each billing period in order to continue making purchases the next. However, a certain portion of your balance will be eligible to be paid off over time, with interest. The APR for such a balance depends on your creditworthiness and other factors.
Cardholders will have the option to choose specific recent purchases for longer-term repayment, through Amex's Pay Over Time feature. Eligible purchases of $100 or more will automatically fall into the longer-term repayment bucket, up to a certain limit. All charges not added to a Pay Over Time balance must be paid in full each month by the payment due date. Also, cardholders can still pay their balance in full by the due date with no limitation, though.
Other Features of the American Express Green Card
Instant Card Number
If American Express can instantly verify your identity and decides to approve you for an account, you won't have to wait for your physical card to arrive in the mail to begin making purchases. Amex will give a so-called instant card number that you can use in the meantime. You may not have access to your full credit line until the card arrives, however, which should happen within 7-10 business days of approval.
Made From 70% Recycled Ocean Plastic
The revamped American Express Green Card is largely made from recycled plastic that was reclaimed from oceans, beaches and coastal areas. So, the card isn't just green in name and coloring alone; it's eco-friendly, too. Amex has partnered with the organization Parley for the Oceans for this effort.
No Foreign Transaction Fee
The American Express Green Card's 0% foreign transaction fee makes it suitable for international spending. But American Express cards are not accepted in as many countries as other major card networks.
Assorted Amex Perks
Cardholders get access to special deals on tickets to things like sporting events and concerts, along with offers for everyday savings opportunities and various other benefits available with any American Express card.
Applicants Need
Good

Credit or Better

We recommend a credit score of 700+ to comfortably satisfy the American Express Green Card's credit score requirement. If you don't know where you stand, you can check your latest credit score for free on WalletHub.In addition to good-to-excellent credit, the American Express Green Card's requirements include being 18+ years old, having a Social Security number, living in the U.S., and earning much more income than you spend on debt payments and other major expenses.
American Express Green Card vs. the Competition
In order to help put the American Express® Green Card into context, we compared it to some of its most popular competitors.
Info

















Annual Fee
$150
$250
$695
$0 intro 1st yr, $95 after
Rewards Bonus
45,000 points
60,000 points
100,000 points
$300
Rewards Rate
1 - 3 points / $1
1 - 4 points / $1
1 - 5 points / $1
1 - 6% Cash Back
Purchase Intro APR
N/A
N/A
N/A
0% for 12 months
Transfer Intro APR
N/A
N/A
N/A
N/A
Regular APR
See Pay Over Time APR
See Pay Over Time APR
See Pay Over Time APR
13.99% - 23.99% (V)
Editors' Rating
3.5
3.8
3
4.7
Details, Rates & Fees
Learn More
Rates & Fees


Terms Apply

Learn More
Rates & Fees


Terms Apply

Learn More
Rates & Fees


Terms Apply

Learn More
Rates & Fees


Terms Apply

Winners