What Credit Card Should I Get?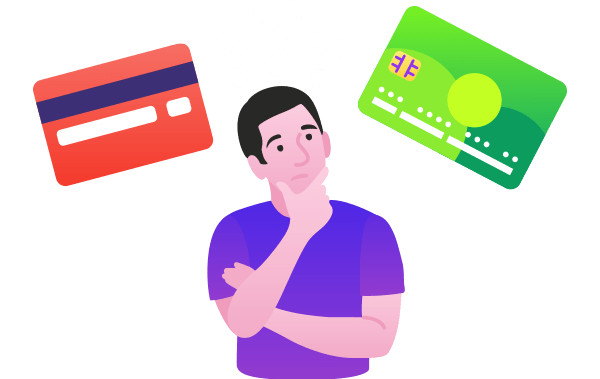 This content is not provided or commissioned by any issuer. Opinions expressed here are the author's alone, not those of an issuer, and have not been reviewed, approved or otherwise endorsed by an issuer.
Getting the right credit card doesn't have to be a struggle or a guessing game. Sure, shopping for plastic might seem like looking for a needle in a haystack. There are hundreds of offers with similar-sounding names to choose from. There's lots of terminology to learn. And who has either the time or the eyesight to pour through all the fine print?
But finding and ultimately getting approved for the best possible credit card is fairly easy when you know where to look. For starters, you can use WalletHub's anonymous CardAdvisor tool to get a recommendation based on your answers to a few simple questions. You can get more-personalized picks by signing up for a free WalletHub account. Or you can simply head straight for the top card in your category of choice, as selected by WalletHub's editors from 1,000+ offers (some offers are from our partners).
Here are the credit cards you should get:
You don't have to take WalletHub's word for it, though. You can take the DIY route to choosing the right credit card, instead. In that case, your first step should be to check your latest credit score. This will help narrow your search perimeter, so to speak, saving you from reaching for cards that you can't get approved for or settling when better opportunities are available. The second step is to figure out what kind of credit card you're looking for. No, we're not talking about which network (e.g. Mastercard or Visa) it's on or which issuer (e.g. Capital One or Chase) offers it. Rather, you need to decide whether to prioritize rewards, low interest rates or fees.
No credit card is perfect, offering the best possible terms across the board. That's why there isn't much overlap between WalletHub's picks for the credit cards with the best rewards and the credit cards with the best rates. So you need to figure out what you're going to use your card for and focus on getting the best terms in the areas that will have the biggest impact on you. If you plan to pay your bill in full every month, you'll want a card with great rewards. If not, consider a 0% credit card. And if rewards or low rates come at too much of a cost, there's nothing wrong with a no annual fee credit card.
Below, you can learn more about how to determine what kind of credit card to target, which offer to apply for, and how to make sure you get approved.
How to Decide What Kind of Credit Card to Get
Simply answering the following questions will lead you to the correct credit card genre.
1. Do you have good or excellent credit?
If the answer is no, focus on finding a no annual fee credit card that you can get approved for. Low-cost credit improvement should be your top priority at this point. Starter credit cards and secured credit cards are good categories to consider. But if you're in college, you should definitely get one of 2020's best student credit cards. Student cards tend to be a bit better than other plastic for people with limited credit.
If the answer is yes, move on to the next question.
Check Your Latest Credit Score – 100% Free
2. Do you plan to pay your bill in full every month?
If the answer is no, get a 0% credit card and use a credit card payoff calculator. You'll want a card with 0% on balance transfers if you already have credit card debt. And you should aim to be debt-free as soon as possible. You may also want to work on budgeting.
If the answer is yes, move on to the next question.
3. Do you fly / stay in hotels often?
If the answer is no, get a cash back credit card. You can either get a cash rewards card with a steady earning rate on all purchases, such as Citi® Double Cash, Capital One® Quicksilver® or Chase Freedom Unlimited®. Or you can go for a card with extra rewards in certain spending categories, such as American Express Blue Cash Preferred® or the Costco Anywhere Visa.
If the answer is yes, consider a travel credit card. We recommend a travel rewards card if you rack up at least 30,000 flight miles or 20 hotel nights each year. Otherwise, you might not be able to redeem your earnings often enough to avoid rewards devaluation. Capital One® Venture® is one of 2020's best travel credit cards, according to WalletHub's editors, but you should definitely check out the full list.
4. Do you plan to keep your card for more than a year?
If the answer is no, focus more on initial rewards bonuses and less on annual fees.
If the answer is yes, ongoing rewards, fees and features are more important than sign-up incentives.
That, in a nutshell, is how to determine what kind of credit card is right for your needs. And once you know what type of card you're looking for, finding the best individual offer should be a breeze.
How to Tell Which Credit Card Offer Is Right for You
Read Reviews: WalletHub's editors have reviewed all of the most popular credit card offers, as have many members of the WalletHub community. Seeing what everyone has to say about an offer will give you a sense of what to expect.
Crunch the Numbers: Credit card companies don't make it easy to do an apples-to-apples comparison. But the best way to find the best credit card is to put things in dollar terms. So try to calculate how much you'll earn in rewards or save on interest with each card.
Take WalletHub's Word for It: If you don't feel like doing the legwork, don't forget that you can use WalletHub's free CardAdvisor tool or simply opt for one of our editors' recommendations in your category of choice. For your convenience, we'll recap them below.
Here are the top credit cards to get:
You can also check out WalletHub's editors' picks for the best credit cards, both overall and by category. And remember, you don't need to choose just one. No, you shouldn't apply for multiple credit cards at once because that can hurt your credit as well as your chances of approval. But you can gradually open numerous credit card accounts to get the best possible collection of terms.
For example, you could get a cash back credit card for everyday spending, a travel rewards card for flights and airfare, and a store credit card for savings at your favorite retailer. You could even throw a 0% credit card into the mix before a big-ticket purchase or get a balance transfer credit card to reduce the cost of existing debt.
This strategy is known as the Island Approach. But it's not for everyone. It really only makes sense if you have good or excellent credit, for one thing. People with lower scores don't have as many attractive credit card offers available to them.
Was this article helpful?
Awesome! Thanks for your feedback.
Thank you for your feedback.