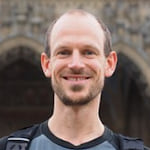 thom Fotenberg
Avid backpacker
thom Fotenberg's Info
Trying to pay down my credit card debt to eventually live a cash-only lifestyle.

I have always struggled with spending beyond my means. That is, until the Great Recession hit. I had to learn to live on a shoestring budget.

Since then, I've weaned myself off what most Americans think of as necessities. Let's just say it has been about half a decade since I have indulged in Starbucks... or paid for any coffee at a shop, honestly. I still have a few credit cards to pay off, but I'm almost there. My motto is sweat it out... but don't sweat the small stuff.