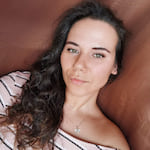 Evelyn Boros
Credit Cards Moderator
Evelyn Boros' Info
Evelyn Boros is a WalletHub moderator, specializing in credit cards. She was always eager to learn about how things work, and is continuously broadening her horizons.

She previously worked in the financial department of the second largest accommodation provider globally. Her other professional experiences include being a general manager at multiple companies, for more than 10 years.

She studied Geography, so obviously likes traveling, food (to cook, but also to eat), airplanes, space and the sea.