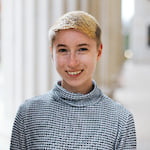 Grace Enfield
Content Writer
Grace Enfield's Info
Experience:
Grace Enfield is a Minneapolis-based writer who covers personal loans for WalletHub. Grace takes complex personal loan topics and transforms them into easy-to-read articles to help consumers make the best financial decisions.

Before joining WalletHub, Grace was a freelance writer throughout her college career. Her most notable published piece is in the June 2021 edition of the Minnesota Women's Press.

Education:
Grace graduated with honors and received a B.A. in Journalism and a minor in Digital Media Studies from the University of Minnesota - Twin Cities.

Personal:
Outside of writing, Grace enjoys spending time with her cats, mystery books and playing Animal Crossing New Horizons.