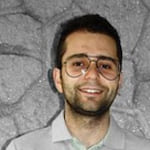 Tommy S Davidson
MBA Student
Tommy S Davidson's Info
Need help with student loans! I'll share whatever I learn, too.

I started out at community college for two years to get my grades up. Then I got into my NJ state school. Worked for a couple of years, but now I'm back to student life trying to get my MBA.

Obviously... the loans are adding up! I have faith that it will be worth it in the end, though. I'm hoping to get back out in the workforce, make it to the exec level and eventually own my own business.
Tommy S Davidson's Recommendations
I RECOMMEND