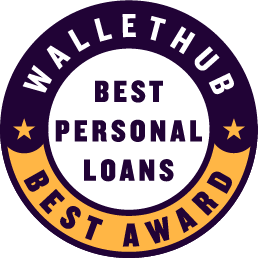 Now that you've read about some of the best installment loans for bad credit, you can see how they compare to each other in the table below.
Best Installment Loans for Bad Credit Comparison

Other Types of Bad Credit Installment Loans
Personal loans are usually what people think of when they talk about installment loans. But there are actually quite a few other types of installment loans, some of which are also attainable for people with bad credit.
Home equity loan

You can borrow against your home's equity (home value minus mortgage balance) for 5 to 30 years. The loan is secured by your house, so you risk foreclosure if you can't pay it back. Also, keep in mind that home equity loans typically require a credit score of at least 680 for approval. But if you have a lot of equity, there's a chance you could get one with bad credit. You can view the best best mortgage rates on WalletHub.

Auto loan

An auto loan is a loan that you can use to buy a car or other vehicle, and it usually lasts for 24 to 72 months. If you can't pay the loan back, your car can be repossessed. There are auto lenders that work with people who have bad credit, but they naturally charge expensive rates. You can view the best auto loan rates on WalletHub.

Student loan

Student loans help you pay for tuition and living expenses while you are in school, and they typically last up to 10 years. Federal student loans typically don't do a credit check, so you can qualify for them with bad credit. Student loans don't require collateral, either.

Credit-builder loan

If you have bad credit, a credit-builder loan can help you fix that. It works like the reverse of a traditional loan. You make monthly installment payments to a lender with a bank transfer or check, and then receive that money in a bank account at the end. The lender will report to the credit bureaus on a monthly basis, which will improve your credit score as long as you pay on time.
You will pay interest on this loan, which doesn't go into the bank account. But the costs may be partially offset if the bank puts the rest of the payments into an interest-bearing account.
Tips for Getting an Installment Loan with Bad Credit
Work on credit improvement. If your loan isn't urgent, you might want to postpone it for a few months until you have reached the fair credit range (640 - 699). You will then have more loan options, with better terms. WalletHub's guide on how to rebuild credit will tell you all the steps to take.

Watch out for expensive lenders. Payday lenders and auto title lenders advertise bad credit acceptance and quick funding, but you should not consider them except as a last resort. They charge outrageously high fees and interest rates.

Consider credit unions. Credit unions are often more likely to work with people who have bad credit than banks are. They have relatively low APR caps, and tend to offer $0 origination fees, too. You can browse credit unions in your area on WalletHub.

Get pre-qualified. You can use WalletHub's free pre-qualification tool to check your approval odds and potential rates with multiple lenders before applying. This will help you avoid applying with a lender that's likely to reject you.