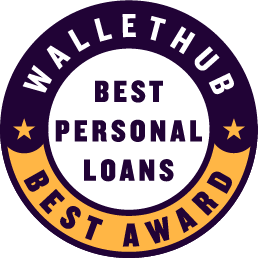 The best personal loans for students are from
LightStream
, which offers an APR range of
7.99% - 25.99%
with no origination fees. LightStream also provides up to $100,000 in funding, paid out as quickly as the same day you apply, and gives borrowers up to 144 months to pay loans off.
In general, the best personal loans for students have inexpensive APRs and low origination fees, so that students can still manage them on top of their tuition and living expenses. Some of the best personal loans for students also have relatively low credit score requirements, which is helpful because many students have not had much of an opportunity to build credit yet.
Best Personal Loans for Students Comparison
Note: Credit score requirements are according to either the lender or multiple third-party sources.
Student Loans vs. Personal Loans for Students
Personal loans are loans that can be used for almost anything, but one of the few things most lenders don't allow them to be used for is paying school tuition. In contrast, student loans are loans that can be used only for school tuition and school-related expenses like room and board, food, textbooks, transportation, and more.
So, if you're taking out a loan specifically for schooling, you should go with a student loan. If you're a student and need a loan for some other purpose, you should get a personal loan.
Personal loans and student loans do have some similarities, though. In both cases, you receive money upfront and pay it back in installments. In addition, student loans are unsecured debt, as are most personal loans, meaning there's no collateral required. Below, you can learn more about the pros and cons of student loans vs. personal loans for students.
Pros and Cons of Student Loans vs. Personal Loans for Students
Type of loan
Pros
Cons
Student loan
Low minimum APRs – around 4%
Can pay off over 10 years, and up to 25 in some cases
Relatively low maximum APRs – around 14%
Payments are usually not due until 6 months after graduating
Payment information is reported to credit bureaus monthly
Can only be used for school-related expenses
Potential fees of around 1% to 4%
Debt can be reported to credit bureaus while you are in school
Personal loan
Can be used for nearly anything
Low minimum APRs – around 3.99%
Payment information is reported to credit bureaus monthly
High maximum APRs – around 36%
Payoff periods are limited to 1 to 7 years, usually
Potential origination fees – 1% to 8%
Tips for Student Borrowers
Get a student credit card. A loan isn't the only way for a student to borrow. Having a credit card is crucial for building credit, and there are plenty of great student credit cards available. Student cards tend to have better terms than other credit cards for people with limited credit history because issuers know that students tend to be high-earners once they graduate.
Consider student loans. Students have the option of taking out student loans rather than personal loans and have a much better chance of getting approved. Student loan APRs tend to be lower than personal loan APRs, too, ranging from around 3% to 7% for federal loans and 4% to 13%+ for private loans. In addition to tuition and school supplies, you can use student loans (federal or private) to pay for living expenses. So take a look at any student loan options before considering personal loans.
Don't overburden yourself. Some expenses may be unavoidable, but taking on too much debt too early in life makes it difficult to get ahead.
Get a part-time job. It's up to you to decide whether you have enough time between studying and any activities to take on a job. But even working 10-20 hours per week could add a nice cash flow and help your chances of being approved for any credit accounts.
Monitor your credit. You should check your credit score and report on a regular basis to make sure that all the information is accurate and you're improving. Signing up for a free credit monitoring service is a good idea, too.
Methodology for Selecting the Best Personal Loans for Students
To identify the best personal loans for students, WalletHub's editors went through the terms of nearly two dozen of the largest personal loan providers. Our editors compared these lenders based on the following categories: APRs, fees, loan requirements, loan sizes, transparency, and the application process. Each of these categories consisted of several smaller metrics, too.
In addition to the best overall personal loans for students, WalletHub selected the best personal loans for students with lower credit scores, as well as the best options for international students, students with co-signers, and more.