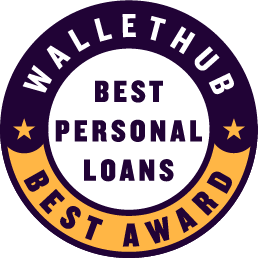 The best online loans of 2023 are from
LightStream
,
SoFi
and
Marcus
. LightStream offers the best online loans overall because they have some of the lowest APRs on the market, along with no fees and the fastest approval times.
Still, the very best online loan choices differ from person to person. That's why it's a good idea to take advantage of
WalletHub's personal loan comparison tool
to narrow down the options based on your credit, desired amount, location and more. For your convenience, we'll also summarize WalletHub's best online loan picks below.
Best Online Loans Comparison
Note: Credit score requirements are according to either the lender or multiple third-party sources
Pros and Cons of Online Loans

Pros:
Fast funding: Online lenders usually have the most streamlined processing times of all types of lenders. Some can even fund you as soon as the same day you apply.
Pre-qualification: You can pre-qualify for most online loans, which lets you see your approval odds and potential rates before applying, without impacting your credit score.
Lots of choices: More and more online lenders have been established in recent years, and they have continued to expand their market share.
Low minimum APRs: Online loans can have APRs as low as 4% or so in some cases.
Direct payments to creditors: If you're looking specifically for a debt consolidation loan, some online lenders will pay off your old creditors directly rather than giving you the money, which is more convenient.
Cons:
Fewer ways to apply: Online lenders, as the name suggests, focus mainly on online applications. Some may let you apply by phone, but you don't have the option of applying at a branch with a credit specialist like with banks and credit unions.
High maximum APRs: The maximum APRs on personal loans from online lenders can often be as high as 36%.
Smaller selection of loan sizes: Credit unions tend to offer smaller minimum loan amounts than online lenders, and banks tend to offer larger maximum loan amounts.
Predatory lenders: There are some online lenders that charge outrageously high APRs and fees on their loans, and it may be difficult to tell them apart from the legitimate lenders initially.
Tips for Getting the Best Online Loans
Don't rule out banks and credit unions. Most banks and credit unions will allow you to submit an application online, and will offer fairly speedy approval and funding. Plus, you'll often be able to find better interest rate ranges at banks and credit unions than with so-called online lenders.
Avoid payday lenders. Some of the biggest online loan providers are "payday lenders," which give small, short-term loans against your next paycheck. They are a very predatory option with fees that often are the equivalent of a 400%+ APR. Steer clear of these lenders.
Get pre-qualified. Before applying for a loan online, it's a good idea to check your pre-qualification status online. This lets you see your odds of approval and estimate what rates you're likely to get if approved. The process won't hurt your credit score.
Make sure the lender is secure. It's important to make sure your financial information is protected online. When you apply with an online lender, don't enter any personal information on a website where the URL doesn't start with "https."
Double check all your info when applying. Online applications often yield faster decisions than applying in person or by phone. But if you accidentally enter some incorrect information on your application, the lender will likely have to stop the process to verify the correct information with you. That can delay the time between you applying and receiving your money.
Check your email frequently. You'll usually need to sign documents between getting approved and getting your money, so providing your e-signature as soon as possible after receiving the documents will help you get the fastest funding times.
Online Loan Statistics
The biggest online lenders for personal loans include LendingClub, SoFi, GreenSky, Prosper and Best Egg, according to S&P Global Market Intelligence.
Online lenders make up around 40% of all personal loan originations.
The average new online personal loan is for nearly $8,800.
Approximately 4.7% of online personal loan accounts are in hardship.
People from Gen X, Gen Y, and Gen Z are more likely to get a loan from an online lender than a traditional lender.
Methodology for Selecting the Best Online Loans
To select the best online loans, WalletHub's editors compared the terms of personal loans from more than a dozen popular online lenders. Our analysis included six major categories: fees, APRs, loan requirements, loan sizes, the application process and transparency. These categories included dozens of smaller metrics.
WalletHub determined not only the best online loans overall, which are targeted toward people with credit scores of 660+, but also picked out the best online loans for people with lower credit scores. In addition, we selected the best online loans in various categories such as best for people without an SSN or best for quick loans.