Most Popular credit cards compared

10 largest credit card companies (2023 List)

Methodology

Sources

About the author

User questions & answers
Most Popular Credit Cards Compared

10 Largest Credit Card Companies (2023 List)
1. Chase – 149.3M cards in circulation
2. Capital One – 106.9M cards in circulation
3. Citi – 78.7M cards in circulation
4. Discover – 61M cards in circulation
5. Bank of America – 55.4M cards in circulation
6. American Express – 48.4M cards in circulation
7. Synchrony – 28.9M cards in circulation
8. Wells Fargo – 23.6M cards in circulation
9. U.S. Bank – 22.4M cards in circulation
10. Credit One Bank – 17.5M cards in circulation
Note: Cardholder data are from Nilson Report and card network annual reports. Co-branded cards and store cards were excluded, except in the case of Synchrony, which primarily issues store cards.
Methodology for Identifying the Most Popular Credit Cards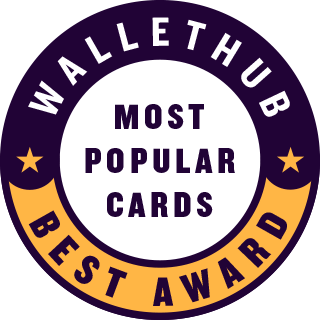 To find the most popular credit card offers, and then maintain the list over time, WalletHub's editors regularly analyze search engine data to determine which credit cards people are most interested in learning about and applying for. We monitor more than 1,500 credit card offers for this purpose. We also update our database whenever new credit cards launch or existing cards stop accepting applications.
In addition to identifying the most popular credit cards overall, our editors select the most popular credit cards in major categories, such as cash back and travel rewards. We also highlight popular credit card offers by credit level and from each of the most popular credit card companies. In the event two cards are equally popular for a particular category, we use two-year cost as a tiebreaker.
Cardholder Spending Profiles
Given that different users have different goals and are likely to use their credit cards differently, we identified spending profiles that are representative of different users' financial priorities and behaviors. For each cardholder type, we have assumed a specific amount of monthly spending by purchase type (e.g., groceries, gas, etc.), as well as an average balance, balance transfer amount, amount spent on large purchases and average monthly payment. Spending assumptions are based on Bureau of Labor Statistics data for consumers and PEX data for businesses.
Sources
WalletHub actively maintains a database of 1,500+ credit card offers, from which we select the most popular credit cards for different applicants as well as derive market-wide takeaways and trends. The underlying data is compiled from credit card company websites or provided directly by the credit card issuers. We also leverage data from the Bureau of Labor Statistics to develop cardholder profiles, used to estimate cards' potential savings.