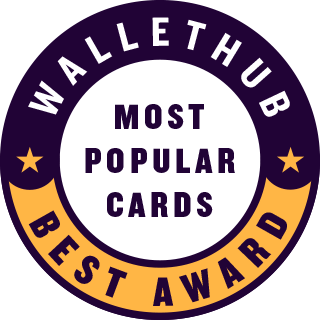 At the end of the day, considering popularity can be a good way to narrow down your credit card options
. You can basically use the wisdom of the masses to save yourself some time. With that in mind, we'll recap the most popular credit cards by category below.
But you shouldn't just blindly apply for the most popular card. You want the best terms for your needs, so it's a good idea to also read reviews and compare your top options side by side. Or, you can simply
sign up for a free WalletHub account
to get personalized credit card recommendations.
Most Popular Credit Cards Comparison
10 Largest Credit Card Companies (2023 List)
1. Chase – 149.3M cards in circulation
2. Capital One – 106.9M cards in circulation
3. Citi – 78.7M cards in circulation
4. Discover – 61M cards in circulation
5. Bank of America – 55.4M cards in circulation
6. American Express – 48.4M cards in circulation
7. Synchrony – 28.9M cards in circulation
8. Wells Fargo – 23.6M cards in circulation
9. U.S. Bank – 22.4M cards in circulation
10. Credit One Bank – 17.5M cards in circulation
Note: Cardholder data are from Nilson Report and card network annual reports. Co-branded cards and store cards were excluded, except in the case of Synchrony, which primarily issues store cards.
Methodology for Identifying the Most Popular Credit Cards
To find the most popular credit card offers, and then maintain the list over time, WalletHub's editors regularly analyze search engine data to determine which credit cards people are most interested in learning about and applying for. We monitor more than 1,500 credit card offers for this purpose. We also update our database whenever new credit cards launch or existing cards either change key terms or stop accepting applications.
In addition to identifying the most popular credit cards overall, WalletHub's editors select the most popular credit cards in major categories, such as cash back and travel rewards. We also highlight popular credit card offers by credit level and from each of the most popular credit card companies.