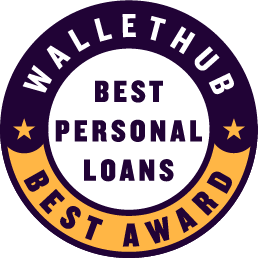 The best banks for personal loans are
Discover
,
American Express
,
Wells Fargo
and
Citibank
. These banks are great for personal loans because they provide the most competitive terms on the market, including low APRs, $0 origination fees, large loan amounts, long payoff periods and more.
There are plenty of other banks with worthwhile offers to consider, though. Below, you can see a comparison of WalletHub's picks for the best banks for personal loans.
Best Banks to Get a Loan With
Note: Credit score requirements are according to either the lender or multiple third-party sources.
5 Tips for Getting a Personal Loan from a Bank
Consider both local and national banks.
There are lots of great banks that operate nationwide that offer personal loans. But there are many more that may only be local to your state or region, and they could potentially offer even more competitive terms. You can search for
banks
in your area on WalletHub.
Keep in mind that you may be able to apply in person.
One unique feature of banks compared to online lenders is that they often allow people to apply for personal loans in person. The advantage of this is that you can go through the entire process with a credit specialist, which gives it more of a personal connection and allows you to get answers to any questions you have on the spot.
Don't rule out other types of lenders
.
Even though lots of banks offer good personal loans, lots of
credit unions
and online lenders do, too. Credit unions offer the advantage of lower APR caps, in most cases. And both credit unions and online lenders tend to have lower approval requirements than major banks.
Check your credit before applying.
Check your credit score and report
for free on WalletHub before applying for any loan. That will help you get an idea of which banks' loans you can qualify for. You might also want to check out WalletHub's free
personal loan pre-qualification tool
, which will show you which lenders you have the best approval odds with (without impacting your credit score).
Consider more than just loan terms
.
Loan interest rates and fees are important. However, other factors may have a big impact on which bank you choose to get a personal loan from. For example, you might want to apply with a bank that allows co-signers, has large loans and long payoff periods, or offers quick decisions.
Methodology for Selecting the Best Personal Loans From Banks
To identify the best banks for personal loans, WalletHub's editors reviewed offers from more than 15 of the largest banks in the U.S. We compared these lenders based on six overall categories: APRs, loan sizes, fees, loan requirements, transparency and the application process. In addition to the best overall banks for personal loans, which typically require a credit score of at least 660, WalletHub also picked out the best bank loans for people with lower credit scores.