Pros
60K points (worth roughly $460) for spending $4K in the first 6 months
4 points per $1 spent at restaurants
4 points per $1 spent at U.S. supermarkets (up to $25K spent per year, then 1 point)
3 points per $1 spent on eligible flights
No foreign transaction fee
Cons
$250

annual fee
Points worth less than 1 cent, on average
Limited ability to carry a balance from month to month
American Express Gold Card Review Summary
Based on my analysis of Amex Gold and 1,500+ other credit card offers, the American Express® Gold Card is a good credit card for people with a 700+ credit score who want to earn bonus rewards on travel and dining purchases. Amex Gold charges a $250 annual fee, but it also offers plenty of benefits to help cover the cost, including an initial bonus of 60,000 points for spending $4,000 in the first 6 months.
In addition to the initial bonus and an ongoing rewards rate of 1 - 4 points per $1 spent, some of my favorite Amex Gold benefits are the credits you can get for purchases with Amex dining partners and Uber. This can save you up to $20 per month. I also like that you can sometimes choose a rose gold version of the card, which really turns heads.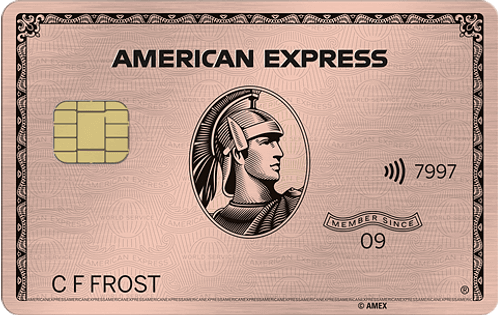 Rates & Fees
| Terms Apply
Regular APR
See Pay Over Time APR
Rewards Rate
1 - 4 points / $1
Bonus Offer
Earn 60,000 Membership Rewards® points after you spend $4,000 on eligible purchases with your new Card within the first 6 months of Card Membership.
60,000 points
Rewards Details
Earn 60,000 Membership Rewards® points after you spend $4,000 on eligible purchases with your new Card within the first 6 months of Card Membership.
Earn 4X Membership Rewards® Points at Restaurants, plus takeout and delivery in the U.S., and earn 4X Membership Rewards® points at U.S. supermarkets (on up to $25,000 per calendar year in purchases, then 1X).
Earn 3X Membership Rewards® points on flights booked directly with airlines or on amextravel.com.
$120 Uber Cash on Gold: Add your Gold Card to your Uber account and each month automatically get $10 in Uber Cash for Uber Eats orders or Uber rides in the U.S., totaling up to $120 per year.
$120 Dining Credit: Satisfy your cravings and earn up to $10 in statement credits monthly when you pay with the American Express® Gold Card at Grubhub, The Cheesecake Factory, Goldbelly, Wine.com, Milk Bar and select Shake Shack locations. Enrollment required.
Terms Apply.
Additional Info
Choose the color that suits your style. Gold or Rose Gold.
No Foreign Transaction Fees.
Annual Fee is $250.
This American Express Card has no preset spending limit, giving you purchasing power that adjusts with your use of the card. No preset spending limit does not mean unlimited spending. Your purchases are approved based on a variety of factors including spending patterns, your payment history, your credit history, and financial resources known to us.
American Express Gold Card Highlights
60,000

Bonus Points Offer

The Amex Gold Card's 60K-point initial bonus offer is available to new cardholders who spend at least $4,000 within 6 months of opening an account.

This bonus is worth roughly $402, according to WalletHub's calculations. The average initial bonus is 31,338 points/miles or $230 cash back.

I recommend strongly considering the Amex Gold Card if you will be able to qualify for its initial bonus without spending more than you would otherwise. The value of the initial bonus alone can offset nearly a couple years of annual fees.
4 Points per $1 at Restaurants
Amex Gold has one of the highest restaurant rewards rates on the market. The 4 points per $1 that you'll earn on restaurants worldwide works out to about 3.08% cash back, and there's no limit to the amount you can earn in this category. Take it from me, you'll also love the attention this card gets you when you plunk it down on the table.
Pretty much any place you'd think of as a restaurant qualifies, from fast food to fine dining, plus takeout and delivery in the U.S. But it ultimately depends on the establishment's merchant category code. A restaurant inside a hotel or casino may not count, for example, if the merchant is classified as a hotel or casino.
4 Points per $1 at U.S. Supermarkets
Amex Gold's dining rewards cover every day eating at home, too. But people tend to spend more at the supermarket than at restaurants over the course of a year. So Amex limits your bonus earning rate of 4 points per $1 at U.S. supermarkets to $25,000 spent on groceries per year. After that, you'll get 1 point per $1. Purchases at superstores and warehouse clubs also earn you just 1 point per $1 spent.
3 Points per $1 on Eligible Flights
Amex Gold rewards cardholders with the equivalent of 2.31% back on airfare purchased directly from airlines or through amextravel.com. The downside to this offer is that you can't really shop around for the best deals on flights.
Up to $120 in Uber Cash per Year
Amex Gold cardholders automatically receive up to $10 in Uber Cash per month ($120 per year), for Uber Eats orders or Uber rides in the U.S. when the card is added in their Uber account. This is an easy way to save on purchases you'd make anyway. I personally rack up a lot of Uber Eats charges, and this type of credit is really appealing.
Up to $120 in Restaurant Credits per Year
You can sign up for statement credits of up to $10 per month for dining with Amex's restaurant partners: Grubhub, The Cheesecake Factory, Goldbelly, Wine.com, Milk Bar and select Shake Shack locations. You can enroll through your online account or by calling the number on the back of your card.
The inclusion of Grubhub is an important one, in my opinion, because it expands the list of restaurants considerably. I enjoy myself some Shake Shack from time to time, too, but you can miss me with the crinkle-cut fries.
American Express Gold Card Lowlights
$250

Annual Fee

One year with Amex Gold could pay for almost 12 years with the average credit card, which has an annual fee of $22. That's not to say the Gold Card isn't worth it. Many people can still get plenty from it, even with the fee considered. But this should help put things in perspective, and the cost is enough to scare off some would-be applicants.

"I like the look of the Amex Gold Card, but it's just too expensive," WalletHub user Brady Mills told me. "I am very hesitant to get a card with an annual fee. I'm worried I'll forget about it and rack up unpaid bills."
Low Point Value
Credit card points and miles are worth about a penny apiece on average. American Express Membership Rewards® points are on the wrong side of that average, equaling about 77% of 1 cent each.
Knowing this will make it easier to estimate how much value you can get from the Gold Card's rewards. Most people aren't equipped with this information, though.
"I don't know how much my Amex points are worth, but I do know that I am saving money with my Gold Card," said Theresa Bishop, another WalletHub user. "I've gotten statement credits before, and now I'm saving up for a trip."
Limited Financing Capabilities
Amex Gold is not a typical credit card, which means you must pay for most purchases in full by the due date. With a normal credit card, you have the option of paying only part of your balance by the due date and the rest over time. With Amex Gold, you can carry a balance only for certain eligible charges.
You can choose to Pay Over Time, which means Amex will automatically review all purchases for eligibility. American Express may approve or decline Pay Over Time requests based on things like your payment history, current account status, and credit standing. There is also a Pay Over Time Limit. Keep in mind that all charges not added to a Pay Over Time balance must be paid in full each month by the payment due date.
Average APR
Just because you can pay off eligible Amex Gold purchases over time doesn't mean you should. The APR for such purchases can be higher than the average among credit cards for people with good credit, which Amex Gold requires for approval. And even that average rate is way above what you want to be paying, especially while 0% APR credit cards are still available to people with good credit scores.
As a result, I recommend using Amex Gold only for purchases that you can afford to pay off by the due date. You can get a separate card to handle your financing needs.
Other Things to Consider about the American Express Gold Card
No Foreign Transaction Fee
International purchases, whether you're traveling abroad or shopping online from foreign merchants, won't cost you extra with Amex Gold, thanks to its 0% foreign fee. The average credit card adds 1.52% to every international charge. And many American Express credit cards charge a foreign transaction fee of 2.7%.
Still, American Express credit cards aren't as widely accepted abroad as they are in the U.S. When I leave the country, I make sure to bring a Visa or Mastercard, too.
Good or Excellent Credit Required
You need a credit score of 700 or higher for good Amex Gold Card approval odds. You can check your latest credit score for free on WalletHub to see where you stand.
American Express Gold Card vs. The Competition
There are lots of great credit cards out there offering extra rewards on travel and dining. So it's worth seeing how the American Express Gold Card compares to some of its most popular competitors.
Info

















Annual Fee
$250
$695
$95
$95
Bonus Offer
60,000 points
80,000 points
75,000 miles
$300
Rewards Rate
1 - 4 points / $1
1 - 5 points / $1
2 - 5 miles / $1
1 - 5% Cash Back
Purchase Intro APR
N/A
N/A
N/A
N/A
Transfer Intro APR
N/A
N/A
N/A
N/A
Regular APR
See Pay Over Time APR
See Pay Over Time APR
20.74% - 28.74% (V)
20.24% - 28.24% (V)
Editors' Rating
3.8
3
5
5
Details, Rates & Fees
Learn More
Rates & Fees


Terms Apply

Learn More
Rates & Fees


Terms Apply

Learn More
Learn More