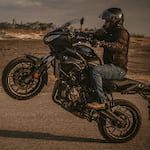 Paul Kessler
WalletHub Credit Card Analyst
Paul Kessler's Info
Two things are most important for me: my bike and my balances.

All joking aside, I'm a WalletHub credit card analyst, and a certified financial planner. I'm always looking to keep myself informed about the newest cards.

My bike keeps me travelling, so I'm especially knowledgeable on travel rewards, and hotel cards.