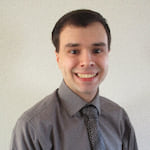 Adam McCann
Financial Writer
Adam McCann's Info
Experience:
Adam McCann is a personal finance writer for WalletHub who also helps produce WalletHub's weekly 'Best and Worst' studies.

Education:
Adam graduated from Johns Hopkins University with a Bachelor of Arts in both Writing Seminars and International Studies. At Hopkins he took a wide variety of classes in writing, English, economics, political science, history, and language. While pursuing his education, Adam worked part-time in the Special Collections department of JHU's Milton S. Eisenhower library, where he helped out with the university's collection of rare books and manuscripts.

Personal:
Adam was born and raised in Connecticut. He has been playing violin since he was in first grade, and participates in a local community orchestra. In his spare time, he also writes fiction and poetry, particularly science fiction. He enjoys playing tabletop and video games with friends, consuming British and Japanese media, and finding the best places for pizza.
Adam McCann's Recommendations
I RECOMMEND