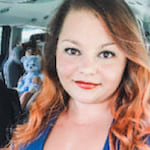 Anamarie Waite
Car Insurance Writer
Anamarie Waite's Info
Experience

Anamarie has been working remotely as a writer and editor since July 2016. Most of her work has been in the editing and ghostwriting sphere, creating optimized content for clients to be featured on sites like Forbes, Entrepreneur, Inc., Today, Scary Mommy, and more. Prior to entering the remote workforce, Anamarie was a licensed K12 English teacher and former adjunct college instructor.

Education

Anamarie has her master's in English and a bachelor's degree in both English and Spanish. As a grad student, she earned certification in Women's/Gender Studies and Pedagogy and carried undergraduate minors in philosophy and theology.

About Me

Anamarie has no spare time because she has a four-year-old daughter, Amora! She thinks her daughter is the center of the universe and transitioned to working from home to spend all the time with her. They somehow manage to get all their work done and have tons of fun together all day, every day--thanks to awesome remote opportunities with places like WalletHub!
Anamarie Waite's Recommendations
I RECOMMEND