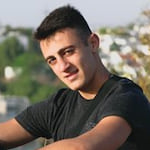 Peter Fox
Wannabe Investor
Peter Fox's Info
I definitely don't belong on the floor of the Wall Street Stock Exchange, but I think I'm getting close!

I follow NASDAQ and DOW both very closely. My favorite things to track are mutual funds, since they can get pretty complex in their own ways. However, with everything going on with gas and fuel lately, I have started to get into commodity trading more and more.

The one thing I'm really interested but need to do more homework on is Bitcoin. If you're an expert, please let me know! i'm fascinated by it after going to Bitcoin HQ in Israel.

For fun (even though I think investing is fun!) I like to run, go hiking and go kayaking.
Peter Fox's Recommendations