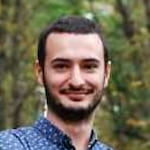 Alex Breen
Rewards Analyst
Alex Breen's Info
Experience

Alex Breen is a WalletHub content moderator, specializing in rewards program FAQs. He previously worked as a linguist for the U.S. Army in Europe.

Education

Alex holds a bachelor's degree in computer science.

About Me

Alex was born and raised in Bucharest, Romania, and he is passionate about motorsports, mountain biking, swimming and spending time in nature.
Alex Breen's Recommendations