CarCareONE Credit Card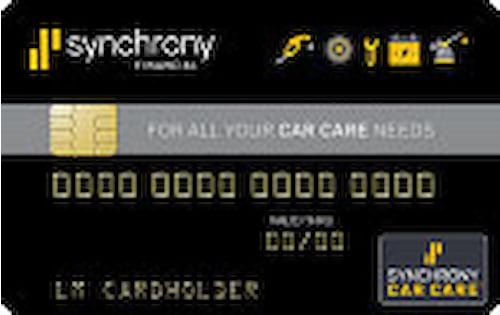 CarCareONE Credit Card
Info about CarCareONE Credit Card has been collected by WalletHub to help consumers better compare cards. The financial institution did not provide the details.
59
Reviews
3
Q&A
Contact
APR
Editor Review
Q&A
Customer Reviews
Excellent Credit, Good Credit, Fair Credit
APR on Purchases
0% intro APR for 6 months, 29.99% APR after that
Balance Transfer
Balance Transfers Not Allowed
Editor's Take
CarCareONE Credit Card Pros & Cons
CarCareONE Credit Card's Additional Info
| | |
| --- | --- |
| cash advance fee | N/A |
| cash advance APR | N/A |
| foreign transaction fee | N/A |
| smart chip | Yes |
| max late fee | $39 |
| max overlimit fee | $0 |
| max penalty APR | None |
| grace period | 23 days |
Deferred Interest Details: No interest if paid in full within 6 months on auto maintenance and repair purchases of $199 or more. Gas station purchases are not eligible for promotional financing.
Pay for scheduled tune-ups and unexpected repairs over time with special financing at over 500,000 locations.
Consolidate all of your repair and maintenance expenses to easily manage your car and truck needs.
Get gas with a card that's accepted at gas stations nationwide.
Questions & Answers
Don't see what you're looking for? Submit your question about CarCareONE Credit Card to our community. Editorial and user-generated content is not provided, reviewed or endorsed by the issuer of this card.
Most Popular
Questions sort
You can use your CarCareONE Credit Card for purchases at thousands of gas stations, auto parts and service stores nationwide. The CarCareONE Credit Card is a store card, which means that it is not backed by any major credit card network and only works at affiliated locations.
Places where...
show more
Compare The CarCareONE Credit Card
Purchase Intro APR
0% for 6 months
Purchase Intro APR
Not Offered
Purchase Intro APR
Not Offered
Transfer Intro APR
Not Offered
Transfer Intro APR
Not Offered
Transfer Intro APR
Not Offered
Regular APR
24.99% - 29.99% (Variable)
CarCareONE Credit Card Reviews
Share your insights and review the CarCareONE Credit Card
Review sort
5 Star Rating
Verified Customer
Great card to have for emergency car repairs. I needed more credit and was approved immediately. Was able to get everything taken care of in one visit to the shop.
Comment
5 Star Rating
Verified Customer
Excellent card for purchases everyday if necessary or just to limit yourself to pay only what you need to use in order to increase limit
Comment
5 Star Rating
Verified Customer
6 months 0% interest is awesome! Works at gas stations and car dealerships. Makes car related expenses easy to track. I use it when I can.
Comment
5 Star Rating
Verified Customer
I'm very happy to have this card and I will always pay this card in Fool. I am grateful to have this opportunity to have my own account and will continue to make payments on time!!
Comment
4 Star Rating
Verified Customer
They are good on helping you with car care credit but so slow on keeping your payments updated. To not update payments. Messes up my credit scores every month..WOW
Comment
5 Star Rating
Verified Customer
This card has been so helpful when I needed it for tires and car repairs. I've used it for gas on trips and paid it back without getting stuck in the forever hole of never being able to pay and not climb back out. When I pay I at least see it paid and not most the money going towards interest instead of principal. I love this card and refuse to get rid of it for this reason alone. Thanks for having such an awesome card to be able to count on when I need too!
Comment
1 Star Rating
Card canceled with no notice or reason. All payments were made timely. Horrible website and customer service. Would not recommend card to anyone. Card did not work at many pumps due to chip malfunctions and no help from customer service.
Comment
1 Star Rating
Verified Customer
High interest, poor customer service, unresponsive to inquiries. Poor communication with cardholders whenever there were changes in terms. Long wait times for customer service. Would avoid like the plague.
Comment
5 Star Rating
i love this card cash back on gas purchase
Comment
1 Star Rating
Back in 2012, my boyfriends vehicle had gone up, and in order to afford repairs, I it was necessary to open a credit car with the business, who offered credit with CarCare One. It was one of the most horrible credit card experiences I've ever had. There were tons of fees, and late fees were more than the minimum payment. Additionally, the company based your payment off late or on time on when they received it NOT the postmarked date. So when mail was slow, or it snowed, I was hit with excessive late fees. The majority of people I had to speak to when requesting help were foreign and had very poor grasps on the English language, making communication difficult. The only redeeming quality of this card was in closing, there was no fuss and no one pushing me to leave it open.
Comment
+ 49 users submitted a rating without writing a full review
Review
CarCareONE Credit Card
WalletHub is an independent comparison service.
We work hard to show you up-to-date product terms, however, this information does not originate from us and thus, we do not guarantee its accuracy. When you click "Apply Now" you will be directed to the offering institution's website. In addition, keep in mind that actual rates and other information may vary for a number of reasons including the applicant's' creditworthiness and differences between an individual's situation and the criteria/assumptions used to generate the information displayed. Before submitting an application, always verify all terms and conditions with the offering institution. Please let us know if you notice any differences.
Ad Disclosure: Offers originating from paying advertisers are noted as "Sponsored" at the top of this page. Advertising may impact how and where offers appear on this site (including, for example, the order in which they appear). At WalletHub we try to present a wide array of offers, but our offers do not represent all financial services companies or products.
Irrespective of whether an offering institution is a paid advertiser, the presence of offer information on WalletHub does not constitute a referral or endorsement of the institution by us or vice versa. Furthermore, offers have not been reviewed or approved by the offering institution. Information is displayed first and foremost to help consumers make better decisions.
Editorial Disclaimer: Editorial and user-generated content on this page is not provided, commissioned, reviewed, approved or otherwise endorsed by the issuer. In addition, it is not the issuer's responsibility to ensure all posts and/or questions are answered.
PURCHASE INTRO APR
Not Offered
TRANSFER INTRO APR
Not Offered
REWARDS RATE
None
REWARDS BONUS
None