Using one of the business prepaid cards listed here can help small businesses limit employee spending, since each prepaid card can be loaded just with the funds that employee is authorized to spend. Some business prepaid cards offer additional tools to approve purchases or to restrict spending to only certain merchant categories.

Have you used prepaid cards in your business? Help other searchers by rating your experience with the prepaid card of your choice.
I am
Been Denied for a Checking Account?
Business Owner
General Consumer
Business Owner
College Student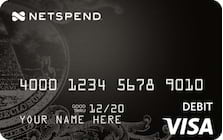 Transaction Fee
Signature: $1.95
ATM: $2.95
100% approval - No credit check required!
Pay bills and make purchases online
Use it when you can't use cash — everywhere Visa debit cards are accepted
Enroll in Direct Deposit to your Netspend Card, and you could get paid up to 2 days faster
You can add cash or paper checks, too. Skip the line completely and load checks directly from your mobile phone in minutes with Mobile Check Load
Put money on your card at any of more than 130,000+ convenient Reload Locations nationwide.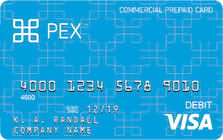 Transaction Fee
Signature: Free
ATM: N/A
The $8 monthly fee is waived if the cardholder spends $50k per month through the platform
Administrators issue cards without time-consuming applications or credit checks as this is not a credit card
You can give cards to any employee, contractor or volunteer. Their cards will only work where, when and how you choose
Set rules. Set budgets. Or set nothing. PEX works for you. Every person or role can have their own approved merchant category and spending limits. PEX keeps spending in check
Track spending by the second. PEX reports transactions in real-time. Cardholders submit receipts and accounting codes with a mobile app
Get PEX Card for mobile. You can Check your balance, Track spending and Attach receipts to transactions
When it comes to funding your PEX account, you have three options: (a) ACH Credit (bank-initiated); (b) Wire Transfer; (c) ACH Debit (PEX Service)
Transaction Fee
Signature: Free
ATM: N/A
With dash, small business owners can issue prepaid cards to employees that can be easily reloaded, and track spending in real-time to manage expenses.
Issue cards quickly - Set up employees/contractors with cards at any time for free.
Easy enrollment – No credit check. ID verification is the only requirement.
Auto-approval – Assign monthly expense allowances for each team member.
No ATM Access. You can't use your Dash™ Prepaid Mastercard® to withdraw cash from ATMs.
ACH Transfer Only to Reload. The Dash Account Administrator, or Trusted Agent, may add funds to the Dash Account via ACH transfer from the Company Bank Account. When value loading via ACH, may require the use of the "Dwolla platform" account. By applying for a Dash Account, you are also applying for a Platform Account.
The Dash prepaid card for business expense management is free to use and it's available with no credit check.
The Bento for Business Card is a Visa business debit card, which you can use at any establishment that accepts Visa debit cards. The Bento virtual card can be used online and over the phone where Visa debit cards are accepted.
Bento is free to use for the first 60 days (up to 50 Cards). After those 60 days, your business will be slotted into one of four plans: $29/month Starter plan (Up To 10 Cards); $69/month Team plan (Up to 25 Cards); $149/month Professional plan (Up to 100 cards); AND Enterprise Plan Over 100 Cards. Contact Bento for Enterprise Plan custom pricing.
Card Purchase (Signature and PIN): No limit to the number of times per day.
Only the business owner can withdraw funds via ATM with the business owner card (with PIN created) under their name, and this is the only card on the account that can be used at ATMs.
No domestic withdrawal or debit fees.
No interest charges (This is not a credit card)
No domestic transaction fees (unlimited domestic transactions)
Refund Check Fee of $15 per check applies when a balance remains in the account at time of cancellation.
Send and track direct ACH transfers. Link your checking or savings account for easy fund transfer to your Bento account. No need to write paper checks or go to the bank.
Transaction Fee
Signature: Free
ATM: N/A
Emburse gives you full control over your business and employee expenses. Set personalized budgets and limits. Set time & category restrictions. Transfer funds instantly. Capture receipts automatically. Turn cards on/off with just one click.
Emburse reloadable prepaid debit cards make it easy to send money to employees for business expenses only when needed and only when approved.
Budgets and merchant restrictions can be set on each individual card which can be activated or cancelled by just a few clicks of a button.
No ATM Access. You cannot withdraw money at an ATM using your Emburse Card. This means your cards may not be used for cash payouts at ATMs nor for in store cashback transactions.
Brink's Business Expense is free to use for the first 60 days. You can select any of four plans once your 60-day free trial is over: $0 Starter Plan (1 Business Owner Card and 1 Team Card); $29/mo Team Plan (1 Business Owner Card and Up to 9 Team Cards); $69/mo Professional Plan (1 Business Owner Card and Up to 24 Team Cards); AND $149/mo Enterprise Plan (1 Business Owner Card and Unlimited Cards)
Brink's Business Expense gives businesses complete control over their cards in real time. Proactively set spending limits and even turn a card off or on at the click of a button.
Real-Time Dashboard. A centralized dashboard allows you to monitor top-spending employee cards and spot areas of wasteful spending.
Receive alerts for potential fraud and unexpected activity, as soon as transactions are made or attempted. Turn any card off if used outside of your expense policy.
Only the Primary Cardholder may use the Card to withdraw cash from any ATM or any Point-of-Sale ("POS") device. Secondary Cardholders do not have access to cash.
Card Purchase (Signature and PIN): No limit to the number of times per day $25,000.00 per transaction up to $25,000.00 per day.
You may use the Card to purchase or lease goods or services everywhere Debit Mastercard is accepted.