WalletHub has details on
student prepaid cards
that can be ideal for college students who want the convenience of paying with plastic without opening a checking account. Prepaid cards offer all the features of a checking account except for the ability to write checks. But that can be an advantage to young consumers still learning to handle money responsibly, since there's no way to get hit with overdraft fees for overdrawing funds.
That said, you may want to compare
student checking account
offers, many of which are available with no monthly fee.
I am
Been Denied for a Checking Account?
College Student
General Consumer
Business Owner
College Student
155
Reviews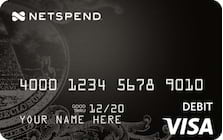 Transaction Fee
Signature: $1.50
ATM: $2.95
100% approval - No credit check required!
Pay bills and make purchases online
Use it when you can't use cash — everywhere Visa debit cards are accepted
Enroll in Direct Deposit to your Netspend Card, and you could get paid up to 2 days faster
You can add cash or paper checks, too. Skip the line completely and load checks directly from your mobile phone in minutes with Mobile Check Load
Put money on your card at any of more than 130,000 reload locations like Walgreen's® , 7-Eleven® and Western Union®
160
Reviews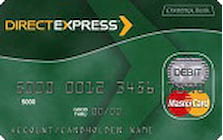 Transaction Fee
Signature: Free
ATM: $0.85
No monthly fees, no hidden fees and most services are FREE!
When you sign up to receive your federal benefits on the Direct Express® card, you will receive your payment every month without having to worry about cashing your check or having it lost or stolen. Instead of receiving a check, your money will be automatically deposited to your Direct Express® card account on payment day
Use your card to withdraw cash from Automated Teller Machines (ATMs), make purchases at stores that accept Debit MasterCard®, and get cash back when you make those purchases
One FREE ATM cash withdrawal in the United States for every federal benefit deposited to your Direct Express® card account
The Direct Express® card surcharge-free ATM network offers surcharge free ATM access at approximately 75,000 ATMs throughout the country including Comerica Bank, Charter One, Privileged Status, Alliance One, PNC Bank, MasterCard® ATM Alliance, and MoneyPass
39
Reviews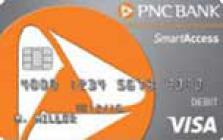 Transaction Fee
Signature: Free
ATM: $3
You can open a PNC SmartAccess Card for free, although a $25 minimum deposit is required
Make purchases at any retail location or online retail site that accepts Visa debit cards
Set up direct deposit for your paycheck or government benefit payments and get access to your money right away
Deposit cash - Fund your SmartAccess® card at any PNC branch, PNC DepositEasy ATMs, and at any at any participating Visa ReadyLink retail locations
PNC SmartAccess Mobile App - Keep tabs on your balance and view purchases from your mobile device. Download for iPhone or Android
You can access your money fee-free at nearly 18,000 PNC ATMs across the country
38
Reviews
Transaction Fee
Signature: Free
ATM: $2.50
Take advantage of special offers from select merchants and get cash back rewards on those purchases
Open an optional savings account through the BanCorp Bank; Member FDIC, and earn up to 5.00% APY for balances up to $1,000
With the Refer-A-Friend program, for every friend you get to sign up, activate and load $40 on their Card, you'll both earn $20
You can even add money at more than 130,000 NetSpend Reload Network locations nationwide
Withdraw cash worldwide, including over 32,000 fee-free MoneyPass® ATMs
19
Reviews
Transaction Fee
Signature: Free
ATM: $3
No setup fee, No annual fee, No monthly activity fees, No overdraft fees, or customer service calls (FREE)
Get cash back with purchases made at many stores—generally without a fee — including grocery, drug and discount stores
Avoid check-cashing fees with Direct Deposit of your payroll, unemployment or government benefits and gain fast access to your money on payday
Link a checking account directly to your Card Account to easily load funds. You can schedule automatic loads or one at a time, at your convenience
Use the MyBlock mobile app to load check funds into your Emerald Card Account, with options for Funds in Minutes (fees apply) or Funds in Days (no fee)
10
Reviews
Transaction Fee
Signature: N/A
ATM: N/A
There is a $5 purchase fee for the Ventra Card, which is returned to you as transit value upon registration within 90 days of purchase. The fee is waived if you order online or by phone (though a minimum value load or pass purchase is required), as you're automatically registered
You can purchase a reusable Ventra Card at a variety of places, including the following locations: Online at ventrachicago.com; Via the Ventra app; Ventra Vending Machines in CTA rail stations and select suburban locations; Participating Ventra Retailers; By phone; OR The Ventra Customer Service Center
Customers can also pay for rides with a credit or debit card that has this contactless symbol or with compatible digital wallets or payment apps such as Apple Pay or Google Pay
You can add up to $100 per transaction to your Ventra Card, up to a maximum $300 value limit
5
Reviews
Monthly Fee
$6.95 (no fee NY, TX & VT)
Transaction Fee
Signature: Free
ATM: $2.50
There is a Card Price of up to $3.95 if you purchase the card in retail locations; otherwise $0 to purchase online
Your Full Service Prepaid Debit Account with FREE Cash Reloads. (American Express Serve is not a credit card)
No credit check. No minimum balance. No hidden fees
Free cash reloads at over 45,000 locations including CVS/pharmacy®, Dollar General®, Family Dollar®, Rite Aid®, Walmart® and participating 7‑ELEVEN® locations
You may withdraw money for FREE from over 30,000 MoneyPass® ATMs in the US. Transactions at non-MoneyPass® ATMs have an up to $2.50 American Express Serve fee
Enjoy American Express service and security 24/7. Shop online and off and enjoy Card Membership benefits like Purchase Protection*
*Underwritten by AMEX Assurance Company. Subject to additional terms, conditions, and exclusions
3
Reviews
Transaction Fee
Signature: Free
ATM: $2.75
No overdraft fees
Use it anywhere debit Mastercard® is accepted
Withdraw or transfer for $0 fee at any Fifth Third ATM or financial center
Fifth Third Bank is also part of the Allpoint® and 7-Eleven® network of ATMs, which features more than 50,000 fee-free ATMs nationwide
Track your purchases and activity via Fifth Third Online Banking at www.53.com and download the Mobile app to have your information at your fingertips
Easily Load Money: deposit cash, sign up for direct deposit or transfer funds from any Fifth Third checking or savings account to your card with Mobile App or Online Banking
23
Reviews
Transaction Fee
Signature: Free
ATM: $2.5
No monthly fee with 7 purchases posted to your Now Card during the monthly statement period
You can use your Regions Now Card anywhere Visa debit cards are accepted – in stores, online or over the phone
Regions limits each prepaid card to a maximum balance of $7,500. Signature or PIN-based purchases combined purchases of up to $3,000 per card each day are allowed
You can load the card at a Regions branch, DepositSmart ATM, with Mobile Deposit, through Online Banking and any Visa ReadyLink location
Regions offers you worry-free, 24/7 fraud protection with Visa Zero Liability to fully protect your Regions Visa debit cards from unauthorized transactions
Access to over 1,900 ATMs across Regions' 15-state service area
5
Reviews
Transaction Fee
Signature: Free
ATM: $2.95
* Get a $10 credit when you recieve your first Western Union® Money Transfer of at least $150:
* To redeem this offer, you must receive a Western Union Money Transfer of $150.00 or more to your Western Union® Netspend® Prepaid Mastercard® no later than 10/31/21
You can send and receive WU® money transfers in minutes, shop online, pay bills, or get cash at ATMs
Get paid up to 2 days faster when your payroll or government benefits check is direct deposited to your account
Access your account info through: Online account center, Mobile apps (available on Android or iOS), Anytime Alerts™ which automatically update you through text or email
Get special offers from select merchants and get cash back rewards on those purchases
Use the Refer-a-Friend program and when your family and friends fund their card with at least $40, you'll each get a $20 credit
This prepaid card has an optional savings account which allows you to start saving money. The account currently features a 5.00% APY on balances of up to $1,000