Please find below 19 prepaid cards. Use the filters to refine or expand your prepaid card search.
I am
Been Denied for a Checking Account?
Select...
General Consumer
Business Owner
College Student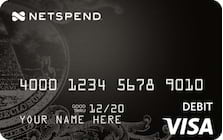 Transaction Fee
Signature: $1.95
ATM: $2.95
100% approval - No credit check required!
Pay bills and make purchases online
Use it when you can't use cash — everywhere Visa debit cards are accepted
Enroll in Direct Deposit to your Netspend Card, and you could get paid up to 2 days faster
You can add cash or paper checks, too. Skip the line completely and load checks directly from your mobile phone in minutes with Mobile Check Load
Put money on your card at any of more than 130,000+ convenient Reload Locations nationwide.
Transaction Fee
Signature: $1
ATM: $3
Prepaid Visa® with ATM's coast to coast
Get paid up to two days faster than a paper check with direct deposit
Customize your prepaid Visa®
FDIC-insured, secure card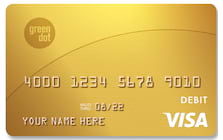 Transaction Fee
Signature: Free
ATM: $3
No overdraft or bounced check fees, ever.
Use everywhere Visa® debit is accepted in the U.S. Plus, conveniently pay with your mobile wallet including Apple Pay, Google Pay and Samsung Pay.
With early direct deposit, you can skip the check-cashing queues and costs, have your money instantly transferred, and start enjoying payday sooner.
No charge to Reload your card with Direct Deposit. Reloading your card at a retailer will cost up to $5.95
Enjoy 24/7 access to your money through the Green Dot mobile app! You can Deposit checks to your card right from your smartphone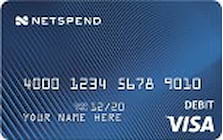 Transaction Fee
Signature: Free
ATM: $2.95
No Credit Check. No Minimum Balance. No Activation Fee
Enroll in Direct Deposit to your Netspend Card, and you could get paid up to 2 days faster
Use the Mobile App to manage your account on the go and get real time text message alerts
Stop by one of over 130,000+ convenient Reload Locations nationwide to add cash or checks in person
Transaction Fee
Signature: $1.50
ATM: $2.5
Send money to other ACE Elite cardholders at no-cost from your Online Account Center or Mobile App
With over 900 locations nationwide, you likely have an ACE Cash Express store near your neighborhood
No-Fee Cash Withdrawals up to $100 at ACE when you Direct Deposit
Get paid up to 2 days faster when you have your payroll or government benefits checks direct deposited to your ACE Elite Card
As a cardholder, you can open an Optional Tiered Rate Savings Account. Balances up to $1,000.00 currently earn 5.00% annual percentage yield. No minimum balance required
A portion of each purchase made with the Pink ACE Elite Visa Card is donated to the National Breast Cancer Foundation
Transaction Fee
Signature: Free
ATM: $2.5
Use everywhere Visa debit cards are accepted
When your friends and family use ACE Elite, you can transfer money to each other at no cost. It's fast and simple
The ACE Elite card has Visa Zero Liability Protection and lets you manage and spend your money without having to worry about cash at stores, in restaurants, or shopping online
Get paid up to 2 days faster when you have your payroll or government benefits checks direct deposited to your prepaid debit card
As a cardholder, you can open an Optional Tiered Rate Savings Account. Balances up to $1,000.00 currently earn up to 5.00% annual percentage yield. No minimum balance required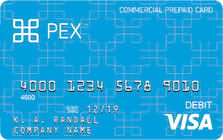 Transaction Fee
Signature: Free
ATM: N/A
The $8 monthly fee is waived if the cardholder spends $50k per month through the platform
Administrators issue cards without time-consuming applications or credit checks as this is not a credit card
You can give cards to any employee, contractor or volunteer. Their cards will only work where, when and how you choose
Set rules. Set budgets. Or set nothing. PEX works for you. Every person or role can have their own approved merchant category and spending limits. PEX keeps spending in check
Track spending by the second. PEX reports transactions in real-time. Cardholders submit receipts and accounting codes with a mobile app
Get PEX Card for mobile. You can Check your balance, Track spending and Attach receipts to transactions
When it comes to funding your PEX account, you have three options: (a) ACH Credit (bank-initiated); (b) Wire Transfer; (c) ACH Debit (PEX Service)
Transaction Fee
Signature: Free
ATM: $3
You can open a PNC SmartAccess Card for free, although a $25 minimum deposit is required
Make purchases at any retail location or online retail site that accepts Visa debit cards
Set up direct deposit for your paycheck or government benefit payments and get access to your money right away
Deposit cash - Fund your SmartAccess® card at any PNC branch, PNC DepositEasy ATMs, and at any at any participating Visa ReadyLink retail locations
PNC SmartAccess Mobile App - Keep tabs on your balance and view purchases from your mobile device. Download for iPhone or Android
You can access your money fee-free at nearly 18,000 PNC ATMs across the country
The monthly fee is waived for primary cardholders who are employed at PNC
Transaction Fee
Signature: Free
ATM: $2.5
No monthly fee with 7 purchases posted to your Now Card during the monthly statement period
You can use your Regions Now Card anywhere Visa debit cards are accepted – in stores, online or over the phone
Regions limits each prepaid card to a maximum balance of $7,500. Signature or PIN-based purchases combined purchases of up to $3,000 per card each day are allowed
You can load the card at a Regions branch, DepositSmart ATM, with Mobile Deposit, through Online Banking and any Visa ReadyLink location
Regions offers you worry-free, 24/7 fraud protection with Visa Zero Liability to fully protect your Regions Visa debit cards from unauthorized transactions
Access to over 1,900 ATMs across Regions' 15-state service area
Transaction Fee
Signature: Free
ATM: $2.5
No credit check or bank account required
No penalty fees. No overdraft fees. No minimum balance
FREE direct deposit and online bill pay - like a checking account!
Easily pay bills, shop online & make purchases everywhere Visa® is accepted - millions of locations worldwide
Monthly Fee waived when you load at least $1,000 to your Card or have 30 posted purchase transactions (excludes all ATM declined withdrawals, ATM balance inquiries, teller cash withdrawals and online bill payments at www.greendot.com)
FREE withdrawals at thousands of ATMs nationwide